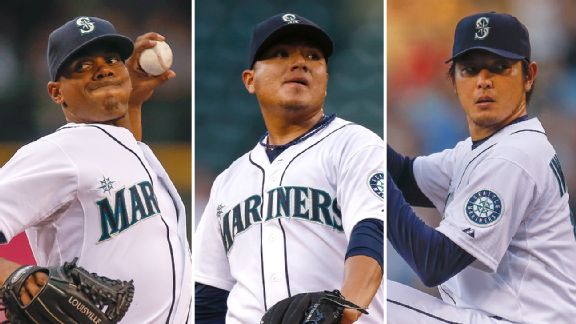 Getty Images
The Mets are expected to face Roenis Elias, Erasmo Ramirez and Hisashi Iwakuma in Seattle.METS (46-52, third place/NL East) vs. SEATTLE MARINERS (52-46, third place/AL West)
Monday: LHP Jonathon Niese (5-4, 2.96) vs. LHP Roenis Elias (7-8, 4.54), 10:10 p.m. ET
Tuesday: RHP Jacob deGrom (3-5, 3.18) vs. RHP Erasmo Ramirez (1-4, 4.58), 10:10 p.m. ET
Wednesday: RHP Bartolo Colon (8-8, 4.12) vs. RHP Hisashi Iwakuma (8-4, 2.95), 3:40 p.m. ET
Mariners short hops
• Ex-Yankee Robinson Cano, who has battled hamstring issues throughout the season, asked for Sunday's series finale off against the Los Angeles Angels because of continued tightness. He had played 28 innings over the previous two days. Cano signed a 10-year, $240 million deal in December. Of course, agent Jay Z first dined with Sandy Alderson and Jeff Wilpon. Cano's .335 average ranks second in the American League, trailing Houston's Jose Altuve by a point. Cano, 31, also has seven homers and 57 RBIs and a .394 on-base percentage in 404 plate appearances. Willie Bloomquist started Sunday in place of Cano at second base.
• After facing Odrisamer Despaigne on Sunday in San Diego, the Mets will see a second straight Cuban rookie in the series opener in Seattle. Roenis Elias, 25, is 7-8 with a 4.54 ERA in 19 starts. Elias reportedly defected four years ago aboard a raft after a middling, brief career in his native country. He spent 30 hours at sea before landing in Mexico.
• Closer Fernando Rodney, bidding for his 200th career save, failed to convert the five-out opportunity Sunday in a 6-5 walk-off loss to the Angels. Rodney still has an AL-leading 27 saves.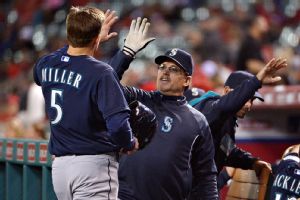 Kirby Lee/USA TODAY Sports
Howard Johnson is the hitting coach for the Mariners.
• Although officially undeclared, Erasmo Ramirez is expected to return from Triple-A to start Tuesday against the Mets while rookie Taijuan Walker gets more seasoning in the minors.
• Logan Morrison and Justin Smoak have split the first-base duties of late, with neither putting up acceptable numbers. Smoak (.210) had spent more than three weeks on the DL with a left quadriceps strain, then was optioned to Triple-A on July 4 when deemed healthy. He returned when right fielder Michael Saunders landed on the DL a week later. Morrison, who was acquired from the Miami Marlins in December, is hitting only .222 with five homers in 144 at-bats.
• The Mariners and Tampa Bay Rays reportedly are in discussions regarding David Price and Ben Zobrist.
• Seattle's coaching staff has a distinct Mets accent. Hitting coach Howard Johnson formerly held that role with the Mets and was a central piece of the 1986 championship club. Pitching coach Rick Waits formerly was minor-league pitching coordinator for the Mets. Rich Donnelly managed the Brooklyn Cyclones the past three seasons. He was hired by the Mariners to manage Triple-A and ascended to the major league staff when John Stearns, another ex-Met, had to step down as third-base coach because of a slow recovery from hernia surgery. Mariners infield coach Chris Woodward played for the Mets in 2005 and '06. Even Seattle bullpen catcher Jason Phillips is an ex-Met, having played for the club from 2001 through '04.
The connections don't stop there. Endy Chavez is a backup outfielder.
• Ex-Met John Buck, who was backing up Mike Zunino, was released during the All-Star break. He was hitting .226 with one homer and six RBIs in 84 at-bats.
• The Mets will miss facing Felix Hernandez during the series. He possesses an AL-best 2.02 ERA. They also will miss ex-Mets right-hander Chris Young, who pitched Sunday. Young is 8-6 with a 3.22 ERA in 20 appearances (19 starts).
• Shortstop Nick Franklin, who became expendable in a trade once the Mariners signed Cano and committed to using Brad Miller at shortstop, has struggled after a torrid start at Triple-A this season. The 23-year-old Franklin was 6-for-47 at the major league level during cameos in April and May with the club. He currently is back in the Pacific Coast League. Miller, meanwhile, is hitting only .204.