Chipper Jones went hitless and committed an error in the first game of his final series in Flushing, but Jon Niese received no run support and the Mets lost to the Atlanta Braves, 3-0, Friday night at Citi Field.
The Mets send Jeremy Hefner (2-5, 4.52 ERA) to the mound at 4:05 p.m. today. He opposes reigning NL Pitcher of the Month Kris Medlen (7-1, 1.56). The Braves have won Medlen's past 18 starts, the longest streak in the majors since the Yankees won 20 straight starts by Roger Clemens in 2000.
The Mets will honor infielder Wilmer Flores and right-hander Rafael Montero as the Sterling organizational player and pitcher of the year in a ceremony before the game. Also due to be honored are each affiliate's player of the year: Matt Harvey (Buffalo), Zack Wheeler (Binghamton), outfielder/second baseman Alonzo Harris Jr. (St. Lucie), right-hander Michael Fulmer (Savannah), right-hander Hansel Robles (Brooklyn), right-hander Miller Diaz (Kingsport), right-hander Yoryi Nuez (Dominican Summer League 1) and outfielder Vincente Lupo (Dominican Summer League 2).
Saturday's news reports:
• At an afternoon press conference Friday, Jones was presented with framed artwork depicting his memorable moments in New York, which was prepared by artist Charles Fazzino. Jones spoke eloquently about his affinity for Shea Stadium and playing in the city. He also discussed his 8-year-old son Shea's orange-and-blue painted bedroom and, in the context of David Wright's future, the importance to him of playing with one team for his entire career.
Kathy Kmonicek/Associated Press
Chipper Jones' reception at Citi Field was not entirely negative on Friday night.
Although he identified his first major league homer, which came against Josias Manzanillo at Shea Stadium on May 9, 1995, as a career highlight, he identified his favorite New York moment as the first game back in the city after 9/11. Jones noted that even the ultra-competitive Bobby Cox did not mind losing that game. "Even he admitted after the game it was as it should be," Jones said.
As for how he would view himself if he were a Mets fan, he summed it up pretty well.
"I would respect the body of work, but I would hate his guts," Jones said.
The Atlanta view of the Mets' presentation? Writes Braves beat writer David O'Brien in the Atlanta Journal-Constitution:
There was a mix of boos and cheers when a congratulatory message was played on the Citi Field video board minutes before Friday's game, the first time Jones has been booed at any of his farewell-tour tributes this year. The Mets presented him with an elaborate 3-D pop-art painting that highlighted Jones' career at Shea.
Unlike other teams, however, they had the presentation hours before the game and out of public view, during the press conference. Mets officials were concerned about how some of their fans might react to an on-field presentation honoring a player who'd done so much damage against them in games over the years. Not to mention a player who, in September 1999, after doing all he could with his bat to wreck the Mets' playoff chances, famously commented that he guessed it was time for Mets fans to go change into their Yankees garb.
Read more in the Journal, Post, Record, Newsday, Daily News and Star-Ledger.
• Foley's Pub and Restaurant in Midtown changed its name to Chipper's for the weekend. Read more in the Post.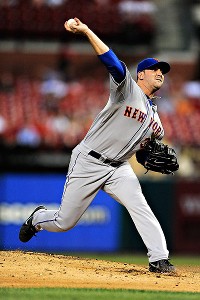 Jeff Curry/Getty Images
Matt Harvey has two more starts remaining in 2012.
• Harvey next lines up to face Stephen Strasburg on Wednesday at Citi Field. Terry Collins said Harvey will be allowed one additional start beyond the matchup with the Nats phenom. The appearance in Flushing was supposed to be Strasburg's final 2012 outing, also because of an innings limit. But after Strasburg lasted only three innings last night against the Miami Marlins, Davey Johnson suggested it is possible the plan will change and Strasburg gets another start beyond the Citi Field appearance. "It might," Johnson said, according to Adam Kilgore in The Washington Post.
• The only damage allowed by Niese in six innings came on a solo homer by Jason Heyward, but the Mets' offensive woes continued. The Mets went 0-for-10 with runners in scoring position and are hitting .205 (83-for-405) in those situations since the All-Star break. Their record during that span: 19-33. The Mets hit .269 (199-for-739) with runners in scoring position before the All-Star break and were six games over .500 during that period. Read game recaps in the Atlanta Journal-Constitution, Star-Ledger and Times.
• Andres Torres left the game in the second inning after twisting his left knee on a catch. He downplayed the severity of the injury.
• Jenrry Mejia surrendered a solo homer to Dan Uggla with two outs in the ninth, but otherwise recorded six outs in his first major league appearance since Sept. 15, 2010. Mejia mostly spent last season rehabbing from Tommy John surgery. Collins said Mejia will be used as a starter later in the month, roughly coinciding with Harvey being shut down for the season. Read more in the Record and Post.
• The Brooklyn Cyclones won Game 1 of their first-round playoff series, 4-0 against Hudson Valley on Friday night. Robles tossed the third nine-inning complete game in Cyclones history. The 22-year-old Dominican right-hander has now tossed 45 consecutive innings without allowing an earned run. The best-of-three-game series continues tonight at Hudson Valley. Read the full recap here.
• Collins gave Ruben Tejada off on Friday night, with the manager sensing Tejada was wilting late in the season. The manager planned to also sit Tejada this afternoon, citing an unfavorable matchup with Medlen -- which would make it a three-day break including Thursday's team day off, assuming today's intention materializes. Tejada struck out four times and committed an error Wednesday afternoon in St. Louis. "I might give him a couple of days to really get his legs underneath him again and find some energy," Collins said. "I thought the other day it really stuck out that he may be more tired than what I even anticipated him to be."
• Robert Carson plans to pitch in winter ball as a reliever for a month in the Dominican Republic, with Estrellas Orientales.
TRIVIA: Which team did Fredi Gonzalez manage before the Braves?
Friday's answer: Jones actually has 49 homers apiece against the Mets and Philadelphia Phillies, tied for the most against any opponent.