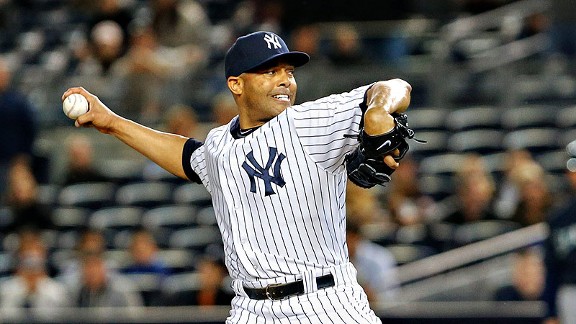 Anthony Gruppuso/USA TODAY Sports
Mariano Rivera, 43, makes his final regular-season visit to Citi Field this series.METS (18-29, fourth place/NL East) vs. NEW YORK YANKEES (30-19, first place/AL East)
Monday: LHP Jonathon Niese (3-5, 4.80) vs. RHP Phil Hughes (2-3, 5.51), 7:10 p.m. ET
Tuesday: RHP Matt Harvey (5-0, 1.93) vs. RHP Hiroki Kuroda (6-3, 2.67), 7:10 p.m. ET
Wednesday: RHP Jeremy Hefner (0-5, 4.76) vs. RHP David Phelps (3-2, 3.96), 7:05 p.m. ET
Thursday: RHP Dillon Gee (2-6, 6.34) vs. LHP Vidal Nuno (1-1, 1.93), 7:05 p.m. ET
Yankees short hops
• Retiring Mariano Rivera makes his final regular-season visit to Citi Field. He has converted 18 straight save chances to open the season, the second-longest streak of his career. Rivera saved his first 28 opportunities in 2008. With a perfect 11th inning Saturday, Rivera matched Dennis Eckersley for fourth on the all-time games-pitched list at 1,071. The only pitchers with more appearances happen to all have appeared for the Mets: Jesse Orosco (1,252), Mike Stanton (1,178) and John Franco (1,119).
• Curtis Granderson broke a pinkie and landed on the disabled list this weekend. The Yankees recalled Brennan Boesch from Triple-A Scranton/Wilkes-Barre.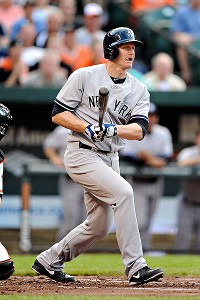 G Fiume/Getty Images
Lyle Overbay has filled in well for Mark Teixeira at first base.
Granderson suffered the latest in a rash of injuries to high-profile players. Also on the DL: Derek Jeter (left ankle surgery), Mark Teixeira (torn ECU sheath, right arm), Alex Rodriguez (left hip surgery), Kevin Youkilis (lumbar spine sprain), Francisco Cervelli (broken right hand), Eduardo Nunez (left oblique strain), Andy Pettitte (strained left trapezius muscle) and Joba Chamberlain (right oblique strain).
The Yankees have received stellar fill-in performances, including from first baseman Lyle Overbay for Teixeira. Overbay -- who was signed hours after being released by the Boston Red Sox late in spring training -- has three homers to give the Yanks the lead in the seventh inning or later this season. But he will recede from a starting role with Teixeira expected to return next weekend.
Teixeira is a switch-hitter, which should not provide much opportunity at first base for Overbay. And Overbay is unlikely to unseat Travis Hafner at DH against right-handed pitching. Teixeira has started playing in extended spring training games and is due for a midweek rehab assignment with Double-A Trenton.
Youkilis, who has been out since departing with a lower-back injury on April 9, played in an extended spring training game Saturday. He is due to repeat that activity Monday. Youkilis could join Teixeira with Trenton on Wednesday.
Pettitte will throw a 75-pitch simulated game on Tuesday in Tampa. He should reenter the Yankees' rotation no later than next Monday.
Chamberlain has started throwing in extended spring training games.
• Long man Adam Warren was a college teammate of Matt Harvey's at the University of North Carolina.
• Rookie David Adams (.300), a third-round pick in 2008 from the University of Virginia, has stepped in nicely at third base for Youkilis and is considered the best homegrown infielder since Robinson Cano.
• Hiroki Kuroda and David Phelps both are optimistic about starting against the Mets, despite issues in their last starts. Kuroda -- who is due to face Harvey at Citi Field and has been the Yanks' top starter this season -- was struck on the calf by a liner off the bat of Manny Machado in Baltimore. Phelps took a line drive off his right forearm against the Rays.
• Rookie left-hander Vidal Nuno, who was released by the Cleveland Indians at the end of spring training in 2011, is keeping his rotation spot even after the return of Ivan Nova from the DL. With Nuno's success, Nova made only his 12th relief appearance in 178 professional games Saturday, in his return from the DL after recovering from a right triceps injury. Nova loaded the bases against the Rays but escaped.
• The Yankees claimed left-handed reliever David Huff off waivers from Cleveland and designated for assignment seldom-used backup outfielder Ben Francisco, who was hitting. 114. Huff, who is stretched out for a multi-inning performance if required, was struck in the head by a line drive off the bat of A-Rod in 2010.
• Catcher Chris Stewart was held out Sunday because of continued nagging from a groin injury suffered last week.
• Ex-Mariner Shawn Kelley had struck out 33 batters in 19 2/3 innings.