MIAMI -- Jeurys Familia allowed only one hit in four scoreless innings in his first major league start, but the rookie walked six batters. The Mets ended up losing Monday's series opener, 3-2, to the Miami Marlins. Ramon Ramirez surrendered a tiebreaking RBI double to Rob Brantly in the eighth.
Tonight, R.A. Dickey bids for his 21st win and makes his final case for the Cy Young Award. Dickey opposes rookie right-hander Jacob Turner at 7:10 p.m. Only three other pitchers in franchise history have reached the 21-win plateau. Tom Seaver had 25 wins in 1969, 22 in 1975 and 21 in 1972. Dwight Gooden had 24 in 1985. Jerry Koosman had 21 in 1976.
Tuesday's news reports: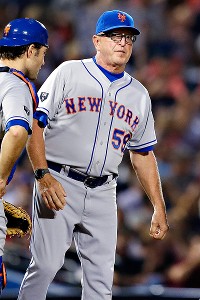 David Goldman/Associated Press
Dan Warthen and the rest of the coaching staff will return in 2013.
• The entire Mets coaching staff -- pitching coach Dan Warthen, hitting coach Dave Hudgens, bench coach Bob Geren, third base coach Tim Teufel, first base coach Tom Goodwin and bullpen coach Ricky Bones -- will return next season. Wally Backman, who managed the Triple-A club this season before joining the Mets in September, has yet to be presented with a 2013 role. A team source told ESPNNewYork.com that Las Vegas, the Mets' new Pacific Coast League home, may not be attractive to Backman. Read more in the Star-Ledger, Times, Record, Post, Daily News, Newsday and Journal.
• Connecticut native Adam Greenberg, who was struck in the head with a pitch in his lone major league plate appearance -- on July 9, 2005 -- and subsequently developed vertigo will pinch hit for the Marlins today. He likely will face Dickey in the middle innings. The Mets will treat him like any other major league hitter.
Fred Van Dusen, the only other player in major league history to be hit with a pitch in his lone major league plate appearance and never play the field, will be on hand and throw out the ceremonial first pitch. Writes Clark Spencer in the Miami Herald about Van Dusen attending:
Van Dusen couldn't be happier. "It's a good human-interest story,'' said Van Dusen, who has never met Greenberg or spoken with him. "It's a positive thing, and a lot of people who don't understand baseball, they'll applaud it greatly."
Van Dusen was 18 when he was called up by the Philadelphia Phillies late in the 1955 season. Now 75, retired and living in Tennessee, Van Dusen said he spent about a month on the Phillies bench before he was finally given a chance to play. It was on Sept. 11 of that season, in the ninth inning of a game against the Milwaukee Braves, that Van Dusen was sent in to pinch-hit. On the fourth pitch of the at bat, and with Milwaukee's Henry Aaron and Eddie Mathews looking on from the field for the Braves, Van Dusen was hit by a Humberto Robinson pitch. Van Dusen took his base and was left standing at first when the inning ended. Though considered to be a top prospect, Van Dusen would not play again in another major-league game.
Read more on Greenberg in the Post.
• It appears highly unlikely Mike Pelfrey will return in 2013, but Terry Collins and Warthen wouldn't mind having him back -- as a back end of the bullpen option, perhaps. Pelfrey, who underwent Tommy John surgery on May 1, has to be cut loose in December. Otherwise, the Mets would have to pay him at least 80 percent of this year's $5.6875 million salary. Once a free agent, Pelfrey would be free to sign anywhere. And agent Scott Boras likely would try to place Pelfrey with a team to start on a one-year contract with a reasonable base salary (maybe $2 million) and performance-based incentives.
• Chief operating officer Jeff Wilpon joined the team in Miami along with other Mets executives, including Sandy Alderson and assistant GM John Ricco. The group will begin to solidify an offseason plan.
• Warthen said the key to Dickey (20-6, 2.69 ERA) taking another leap forward this season was learning how to control the knuckleball up in the zone and using up-and-down movement in addition to side-to-side.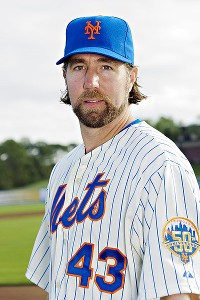 Steve Mitchell/US Presswire
R.A. Dickey bids for his 21st win tonight.
"The old adage is: See it low, let it go. See it high, let it fly," Warthen said. "We've kind of capitalized on that thought process in keeping that knuckleball at a higher part of the zone a lot more often and getting a lot of strikeouts from it."
"It wasn't really an idea as much as we kind of stumbled upon it in Pittsburgh (May 22)," Dickey said about commanding the pitch up in the zone. "I figured out a mechanism to be able to keep it elevated and still take spin off of it. At least I thought I had, and was anxious to work on it in my bullpens subsequent to that outing.
"Sure enough, it seemed like we had identified something that I could do to change the elevation consistently when I wanted to. The thing about a knuckleball is a lot of times you'll try things and it'll do the opposite. It's just the nature of that pitch from time to time. So when you find a way to do something and you can consistently do it with that, then you've found something good. From that moment on I really worked hard on it."
Read more on Dickey's Cy Young bid in the Record.
• The proposed Major League Soccer stadium at Flushing Meadows Corona Park adjacent to Citi Field, which would house an expansion team, has community opposition. Writes Clare Trapasso in the Daily News:
Major League Soccer officials previously said they were looking to build a 25,000-seat stadium on eight acres at the Fountains of Industry site in the park. That estimate later ballooned to up to 13 acres. But officials insisted that they are committed to finding replacement park land. "We are in the process of starting conversations with community leaders to identify parcels," MLS spokeswoman Risa Heller said in a statement. "MLS is also committed to replacing and upgrading existing community soccer fields as well."
TRIVIA: Of the 11 ballparks that opened since 2001, Marlins Park this season has produced the worst attendance. Which new ballpark did it displace with that distinction?
Monday's answer: Jose Reyes entered the final series leading the Marlins in steals with 38, but not by much. Emilio Bonifacio swiped 30 before his season ended Aug. 21 with a right knee injury.