Collin McHugh tossed seven scoreless innings in his major league debut, but Jordany Valdespin misplayed a fly ball in center field in the eighth into a triple and the Mets ultimately lost to Colorado, 1-0, Thursday afternoon at Citi Field. The Rockies swept a four-game series in Queens for the second straight season.
The Astros, the only team with a worse record than the Mets since the All-Star break, now visit for a weekend series. The Mets will wear blue "Los Mets" jerseys on Merengue Night today as Jon Niese (10-6, 3.82 ERA) opposes right-hander Jordan Lyles (2-10, 5.70) in the 7:10 p.m. series opener.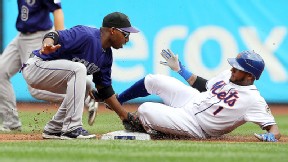 Jim McIsaac/Getty Images
Jordany Valdespin stole second base in the first inning Thursday, but had difficulty in the outfield late.
"When you're in a slump, it doesn't matter what the record of the other team is," Terry Collins said. "We can attest to that in some of the places we've gone, where obviously we've been out-manned and played much better than the other team."
The Mets will need to make a roster move pregame for the expected activation of Jeremy Hefner after a three-day paternity-leave absence for the birth of his daughter, Jaylee Grace, in Oklahoma.
Friday's news reports:
• After catching McHugh's solid major league debut, Josh Thole said the comparisons are valid between the rookie and Dillon Gee. "I can't go out there every time and throw 93 mph," McHugh said. "Being able to locate a pitch at 86 or 89 or whatever is as effective, if not more so, for me than trying to just blow a fastball by a guy." Unfortunately for McHugh, he received a no-decision in the 1-0 loss to Colorado. Read game recaps in the Times, Newsday, Star-Ledger, Post, Daily News, Journal and Record.
• Collins plans to start Justin Turner over Daniel Murphy at second base for the next few days.
• Rob Johnson's demotion has been rescinded and he instead has been placed on the disabled list with a season-ending thumb injury. The Mets were unable to send Johnson to the minors because the catcher's sidelining injury occurred while he was a major leaguer.
• Logan Verrett pitched a complete-game three-hitter in St. Lucie's 8-1 win in Game 2 of a doubleheader against Jupiter, while Miller Diaz tossed six scoreless innings for Kingsport against Bluefield. Read Thursday's full minor league recap here.
• Gabby Douglas threw out the ceremonial first pitch at Citi Field before the series finale against Colorado. Read more in Newsday and the Daily News.
TRIVIA: Who threw the pitch behind Roger Clemens at Shea Stadium when the Rocket finally batted against the Mets on June 15, 2002?
Thursday's answer: Second baseman Jose Altuve represented the Astros in the All-Star Game.