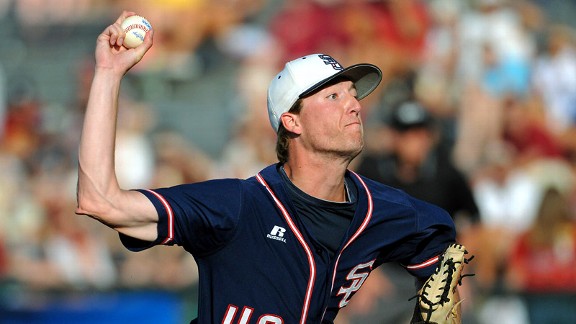 Melina Vastola/US Presswire
The Mets selected Samford University right-hander Tyler Vanderheiden in the 19th round.
Here are the final results from Day 3 of the draft:
Rd. 16 (500th overall), Myles Smith, RHP, Miami Dade CC, College Bio
Rd. 17 (530), Stefan Sabol, C, Orange Coast CC
Rd. 18 (560), Paul Paez, LHP, Rio Hondo College
Rd. 19 (590), Tyler Vanderheiden, RHP, Samford U, College Bio
Rd. 20 (620), Tim Peterson, RHP, Kentucky, College Bio
Rd. 21 (650), Gary Ward, LHP, Bethel U., College Bio
Rd. 22 (680), Tejay Antone, RHP, Legacy (Texas) HS
Rd. 23 (710), Connor Baits, RHP, Point Loma (Calif,) HS
Rd. 24 (740), Andrew Massie, RHP, Dyer County (Tenn.) HS
Rd. 25 (770), Leon Byrd, 2B, Cypress Ranch (Texas) HS
Rd. 26 (800), Chris Shaw, 1B, Lexington (Mass.) HS
Rd. 27 (830), Zach Arnold, C, Franklin County (Ky.) HS
Rd. 28 (860), Jacob Marks, RHP, St. Clair SS
Rd. 29 (890), Austin Barr, C, Camas (Wash.) HS
Rd. 30 (920), Dustin Cook, RHP, Hargrave (Texas) HS
Rd. 31 (950), Vance Vizcaino, SS, Wakefield (N.C.) HS
Rd. 32 (980), Jon Leroux, 1B/C, Northeastern, College Bio
Rd. 33 (1010), Jared Price, RHP, Twin Valley (Pa.) HS
Rd. 34 (1040), Mikey White, SS, Spain Park (Ala.) HS
Rd. 35 (1070), Brad Markey, RHP, Sante Fe (Fla.) CC, College Bio
Rd. 36 (1100), Donovan Walton, Bishop Kelly (Okla.) HS
Rd. 37 (1130), Ben Distefano, C, Lawrence E. Elkins (Texas) HS
Rd. 38 (1160), Jeff Reynolds, 3B, Harvard, College Bio
Rd. 39 (1190), Patrick Ervin, 2B, Pace (Fla.) HS
Rd. 40 (1220), David Gonzalez, RHP, Gainesville (Ga.) HS
Jonathan Murphy, the brother of the Mets' Daniel Murphy, was selected in the 19th round by the Minnesota Twins. Like his brother, the younger Murphy has played multiple positions and also is a Jacksonville University product.
Daniel Murphy expected his brother to report to the Appalachian League in Elizabethton, Tenn.
"He's better than me," Murph said. "Athletic. He's much more athletic than I ever dreamed out. I think he was second in the nation in stolen bases this year. He's probably a 6.5, 6.6 [second] runner [in the 60-yard dash] when he's right. He can play center field. I think I square the ball up just a little bit more than he does, but he's got more juice, he's got more power, has got a better arm, runs better. Pretty much anything out on a baseball field he does it better than I do."
Distefano -- who is expected to enroll in college rather than sign -- is the son of the St. Lucie Mets' hitting coach, Benny Distefano. The elder Distefano played five seasons in the majors.