Terry Collins insisted the Opening Day defeat was not deflating to him or his team, even if the Flushing faithful might be feeling like Friday's 6-2 loss to the Florida Marlins was a continuation of last year's misery.
"Not at all," Collins said. "I thought our guys hung in there. I thought we played hard. We're getting no-hit through six innings and all of a sudden it's a ballgame. So I wasn't deflated at all. I thought the guys played hard, they worked hard. I thought guys came off the bench and were ready to hit. It's just one of those nights. We've got 161 to go."
Trailing 5-0, the Mets did score two seventh-inning runs against Marlins ace Josh Johnson. They had two runners on base when left-hander Michael Dunn, formerly of the Atlanta Braves, was summoned to face lefty-hitting Josh Thole. Collins countered with righty-hitting Scott Hairston, looking for a long ball. Hairston struck out as the pinch-hitter in his Mets debut.
The Mets were getting no-hit by Johnson until Willie Harris led off the seventh with a double. Collins insisted he was not wondering what he had gotten himself into as he watched Johnson flirting with the no-no.
"No, no, no," Collins said. "I've done this a lot of years. It's the first night. Yeah, we wanted to win. And I know this [Mets] club plays very well on opening night and they win a lot of opening games. When we win our share of games, we'll forget about opening night. I'm not disappointed. I'm not upset. I thought the guys certainly came in prepared, ready to go. We just ran into a really, really good pitcher. We're going to run into some more, so we've got to learn how to get through it."
Jose Reyes, who was 0-for-4, echoed those remarks.
"I don't want to say frustrating," Reyes said. "We have to give some credit to Johnson. He was unbelievable today. He did not give in to nobody."
• Harris, who was in the lineup because of his .500 career on-base percentage against Johnson, said he never thought the Mets were in danger of being no-hit.
"I knew the entire time we weren't going to get no-hit," the ex-National said. "I didn't feel like we were going to get no-hit. I mean, I had a gut feeling this guy is tough and it's going to be hard to get to him, but I thought somebody, for sure, would get a hit."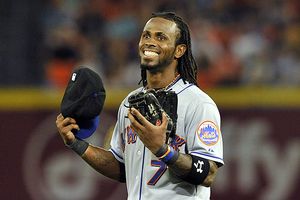 Steve Mitchell/US Presswire
Jose Reyes went 0-for-4 in manager Terry Collins' first game at the Mets' helm.
Harris was 1-for-3 off Johnson and 2-for-4 overall in his Mets debut.
"It's nothing in particular," Harris said about his success against Johnson. "You have to be patient with him. I mean, he throws plenty of fastballs. But he's throwing that cutter a lot more now, and he's got that great changeup. You just can't miss that fastball. He's going to challenge you. He's going to come after you."
• Collins was particularly pleased with how Carlos Beltran got through his first game in right field. Beltran played the entire game, after dealing with left knee inflammation during spring training that limited him to three Grapefruit League games.
"I thought it was a great sign," Collins said. "I thought he swung the bat good all night long. I thought he ran good tonight. Even the ball that ended up being the home run [by John Buck in the fourth inning], I thought he went after that ball very, very well. I thought it was a huge night for him the way he looked not only offensively, but defensively."
• Second baseman Brad Emaus, who went 0-for-2 with a walk, labeled his major league debut "awesome."
"You've got the jets flying over and everything," he said, referring to the pregame ceremonies. "It was unbelievable."
Emaus said the high volume of activity, beginning with a second-inning groundout to him by Donnie Murphy, helped him relax.
"I'd rather that than the first ball hit to you in like the eighth inning," Emaus said. "It felt good to get in a little groove out there."
Emaus' best play came from the infield grass, when he lunged to his left to field Johnson's grounder and hold Buck at third base.
"The only thing I feel is maybe a lack of range," Emaus said about his defense, which has been portrayed as a liability. "But I think I get good jumps on balls. I think I make the plays."
Said Collins: "We had to scramble so much in spring training trying to give guys playing time that when Brad finally got the majority of the playing time, I think he finally relaxed. And I think he started showing us exactly what he could do not only at the plate but in the field also."
• Pedro Beato also made his major league debut, and had a quick welcome-to-the-majors moment. Buck jumped on Beato's first pitch for a double off the wall in left-center.
"I tried to get ahead. I tried to get the first strike, not come out there and show my anxiousness and be all over the place," said Beato, who ultimately tossed two scoreless innings, albeit with three hits. "Just throwing that first pitch out there and getting it rocked like it did, I was like, 'Wow, I'm in the big leagues. And things like this are going to happen. And I need to make better pitches and keep the ball down a lot better.'"
• The Mets fell behind 4-0 in the fourth inning when Mike Pelfrey surrendered the grand slam to Buck, who signed with the Marlins on a three-year, $18 million deal after hitting 20 long balls with the Toronto Blue Jays last season.
Pelfrey had made an "unintentional, intentional walk" to Logan Morrison with first base open to load the bases for Buck with one out, figuring he could get out of the jam.
"I thought I could get Buck to ground into a double play," Pelfrey said. "Obviously I left a pitch out."
Pelfrey and pitching coach Dan Warthen both suggested Pelfrey's pitches might have been up because he was overexcited about pitching the opener.
"I thought that I had a little bit of adrenaline," Pelfrey said. "… I was excited. I think in the first inning I came out and I probably overthrew a little bit more than I should have. After that, I thought I settled down."
Said Warthen: "He was just up more than he needs to be. He actually got back into a decent pitch count -- 51 after three. We want somewhere in the mid-40s at that point in time. But he recovered nicely and the fourth inning became a difficult one."
Pelfrey stranded two Marlins in scoring position in the first inning by getting Gaby Sanchez on a grounder to Ike Davis, who flipped the ball to the right-hander for the final out. That began a streak of eight straight batters retired by Pelfrey, until a one-out walk to Mike Stanton in the fourth. Pelfrey said he wanted a strike call on a full-count offering to Stanton, but plate umpire Gerry Davis ruled ball four.
"And that ended up getting the rally going for them," Pelfrey said.
Sure enough, the inning quickly unraveled. Sanchez doubled. Morrison had that semi-intentional walk. Buck belted the grand slam. 4-0.
Still, Pelfrey concluded: "I had way too many walks tonight [four]."
Said Collins: "I just told him, 'Hey, Mike, we'll get you some runs next time.' That's the tough part about being a No. 1 starter -- you draw the enemy's No. 1, and you've got to pitch great, because you know there's not going to be a lot of offense in the game."
With the Mets skipping fifth-starter Chris Capuano until April 9, Pelfrey will get off the cycle of facing other teams' aces. He draws Joe Blanton on Wednesday in Philadelphia, rather than Roy Halladay the following day, as would have been the case had the Mets used a straight five-man rotation.
• It was no coincidence that nine of the first 10 Mets batters took the first pitch of their at-bats against Johnson, according to new hitting coach Dave Hudgens. But while the Mets want higher on-base percentage and walks from their hitters than in recent years, Hudgens suggested the early patience at the plate Friday was more directly related to Johnson than some overall philosophy.
"He's got good stuff, but he's on the corners," Hudgens said about Johnson. "We were talking about trying to get a pitch in the middle of the plate, but he wasn't giving much in the middle of the plate. They were looking for good pitches to hit. We had some pretty good at-bats early. And then we got a little anxious in the middle of the game. And then we got to him a little bit at the end.
"We're trying to get good pitches to hit, but you look at the pitches he was throwing, he was on the edges pretty good. He didn't give much to hit early."