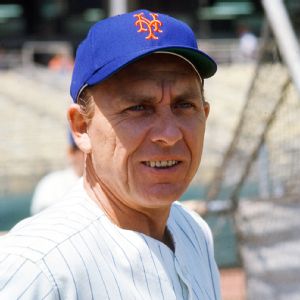 Focus on Sport/Getty Images
The veterans committee passed on electing Gil Hodges -- or anyone -- to the Hall of Fame.
SAN DIEGO -- The 16-member veterans committee has passed on electing Gil Hodges to the Hall of Fame. In fact, the committee elected no one from its 10-member "Golden Era" ballot, which spans 1947 through '72.
Twelve votes were needed for election.
The precise total for Hodges was not released, but he appeared on three or fewer ballots.
Dick Allen and Tony Oliva each received 11 votes -- one shy of election.
The other vote totals: Jim Kaat (10 votes, 62.5 percent); Maury Wills (nine votes, 56.3); Minnie Minoso (eight votes, 50 percent); Ken Boyer, Hodges, Bob Howsam, Billy Pierce and Luis Tiant (three or fewer).
The committee members were Hall of Famers Jim Bunning, Rod Carew, Pat Gillick, Ferguson Jenkins, Al Kaline, Joe Morgan, Ozzie Smith and Don Sutton; MLB executives Dave Dombrowski, Jim Frey, David Glass and Roland Hemond, and media members Steve Hirdt, Dick Kaegel, Phil Pepe and Tracy Ringolsby.