CHICAGO
FIRST PITCH: And now Shaun Marcum needs to prevent a sweep.
Marcum (0-9, 5.76 ERA) again searches for his first Mets win when he opposes left-hander John Danks (1-4, 5.40) in the finale to the two-game series at 8:10 tonight at US Cellular Field.
The Mets then fly to Colorado for a makeup game -- with the exception of Matt Harvey and Dillon Gee, who will travel directly to New York in advance of their weekend starts against the Washington Nationals.
Only two pitchers in Mets history have endured more winless decisions to begin a season than Marcum. Anthony Young opened the 1993 season with an 0-13 record. Bob Miller began the inaugural 1962 season at 0-12.
Wednesday's news reports:
• Zack Wheeler allowed four runs in 5 1/3 innings and labeled his second major league start "bad," while pitching coach Dan Warthen acknowledged Wheeler tipped pitches by using different arm angles. The Mets nonetheless tied the score on a dropped pop-up by second baseman Gordon Beckham with two outs in the top of the ninth. But LaTroy Hawkins surrendered a run in the bottom half as the White Sox survived to beat the Mets, 5-4, Tuesday night.
Read Wheeler recaps in the Post, Daily News, Newsday, Star-Ledger, Record, Times, Journal and MLB.com.
• Harvey will appear in the ESPN The Magazine "The Body Issue," which hits newsstands July 12. Read more in the Post, Star-Ledger and Daily News.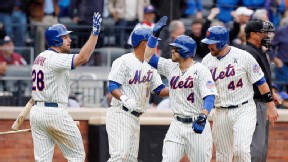 William Perlman/The Star-Ledger/USA TODAY Sports
Collin Cowgill has been traded to the Angels.
• The Mets traded Collin Cowgill, who had been designated for assignment, to the Los Angeles Angels for Class A outfielder Kyle Johnson. Johnson, a 2012 draft pick from Washington State University, will report to low-A Savannah.
• The Mets officially have rearranged their rotation. Harvey goes Friday against the Nats, with Gee on Saturday, then Wheeler on Sunday in his home debut.
• Greg Burke was demoted before Tuesday's game to clear the roster spot for the addition of Wheeler.
• Michael Fulmer, working back from spring-training surgery to repair a torn meniscus, tossed six scoreless innings in a Gulf Coast League game Tuesday. Rainy Lara tossed 5 2/3 scoreless innings in St. Lucie's 4-0 win against Bradenton. Read the full minor league recap here.
• Terry Collins suggested Ike Davis' minor league stint may continue into next week. The Mets will face a pair of left-handers this weekend against the Nats, then potentially two more in the following series against the Arizona Diamondbacks. The Mets ideally want to maximize Davis' potential to succeed by promoting him coinciding with a string of right-handed opposing pitchers. Davis was 0-for-4 with a strikeout and intentional walk Tuesday against Salt Lake.
• Mookie Wilson and Edgardo Alfonzo will serve as the managers for the Futures Game, which will be held as part of the All-Star festivities at Citi Field on July 14.
BIRTHDAYS: Infielder Luis Hernandez, who played in 17 games with the Mets in 2010, turns 29. … Right-hander Jason Middlebrook is 38.
TWEET OF THE DAY:
Two sloths on one bus.... @GavinCecchini2 @TimPeterson23 pic.twitter.com/p8SzOBLQ8p

— Jared King (@leebs24) June 26, 2013
YOU'RE UP: How do you think Zack Wheeler will do against the Washington Nationals on Sunday at Citi Field?