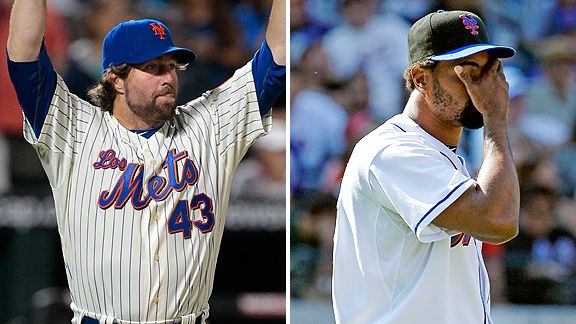 AP Photo
There were moments of both jubilation and despair for the 2010 Mets pitching staff.
As we mentioned in our last piece, The Year of the Pitcher took on special meaning for the Mets this season, as with their offense struggling, the team's outcome often hung on the staff that took the mound daily with the pressure of knowing they'd need to perform well to give the team a reasonable chance to win.
Some thrived and starred in the spotlight, while others struggled and became symbols of the frustration Mets fans felt with the failures that have befallen this team. Here's a closer look at what developed on the field for this year's moundsmen.
If only every game were a home game
The Mets put up some impressive numbers at Citi Field in 2010, tying a club mark previously set in 1988 with 16 shutouts. They cut their home runs allowed at home from 81 in 2009 to 47 in 2010 (the fewest they've yielded since '88), and their 3.07 ERA was the best they've had at home since 1990.
Home Improvement
Mets Last 2 Seasons
But the Mets road struggles were largely due to the inability of the pitching staff to replicate that performance in other ballparks. They had the third-biggest split in baseball between their home and road ERA (home: 3.07, road 4.35), and the fourth-largest difference in batting average. Their 88 road home runs allowed ranked third-most in the National League.
Late-inning performance on the road was a huge issue, particularly for the Mets bullpen. Opponents had a .222 batting average and .636 OPS in the seventh inning or later at Citi Field, and a split of .270/.760 elsewhere (both significantly worse than the big league average). That led to a lot of heartbreaking defeats. The Mets 20 one-run losses on the road tied for most in the majors.
The way it most often for the Mets on the road was like this –- win one, lose two. They went 1-2 overall in eight different opposing ballparks this season. Pitching was largely to blame. Their combined ERA in those venues was 5.14.
Two out of three ain't bad in some cases, but in this one, it was part of what made the Mets mediocre.
Mike Pelfrey pitched well, but ...
The pitcher who benefited most from Citi Field was Mike Pelfrey, who finished with a 2.83 ERA there, a 4.95 ERA elsewhere.
Mike Pelfrey
Last 3 Seasons
That's nothing new. Pelfrey has pitched at the level of a No. 2 starter at home over the last three seasons, but his road performance has been unimpressive
This was the third straight season in which Pelfrey posted a road ERA of 4.00 or worse and an opponents batting average of .300 or higher. No other Mets pitcher who threw at least 80 innings has more than one such season of that combination.
Some may point to Pelfrey's road BABIP (batting average on balls in play), a .342 and say that Pelfrey must have been unlucky. I don't think so.
His road BABIP the last three seasons has been .344, .326, and .342. That tells me that we see in these games is what Pelfrey is. He may be a little better than someone with a 4.95 road ERA (his road xFIP, an ERA equivalent based on walks, strikeouts, and fly ball rate, was almost the same as his home xFIP, 4.48), but not much. He's not necessarily ready to be a No. 1 starter just yet.
A second ace
Save for a few innings, Johan Santana performed according to expectations this season. R.A. Dickey may have exceeded them as much as any pitcher in Mets history.
Most Effective Fastballs
Mets Pitchers
Using a system weighting the value of every pitch based on how it helps a teams chance to win, Fangraphs.com can show which pitches are most effective for each pitcher.
R.A. Dickey and Johan Santana both got significant positive value out of throwing their fastball, roughly the same amount for every 100 thrown. That rate tied for fifth-best in the majors.
The performance of Santana and Dickey marked only the fifth time in Mets history that they had a pair of pitchers qualify for the ERA title, whose ERA, adjusted for primary ballpark pitched in (also known as ERA+) was 30 percent better than the league average, the first since the 2000 NL champs (Mike Hampton and Al Leiter).
Dickey finally found the right touch on his knuckleball, but part of his success this season was his ability to throw off hitters timing by mixing in the occasional 84-mile-per-hour fastball.
Yes, opponents hit .350 against Dickey's heat, according to our Inside Edge video data, but that's a little misleading. According to Fangraphs, Dickey's fastball had a value of 5.9 runs better than the major league average.
That tells us that when the pitch wasn't hit, the value it had of putting Dickey in a better position to get outs outweighed the damage done by any hits he may have allowed.
Jonathon Niese has a secret weapon
Jonathon Niese did something that no Met has ever done. He's the first pitcher in Mets history to qualify for the ERA title (usually a minimum of 162 innings) and not allow a stolen base.
Johan Santana came pretty close in 2009, allowing only one steal, but Niese bettered that.
Four baserunners attempted a steal on Niese in 2010 -- Austin Jackson, Nyjer Morgan, Joey Votto, and Rusty Ryal. None succeeded.
The last pitcher to throw more innings than Niese's 173 2/3 and not allow a stolen base was Jarrod Washburn for the 2005 Angels.
That's something in which Niese can take pride. There's also something for him to work on, most notably maintaining his performance over an entire season.
Those who were concerned with Niese's fatigue level may point to this set of stats. Prior to the All-Star Break, when Niese tried to finish a hitter with a two-strike fastball, opponents had a .276 on-base percentage and .619 OPS, numbers not far off from the major league average.
But after the All-Star Break, his two-strike fastballs lacked the same zip. Opponents posted a .372 on-base percentage and an .825 OPS.
It was a year of quirks
My Stats and Info colleague Doug Kern got all excited watching Oliver Perez gak up the regular season finale.
Oliver Perez
2010 MLB Ranks
Perez's loss made him 0-5, as Kern noted the second-worst winless record by a Met, trailing only John Franco's 0-8 in 1998.
The Mets actually had a pretty good "loser group" in 2010. Three pitchers -- Perez, Jenrry Mejia and Pat Misch all went 0-4 or worse. It's the first time the Mets ever had multiple pitchers go 0-4 or worse in the same season and the sixth time a team has had three such pitchers in major league history.
And if you want any more proof that Perez is in the midst of one of the worst two-year runs in major league history, he became the third pitcher ever to post consecutive seasons with an ERA of 6.80 or worse and a WHIP of 1.9 or worse, the first since the immortal Jim Walkup for the 1938-39 St. Louis Browns.
Also of note from the quirky stat pile:
• The last word on the whole 12 grand slams allowed debacle ... The Mets nine grand slams allowed ON THE ROAD are the second-worst by a team over the last 55 years, trailing the 2006 Orioles, who had 11.
• Middle reliever Elmer Dessens managed a 2.30 ERA despite striking out only 3.06 batters per nine innings. That's VERY hard to do. The three other pitchers who averaged less than 3.5 K per 9 in 2010 (Eddie Bonine, Justin Berg, and Jesse Litsch) had a combined ERA of 5.12.
Only two other pitchers in Mets history have posted ERA's as low as Dessens, while striking out fewer batters per nine than him -- Ken Sanders in 1975 and the oft-booed Doug Sisk in 1983.
• Lastly, Hisanori Takahashi's season was full of statistical oddities, in a good way.
He's the first Mets pitcher to have at least eight saves and 10 starts since Anthony Young (he of the 27-game losing streak) in 1992. But so we can end this piece on a good note, let's invoke a more positive season. Takahashi also became the first Met with at least 10 wins and eight saves since Roger McDowell in 1986.