FIRST PITCH: The Mets will see no shortage of left-handers during a four-game series against the Pittsburgh Pirates that opens at 7:10 tonight at Citi Field. And that should mean more Juan Lagares, Andrew Brown and Marlon Byrd and not very much of Jordany Valdespin.
Southpaw Jeff Locke (3-1, 3.21 ERA) faces Dillon Gee (2-4, 6.16) in the series opener. Left-handers Wandy Rodriguez and Francisco Liriano -- the latter in his Pirates debut -- start the following two days before the Mets see 25-year-old right-hander Jeanmar Gomez on Mother's Day opposite Matt Harvey.
Thursday's news reports:
• The Mets lost to the White Sox, 6-3, Wednesday at Citi Field to split a two-game series against Robin Ventura's crew. Jeremy Hefner (0-4) surrendered a homer to the game's first batter, Alejandro De Aza, and ultimately was charged with four earned runs on eight hits and a walk in six innings.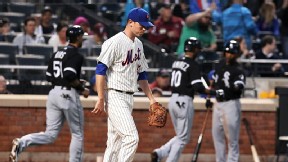 Mike Stobe/Getty Images
The Mets fell to 0-6 in games started by Jeremy Hefner this season.
The Mets are now winless in Hefner's six starts this season, although they have scored a combined 10 runs while he has been in those games. The Mets are now 0-7 in the game after Harvey pitches.
Lucas Duda had a solo homer against Jake Peavy in the second inning to even the score at 1. Duda now has seven homers, but only 11 RBIs.
Read game recaps in the Post, Daily News, Star-Ledger, Record, Times, Newsday and MLB.com.
• Hefner acknowledged before Wednesday's start he would be on thin ice if Zack Wheeler were promoted now. "If it was right now, if he came up today, then yeah I would probably be the one that gets sent down," Hefner told Jorge Castillo in the Star-Ledger. "I'm realistic enough to know that, but I can't control that." Wheeler next pitches for Triple-A Las Vegas on Saturday.
• After delivering a pinch-hit single in the eighth, Justin Turner remained in the game in left field -- his first outfield action since limited exposure in 2006 with Class A Billings. Turner, who had one spring-training appearance in the outfield in March, did not have any chances Wednesday -- just a homer over his head off the bat of Alex Rios. Read more in the Star-Ledger.
• Harvey discussed Tuesday's flirtation with a perfect game with Mike Lupica on ESPN New York 98.7. Listen to the podcast here.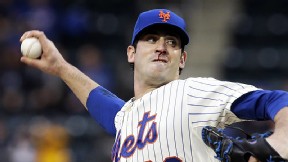 Seth Wenig/Associated Press
After 24 hours to enjoy his near perfection Tuesday, Matt Harvey is back to being all business.
Benjamin Hoffman in the Times assesses the likelihood of Harvey throwing a no-hitter. Writes Hoffman:
Bill James once devised a method of determining how many no-hitters a pitcher could be expected to have pitched based on how often he allowed hits and how many games he started. While the method was somewhat accurate, with [Nolan] Ryan expected to have thrown the most, the same calculations effectively showed how hard it is to predict a no-hitter. Besides Ryan, the only pitchers reasonably expected to have thrown even one no-hitter over the course of their careers were Walter Johnson, Tom Seaver, Randy Johnson and Roger Clemens.
Clemens, who twice struck out 20 batters in a game, never threw a no-hitter at any level despite finishing his career with a higher expected no-hit total (1.07) than Sandy Koufax (0.92), who threw four.
Using the James method, it would take hundreds of starts for Harvey to be expected to throw a no-hitter regardless of how well he pitches, but his incredibly low hits per nine innings, which outpaced any of the pitchers at the top of James's list, makes each of his starts intriguing as long as his current magic lasts.
Ron Darling, comparing Dwight Gooden with Harvey to columnist Bob Klapisch in the Record, said: "The results are about the same in their ability to win at-bats even in a hitter's count. But whereas Doc was Baryshnikov, Harvey is more workmanlike. With Doc, it was all about the strikeouts; Harvey can defeat you in different ways because he has more pitches."
Read more thoughts on Harvey's outing after time to reflect in the Times, Newsday and Star-Ledger. By the way, Rangers goaltender Henrik Lundqvist was among who texted Harvey after the dominating performance against the Sox.
• Cody Derespina in Newsday recreates the timeline of Mets PR man Jay Horwitz's tweets about Harvey's supposed intention to skip last night's Mets game to watch the Rangers at MSG. Horwitz was joking, but some on Twitter took him literally. Read more in the Daily News.
• Frank Francisco worked a scoreless inning with two walks for Class A St. Lucie on Wednesday. Francisco, nearing activation from the disabled list after experiencing spring-training elbow inflammation, pitched for the third time in four days.
• Cesar Puello homered twice, Logan Verrett came within an out of his third career complete game and Jeff Walters produced his Eastern League-leading ninth save in Binghamton's 3-1 win against Trenton. Aderlin Rodriguez had a walk-off single that plated T.J. Rivera as St. Lucie beat Daytona, 6-5, in 10 innings. Zach Lutz produced a three-run homer and Kirk Nieuwenhuis also went deep after replacing ejected Collin Cowgill, but starter Carlos Torres surrendered nine runs in four innings as Las Vegas lost to Round Rock, 9-5. Wally Backman also was ejected by the first-base ump after Cowgill was ruled out to end the fifth inning.
• White Sox left-hander Hector Santiago, who tossed seven scoreless innings opposite Harvey on Tuesday, talks in the Star-Ledger about his Newark roots. Santiago's favorite player growing up: fellow southpaw John Franco.
• From the bloggers … Mike Baxter discusses the Mets' hitting approach with Metsmerized Online. … Mets Police offers some unofficial rules for Saturday's Banner Day. … Faith and Fear reports on one Mets fan who experienced his own kind of perfection at Citi Field Tuesday. … John Delcos at Mets Report writes that it isn't important for Harvey to pitch a no-hitter -- just to pitch.
BIRTHDAYS: Jerry Buchek, an infielder in the late '60s with the Mets, was born on this date in 1942.
TWEET OF THE DAY:
Pie tasting for our wedding! @anthony_recker twitter.com/KellyShepardso…

— Kelly Shepardson (@KellyShepardson) May 9, 2013
YOU'RE UP: What is the one change you would immediately make to the 25-man roster if you were in charge?