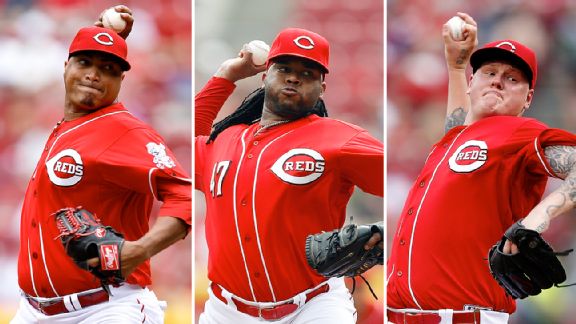 Joe Robbins/Getty Images
The Mets face Alfredo Simon, Johnny Cueto and Mat Latos this weekend in Cincinnati.METS (66-74, fourth place/NL East) vs. CINCINNATI REDS (66-74, fourth place/NL Central)
Friday: RHP Bartolo Colon (12-11, 4.01) vs. RHP Alfredo Simon (13-9, 3.28), 7:10 p.m. ET
Saturday: RHP Dillon Gee (6-6, 3.61) vs. RHP Johnny Cueto (16-8, 2.26), 4:10 p.m. ET
Sunday: RHP Zack Wheeler (9-9, 3.45) vs. RHP Mat Latos (5-4, 3.46), 1:10 p.m. ET
Reds short hops
• Center fielder Billy Hamilton is expected to be the primary competition for Jacob deGrom in the NL Rookie of the Year competition. Hamilton, who turns 24 on Tuesday, is batting .267 with six homers and 46 RBIs and has a franchise-rookie-record 55 steals in 76 attempts. The previous franchise rookie steals record had been 54, by Bob Bescher in 1909. Hamilton has the most steals by a Reds player regardless of experience since Deion Sanders recorded 56 in 1997.
• Second baseman Brandon Phillips is 0-for-his-last-20. He missed 31 games through Aug. 17 while recovering from surgery to address a torn ligament in his left thumb.
• Shortstop Zack Cozart, who was poised to rejoin the Reds on Thursday in Baltimore after the birth of his son, instead remained in Cincinnati because of right-wrist soreness.
• Johnny Cueto's 205 strikeouts are the most by a Reds pitcher in a season since Edinson Volquez notched 206 in 2008. Assuming he produces two or more Saturday, it will become the most Ks since Aaron Harang had 218 in '07.
• Alfredo Simon represented Cincinnati in the All-Star Game as a replacement for Cueto, who pitched the Sunday before the event. Simon had opened the season as the fifth starter when Mat Latos was sidelined rehabbing elbow and knee injuries.
• Right-hander Homer Bailey, who signed a six-year, $105 million contract in February, was due to undergo season-ending surgery Friday to repair a torn flexor tendon in his pitching elbow. He is expected to be ready for spring training.
• First baseman Joey Votto has been on the disabled list since July 8 with a strain in his left knee. He was hitting only .255 with six homers in 220 at-bats before landing on the DL. Of late, Todd Frazier primarily has started at first base.
• The Reds were 51-44 and 1½ games out of first place at the All-Star break. They are 14-30 since resuming play.