SEATTLE -- The celebration of the 10th anniversary of David Wright's major league debut began with a surprise party of sorts thrown by teammates late Sunday night.
Actually, Wright said, it more resembled a roast.
Wright estimated 30 to 40 people in the Mets traveling party joined him for dinner after the team landed in Seattle from San Diego.
Monday marks the 10th anniversary of Wright's debut -- an 0-for-4 performance against the Montreal Expos at Shea Stadium on July 21, 2004.
"They all said, 'Let's go out to dinner,'" Wright said before Monday's series opener against the Mariners at Safeco Field. "I had no idea that it was going to be everybody until we started walking over. I kind of looked behind and there were more people coming. And we sat down and more people started coming. So it was pretty cool.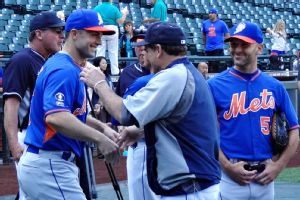 Adam Rubin
David Wright and "baseball father" Howard Johnson reunite during batting practice Monday at Safeco Field.
"The way they show that they like me is by giving me a hard time," the captain continued. "It was more of a roast than saying nice things. There were some nice things said, but kind of tongue in cheek."
Wright said he was surprised by the volume of text messages he received from former teammates, coaches and GMs on Monday recognizing the anniversary.
He suggested the time really has gone by quickly.
"It flies by. It really does fly by," Wright said. "… It seems like it was very recent running out at Shea Stadium for the first time, first at-bat, those butterflies."
Two of the early influential people in Wright's baseball career were quite coincidentally with him on Monday. Howard Johnson, whom Wright used to refer to as his "baseball father," is now the Mariners hitting coach. HoJo coached Wright at multiple levels in the minors. Jim Duquette, the GM when Wright was promoted in 2004, happens to be on the trip filling in for vacationing Howie Rose on the WOR broadcast team this week.
"He fits on any team in baseball, but he's really good with the Mets," HoJo said. "He should be there probably his whole career. He's been the same guy. He's always been very humble, understanding the game and the role that he plays in the game. When he was young, he never thought of himself as any better than anybody else. He just went about his business and he wanted to play hard. That's why he is what he is today, because he understands success can be off and on and it's not a guarantee."
Duquette said there had been recommendations from baseball people to jump Wright from Double-A Binghamton to the majors a month earlier in 2004. The Mets chose to have Wright play 31 games at Triple-A Norfolk -- in the backyard of where he grew up in Virginia -- before elevating him to the majors.
"You never know, really, when the right time is," Duquette said. "We were getting reports from pretty much everybody that he could jump from Binghamton to the major leagues. Then you're like, 'OK, he's close. Let's just take a little bit more conservative route and send him to Norfolk,' because obviously his family was there, too. Once he handled that well, it was like the final test. And that kind of pitching, too. You just want to make sure."
Wright said it is particularly meaningful to have spent the 10 years with one team. He noted the importance to fan bases of having players such as Cal Ripken Jr., Tony Gwynn, Derek Jeter and Chipper Jones wearing only one uniform in the majors.
"It means a lot to me," Wright said. "Growing up, my dad used to try to take us to Camden Yards when it first opened. Growing up watching Cal Ripken Jr., I always thought how cool it was for him to wear that one uniform and just the bond that he had with Baltimore and that area. That was always something I never thought I'd get the chance to do, to play in the big leagues. But I always remembered how I thought about that and how cool I thought that was as a kid.
"You look at Tony Gwynn, having come from San Diego. And you look at obviously Derek and Chipper. That's cool. That's very cool."
Of course, physically, Wright's body at age 31 is not quite the same as at age 21. He is dealing with a nagging left rotator cuff injury that forced him to miss a week and resulted in receiving a cortisone injection entering the All-Star break.
"It's definitely different," Wright said. "There are different things I have to do now to prepare. When you're 21 you can more or less just roll out of bed and get ready for a game. Now, there's a little more time involved. It's a little more routine-oriented, where you have to take better care of yourself physically because there are injuries out there that occur. And because of those injuries or preventative things I have to do things differently than I did 10 years ago."
As for Sunday's dinner, Wright noted, for once he did not need to pick up the check.
"I tried to help, and I think a lot of these guys split it," Wright said. "It was nice. Usually it's the other way around, with me paying."