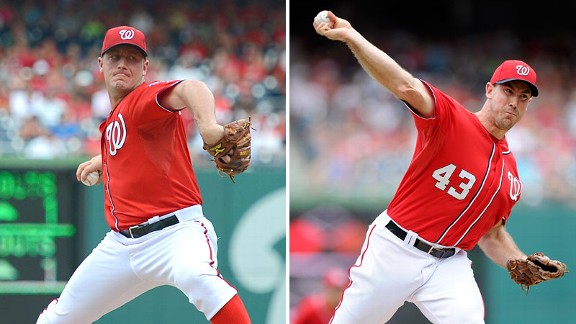 Getty Images
The Mets face Jordan Zimmermann (left) and Ross Ohlendorf (right) in Friday's doubleheader in D.C.METS (45-53, fourth place/NL East) vs. WASHINGTON NATIONALS (49-53, second place/NL East)
Friday: RHP Jenrry Mejia (0-0, -.--) and RHP Matt Harvey (8-2, 2.23) vs. RHP Jordan Zimmermann (12-5, 3.01) and RHP Ross Ohlendorf (2-0, 2.03), 1:35/7:05 p.m. ET
Saturday: RHP Dillon Gee (7-7, 4.07) vs. RHP Dan Haren (4-11, 5.79), 3:05 p.m. ET
Sunday: RHP Carlos Torres (1-1, 0.94) vs. RHP Taylor Jordan (0-3, 3.68), 1:35 p.m. ET
Nationals short hops
• The Nats fired hitting coach Rick Eckstein this week and replaced him with Rick Schu. The 51-year-old Schu had been a minor league hitting instructor for the Nats for the past four seasons. He played in the majors for parts of nine seasons, primarily with the Philadelphia Phillies. He previously had served as hitting coach with the Arizona Diamondbacks. Washington ranks 28th in the majors in runs (370), 27th in batting average (.239), 28th in on-base percentage (.299) and 24th in slugging percentage (.382).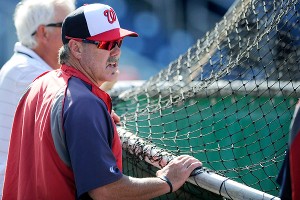 Nick Wass/Associated Press
Rick Schu took over as hitting coach this week.
• The exception to the Nats' struggles at the plate has been right fielder Jayson Werth. His gaudy production over the past month included consecutive two-homer games this week. Since June 23, Werth is hitting .354 (34-for-96) with eight homers and 22 RBIs in 28 games.
• Bryce Harper produced his first career walk-off homer as the Nats snapped a six-game losing streak to open the second half with a 9-7 win against the Pittsburgh Pirates on Thursday afternoon. Washington nonetheless is 8-13 in July.
Rafael Soriano and Ian Krol had combined to surrender four runs in the top of the ninth as Pittsburgh had evened the score at 7. Until Thursday's long ball, Harper had been having a quiet month at the plate since returning from the DL on July 1. He missed five weeks with a left knee injury.
• The Nats acquired ex-Met Scott Hairston from the Chicago Cubs on July 8 for minor leaguer Ivan Pineyro, a player to be named and cash. Hairston hit .172 with eight homers in 99 at-bats in part-time use with the Cubs.
• Left-hander Ross Detwiler is due to spend another month on the DL with a pinched nerve in his lower back. Rookie Taylor Jordan, who faces the Mets on Sunday, has stepped into the rotation. But not too far removed from Tommy John surgery, Jordan is due to reach a season innings cap in 20-30 innings and be shut down.
Ross Ohlendorf, who has started for Triple-A Syracuse and primarily relieved at the major league level this season, could bridge the rotation gap between Jordan's shutdown and Detwiler's return. The Princeton-educated Ohlendorf gets a spot start Friday against the Mets with the need for an extra starter created by the doubleheader.
Jordan has a 76.2 percent rate of groundballs.
• Catcher Wilson Ramos returned July 4 after missing nearly two months. During two stints on the DL for a balky left hamstring this season, Ramos has missed a combined 58 games. Ramos missed most of 2012 recovering from right knee surgery.
• Rookie second baseman Anthony Rendon is hitting .182 in his past 23 games after hitting .354 in his first 26 major league games.
• Reliever Tyler Clippard has produced 13 consecutive scoreless innings.
• Jordan Zimmermann has allowed two earned runs or fewer in 11 of his 13 career starts against the Mets.
• Stephen Strasburg on Wednesday became the second pitcher in modern major league history to lose a start in which he recorded at least 12 strikeouts, allowed two or fewer hits and surrendered no walks, according to the Elias Sports Bureau. The other: James Shields in 2012, for the Tampa Bay Rays against the Baltimore Orioles. Strasburg has a major league-high four losses this season in which he allowed one earned run of fewer.