Right-hander Cory Mazzoni logged 114 2/3 innings for NC State during his junior season, nearly double any other member of the Wolfpack staff. So the Mets are being guarded with their second-round pick. While Mazzoni is pitching every fifth day with the Brooklyn Cyclones, he is being limited to one inning in relief of starter Carlos Vazquez.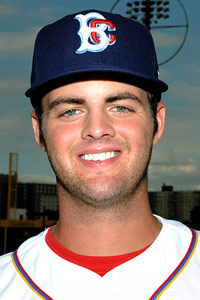 Courtesy of Brooklyn Cyclones
Cory Mazzoni
Through two professional appearances, Mazzoni has limited opponents to one hit and two walks while striking out two in two innings.
"It's been tough. I'm used to throwing six or seven or eight innings every week," Mazzoni said. "And now I'm throwing one. I understand what their thinking is. It's really not that bad. I'm getting used to it. I'm just looking forward to next year throwing a little bit more."
The 21-year-old Mazzoni signed quickly, well ahead of the Aug. 15 deadline, receiving a reported $437,500. The reason for the swiftness?
"I got more money than I guess I could ever imagine," Mazzoni said. "I just really wanted to play baseball. That's something I've really been looking forward to for a long time. There was no reason for me to hold out. I just wanted to get started and get my feet wet and get situated."
Mazzoni's fastball touched 97 mph a few times in college, but he generally works in the 91-94 mph range. He also throws a curveball, slider and split-finger fastball.
Mazzoni had been a 26th-round pick of the Washington Nationals out of high school. The native of Evans City, Pa. -- near Pittsburgh -- had worked at Yankee Stadium and Nationals Park before that draft, but did not sign.
"The Yankees actually called me pretty early on the second day (of that draft). It just wasn't something I was interested in," Mazzoni said. "Washington then just drafted me to see if they could work something out."
In retrospect, Mazzoni would not have traded the college experience.
As a sophomore, NC State reached the ACC tournament championship game. In an NCAA regional this year, with the Wolfpack facing elimination, Mazzoni earned the win, striking out 12 while limiting Georgia State to two runs and four hits in eight innings. He struck out 137 in 114 2/3 innings during his junior year -- the third-highest single-season total in school history. He walked only 29. Fifteen of his 16 starts lasted six or more innings.
"I really improved in college," Mazzoni said. "I got a lot bigger, a lot stronger. I think I'm definitely more prepared for what I'm doing now than when I came out of high school. I don't think it would have worked out as good as it is working out right now."
It was assured entering this year's regional that Mazzoni would pitch the second game. A year earlier, as a sophomore, with NC State facing elimination after dropping its regional opener against College of Charleston, the coaching staff took the calculated risk. The staff held back the ace Mazzoni for a potential third game against a more challenging opponent. Long Island's Stony Brook University ended up beating NC State, which was ousted from the double-elimination tournament without its ace ever taking the mound. It was the first baseball regional win in Stony Brook history.
"They figured we could throw some freshmen and we'd be able to beat them, and that was our best chance to win the regional, which made sense," Mazzoni said. "It didn't happen to work out. And this year they pretty much told me, 'No matter what, we're pitching you the second game.'"
That's ancient history now for Mazzoni, who was prepared for his New York-Penn League experience by quizzing former NC State teammate Jake Buchanan, an eighth-round pick of the Houston Astros last year, who made 14 starts for Tri-City in 2010.
"He told me what it was all about," Mazzoni said. "I had a good idea what I was getting into."
Organization leaders
Average: Juan Lagares, St. Lucie, .339; Cam Maron, Kingsport, .339; Julio Concepcion, Kingsport, .329; Nick Evans, Buffalo, .329; Greg Pron, Kingsport, .328; Josh Satin, Binghamton, .326; Pedro Zapata, St. Lucie, .319; Brandon Brown, Brooklyn, .319; Jeff Glenn, Kingsport, .315; Gilbert Gomez, GCL Mets, .302.
Homers: Brahiam Maldonado, Binghamton, 15.
RBI: Josh Satin, Binghamton, 56; Wilmer Flores, St. Lucie, 53; Aderlin Rodriguez, Savannah, 51; Val Pascucci, Buffalo, 50; Matt den Dekker, Binghamton, 45.
Steals: Jordany Valdespin, Binghamton, 29; Pedro Zapata, St. Lucie, 25; Matt den Dekker, Binghamton, 15.
ERA: Darin Gorski, St. Lucie, 1.56; Marcos Camarena, Brooklyn, 1.86; Eduardo Aldama, Brooklyn, 2.35; Carlos Vazquez, Brooklyn, 2.55; Jeurys Familia, Binghamton, 2.63; Taylor Whitenton, Savannah, 2.69; Chris Schwinden, Buffalo, 2.98; Jeff Walters, Brooklyn, 3.04; Ryan Fraser, Savannah, 3.06; Todd Weldon, Brooklyn, 3.33.
Wins: Matt Harvey, Binghamton, 8; Greg Peavey, St. Lucie, 8; Darin Gorski, St. Lucie, 8; Angel Cuan, Savannah, 7.
Saves: Josh Edgin, St. Lucie, 18; Jeffrey Kaplan, St. Lucie, 10; Nick Carr, St. Lucie, 8; Hamilton Bennett, Savannah, 8.
Strikeouts: Matt Harvey, Binghamton, 106; Jeurys Familia, Binghamton, 100; Darin Gorski, St. Lucie, 96; Chris Schwinden, Buffalo, 86; Taylor Whitenton, Savannah, 81.
Short hops
• Right-hander Chris Schwinden (6-3, 3.07 ERA) is due to represent Buffalo in the Triple-A All-Star Game at Salt Lake City on Wednesday. Infielders Josh Satin (.326, 10 HR, 56 RBI) and Jordany Valdespin (.299, 10 HR, 39 RBI, 29 SB) and right-hander Jeurys Familia (2-2, 3.38 ERA) were selected to represent Binghamton in the Eastern League All-Star Game the same day in Manchester, N.H.
• 2010 first-round pick Matt Harvey recorded the final out of Sunday's Futures Game in Phoenix to earn the save for the Mike Piazza-managed U.S. team. St. Lucie third baseman Jefry Marte struck out in his lone at-bat for the World team.
• Miguel Batista, 40, is due to make his first start with the Mets organization on Thursday for Triple-A Buffalo against Rochester in an SNY-televised game, unless he is scratched to get a call-up to replace Francisco Rodriguez. Batista made one start apiece for the St. Louis Cardinals this season and the Washington Nationals last year, but had not regularly started since 2008 with the Seattle Mariners. His last minor league start came 11 years ago with Triple-A Omaha in the Kansas City Royals organization.
• Fifth-round pick Jack Leathersich had a resoundingly successful professional debut. Working in relief every fifth day for the Brooklyn Cyclones -- the same plan as for Mazzoni, to limit their innings -- Leathersich struck out the side Thursday against Vermont. The southpaw went 6-2 with a 1.62 ERA in 13 appearances (12 starts) for UMass Lowell his junior season before signing. He struck out 126 and walked 27 in 89 college innings this year. Seventh-round pick Cole Frenzel made his professional debut with the Cyclones two days later. Frenzel, a first baseman from the University of Arizona, had a two-hit debut Saturday. He went 3-for-12 in the weekend series against Connecticut.
• Fellow 2011 draft pick Danny Muno (eighth round, Fresno State) returned to shortstop for Brooklyn Thursday after missing 12 days with a right ring finger injury suffered doing pregame infield drills.
• Edgar Ramirez returned to action with Binghamton Saturday after completing a 50-game suspension for testing positive for Methylhexaneamine. The 27-year-old right-hander is 0-2 with a 4.95 ERA in 10 appearances (two starts) spanning 20 innings for the B-Mets this season.
• Binghamton center fielder Matt den Dekker has lifted his average 56 points since July 4, to .235. Den Dekker has a five-game hitting streak and is hitting .345 (10-for-29) with six walks in his past eight games. He scored four times Sunday.
• Buffalo center fielder Kirk Nieuwenhuis may seek a second opinion during the All-Star break on his strained left shoulder before proceeding with surgery.
• Savannah catcher Albert Cordero is hitting .327 in 14 games since the South Atlantic League All-Star break. Add three walks and he has a .386 on-base percentage. Cordero hit .219 with a .248 on-base percentage and walked only three times in 45 games before the break.
• Jose De La Torre continues to log innings as he returns from a shoulder strain. After five appearances in the Gulf Coast League, De La Torre surfaced with Brooklyn on Monday and tossed a scoreless inning, allowing one hit while striking out two. The 25-year-old right-hander had been 2-1 with a 1.42 ERA in nine early season appearances with Buffalo before being shut down following a May 3 appearance at Lehigh Valley.
• Brooklyn outfielder Javier Rodriguez lost an 11-game hitting streak Monday. After opening the season with Savannah, the 2008 second-round pick from Puerto Rico has hit .287 with three homers and 18 RBIs in 94 at-bats with the Cyclones.
• Catcher Blake Forsythe's homer on July 5 was only Savannah's sixth at home this season, and first since April 23. The Gnats, who play at Historic Grayson Stadium, which has spacious gaps, have 32 road homers this season.
• Catcher Dusty Ryan, who returned from surgery for a meniscus tear, is hitting .261 with a homer and three RBIs in seven games with Binghamton. He has caught five games and served as DH twice.
• First baseman Sam Honeck landed on the Savannah disabled list with a concussion.
• Right-hander Eric Beaulac, who had been out since a May 2 game with St. Lucie, was charged with five runs on one hit and four walks while recording only two outs in his return to action, in the Gulf Coast League on Tuesday. Kai Gronauer, who has been out at Binghamton since May 12 with a hamstring injury, started at catcher in the GCL game.
Adam Rubin's farm report appears Wednesday's during the regular season