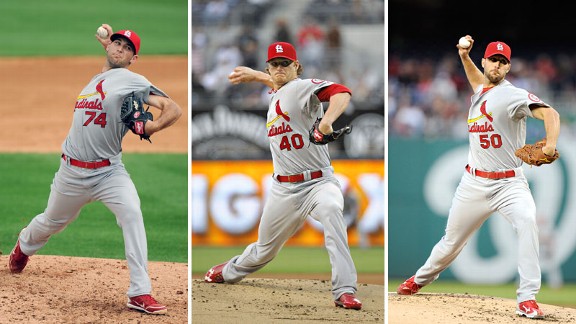 Getty Images
The Mets face (l to r) Michael Wacha, Shelby Miller and Adam Wainwright during a midweek series at Citi Field.METS (23-35, fourth place/NL East) vs. ST. LOUIS CARDINALS (41-22, first place/NL Central)
Tuesday: RHP Jeremy Hefner (1-5, 4.36) vs. RHP Michael Wacha (0-0, 5.40), 7:10 p.m. ET
Wednesday: RHP Dillon Gee (4-6, 5.20) vs. RHP Shelby Miller (7-3, 1.91), 7:10 p.m. ET
Thursday: RHP Matt Harvey (5-0, 2.10) vs. RHP Adam Wainwright (9-3, 2.34), 1:10 p.m. ET
Cardinals short hops
• Rookie phenom Michael Wacha makes his third major league start when he faces the Mets in the series opener. Wacha, 21, was the 19th overall pick in last year's draft out of Texas A&M. He was selected with a pick obtained from the Los Angeles Angels after Albert Pujols defected in free agency. (The Mets took high school shortstop Gavin Cecchini 12th overall last year. He is slated to play at Brooklyn beginning later this month.)
The Cardinals did not show the same Super 2 hesitancy in promoting Wacha as the Mets have with Zack Wheeler. In reality, St. Louis usually locks up its young players as they approach arbitration eligibility. So Wacha might end up a little more expensive, but St. Louis does not care. Past examples of Cardinals who were locked up as their arbitration years began: Adam Wainwright, Jaime Garcia and Allen Craig. Lance Lynn may be next in line.
The 6-foot-6 Wacha throws overhand with a steep downward plane and has the best changeup in the organization.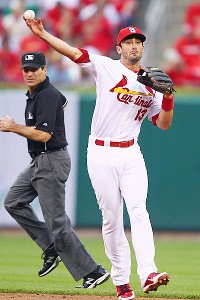 Dilip Vishwanat/Getty Images
Matt Carpenter has hit .418 during an 18-game hitting streak.
• Three Cardinals enter the series with double-digit hitting streaks: third baseman David Freese (19 games, during which he is hitting .375 with 16 RBIs), second baseman Matt Carpenter (18 games, .418) and old friend Carlos Beltran (10 games, .362).
• Beltran -- who has moved into third in NL All-Star balloting in the outfield, passing Milwaukee's Ryan Braun -- had a proud moment today. He attended the first graduation ceremony at the Carlos Beltran Baseball Academy, which he founded in his native Puerto Rico. Of the 44 graduating students, all have college baseball offers. Two were drafted, including shortstop Jan Hernandez in the third round (96th overall) to the Philadelphia Phillies.
• Yadier Molina (.354) leads the National League in batting average, three points ahead of Colorado's Troy Tulowitzki. Since getting a rare day off against the Mets on May 15 at Busch Stadium, Molina has started all but three games. The last one backup Tony Cruz started came last Wednesday, when Molina served a one-game suspension for bumping umpire Mike Everitt. Molina had been called out on a close play at first base by fellow ump Clint Fagan.
• Rookie Shelby Miller leads the National League with a 1.91 ERA, narrowly ahead of L.A.'s Clayton Kershaw (1.93) and Arizona's Patrick Corbin (1.98). Miller sports a deceptive power fastball that he elevates in the zone. He recently has started tinkering with a sinker.
• Wainwright is tied with Corbin and Washington's Jordan Zimmermann for the NL wins lead at nine. How bored has Wainwright become? In addition to sporting arguably the game's best curveball, Wainwright has started changing his mechanics during games to toy with opponents. He sometimes will add a pause in his delivery like Dan Haren does, and sometimes with quick pitch. He also will change his spot on the rubber between hitters. Sometimes he will start his delivery with his hands upward, and sometimes at the belt.
• Jake Westbrook (elbow) is due to return from the DL and reenter the rotation Friday.
• The Cardinals are hitting an MLB-best .341 with runners in scoring position, a full 34 points better than runner-up Tampa Bay.