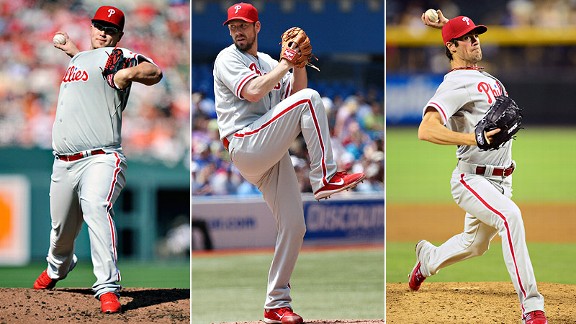 US Presswire
The Mets are expected to face (l to r) Vance Worley, Cliff Lee and Cole Hamels during the midweek series.
METS (43-37, second place/NL East) vs. PHILADLEPHIA PHILLIES (36-45, fifth place/NL East)
Tuesday: LHP Jon Niese (6-3, 3.55) vs. RHP Vance Worley (4-4, 2.92), 7:10 p.m. ET
Wednesday: RHP Chris Young (2-1, 3.30) vs. LHP Cliff Lee (0-5, 4.13), 1:10 p.m. ET
Thursday: RHP R.A. Dickey (12-1, 2.15) vs. LHP Cole Hamels (10-4, 3.08), 7:10 p.m. ET
Phillies short hops
• The underwhelming Phillies traded a pair of veterans to the American League during the weekend. They dealt Jim Thome to the Baltimore Orioles for minor league catcher Gabriel Lino and right-hander Kyle Simon. A day later, reliever Chad Qualls was sent to the Yankees for cash or a player to be named. Thome, 41, was hitting .242 with five homers and 15 RBIs in 62 at-bats, but back woes made it difficult for him to man first base. Qualls (4.60 ERA) had been designated for assignment Thursday.
Ex-Met Jason Pridie and left-hander Jeremy Horst took their roster spots. Horst had been acquired by the Phillies in January in the trade that sent infielder Wilson Valdez, another ex-Met, to Cincinnati. Pridie had signed with Oakland as a minor league free agent during the winter, was suspended 50 games by MLB for a second positive test for a drug of abuse in March, was released by the A's last month and signed with Philadelphia on June 15.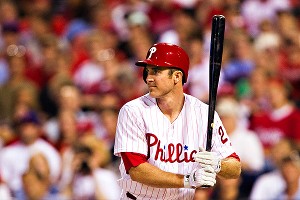 Howard Smith/US Presswire
Chase Utley made his season debut last week after dealing with chronic knee woes.
• ESPN's Buster Olney reports the dismantling may not be limited to peripheral players, with pending free agent Cole Hamels as well as Shane Victorino also potentially available.
• Hamels, catcher Carlos Ruiz and closer Jonathan Papelbon will represent the Phillies in the July 10 All-Star Game in Kansas City, although San Francisco's Buster Posey will start over Ruiz behind the plate. Ruiz, a first-time All-Star, leads the majors in batting at .356, two points ahead of David Wright.
• Second baseman Chase Utley made his season debut last Wednesday with a three-hit game. He homered against the Pirates' James McDonald in his first at-bat. Utley, who played in 10 rehab games, has started three of five games since being activated from the DL. The absence was caused by chronic left knee woes. Mike Fontenot has started the other two games at second base since Utley's return.
• First baseman Ryan Howard may not be too far behind Utley. He began a rehab assignment Thursday with Class A Lakewood. Howard underwent surgery in October on his left Achilles and suffered a setback when the area got infected.
• Rookie infielder Freddy Galvis, who had started 45 games at second base in Utley's absence, was suspended by MLB for testing positive for a performance-enhancing drug. He already was sidelined with a back injury and will be allowed to serve the suspension while on the disabled list. In a statement, Galvis denied knowingly using the banned substance.
• The Phillies are nine games under .500 for the first time since July 25, 2006, when they were 44-53. A loss in the series opener against the Mets would drop Philadelphia 10 games under .500 for the first time since July 22, 2002. The Phillies had not had this bad a record at the midpoint of a season since they were 23-58 in 1997.
• After using Vance Worley in the series opener, the Phillies are expected to skip Kyle Kendrick and go with Cliff Lee and Hamels in the series.
• Lee remains winless through 13 starts. The last MLB pitchers to open a season with that many starts and not have one victory to show for it? They would be Kenshin Kawakami with Atlanta and Kevin Millwood with Baltimore, two seasons ago. They both failed to be credited with a win in their first 14 starts of 2010. Lee has allowed five or more earned runs in three straight starts, one shy of matching his career high, which came with Cleveland in 2007.
• Roy Halladay threw a bullpen session Friday for the first time since landing on the DL with a back strain.
Last series results
Philadelphia won, 2-1, at Citi Field, May 28-30 (AP game recaps)
Phillies 8, Mets 4: Ty Wigginton drove in a career-high six runs with a homer and a pair of two-out hits and Cole Hamels won his eighth straight decision. Scott Hairston and Vinny Rottino each hit tying two-run homers for the Mets. Down 5-4, the Mets threatened in the eighth when pinch hitter Andres Torres doubled. With one out and Torres on third, Daniel Murphy grounded out and then David Wright also grounded out to end the inning. Wright has gone hitless in his last 14 at-bats, dropping his average to .373. More
Mets 6, Phillies 3: Jeremy Hefner earned his first victory in the majors and highlighted the occasion by homering for his first big league hit. The 26-year-old rookie became the first major league pitcher to hit his first homer in his first win since 2002, when Dennis Tankersley did it with San Diego, STATS LLC said. Pinch hitter Scott Hairston had a two-run homer, and newcomer Omar Quintanilla doubled twice and singled. More
Phillies 10, Mets 6: Carlos Ruiz came off the bench with a sore hamstring to hit a tying homer in the seventh inning, Jimmy Rollins added a three-run shot and the Phillies busted loose late. Shane Victorino drove in the go-ahead run with a sacrifice fly in the eighth and Philadelphia bailed out winless Cliff Lee to take two of three in the series. Ty Wigginton also homered for the Phillies, who improved to 3-6 against the Mets this season. Lucas Duda went deep twice, including a two-run shot off Lee in the sixth that gave the Mets a 3-1 lead. Dillon Gee pitched 6 2/3 effective innings, but the New York bullpen was battered after he left -- beginning with the pinch-hit homer by Ruiz. More