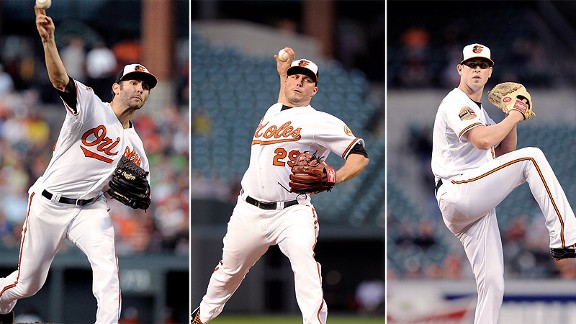 Getty Images
The Mets face (l to r) Jake Arrieta, Tommy Hunter and Brian Matusz during an interleague series against the Orioles.
METS (35-32, third place/NL East) vs. BALTIMORE ORIOLES (39-27, second place/AL East)
Monday: RHP R.A. Dickey (10-1, 2.20) vs. RHP Jake Arrieta (3-8, 5.89), 7:10 p.m. ET
Tuesday: LHP Johan Santana (4-3, 3.23) vs. RHP Tommy Hunter (3-3, 5.58), 7:10 p.m. ET
Wednesday: RHP Dillon Gee (4-5, 4.43) vs. LHP Brian Matusz (5-7, 4.94), 7:10 p.m. ET
Orioles short hops
• Center fielder Adam Jones (.311, 18 HR, 39 RBIs) signed a six-year, $85.5 million extension through 2018 on May 27, on top of the $6.15 million owed this season, and is having a breakout season. Jones, 26, has started every game in 2012 and is the lone healthy player among Baltimore's top four outfielders. He had a 20-game hitting streak in May, which was tied for the longest in the majors this season until Cleveland's Michael Brantley reached 22 games Friday before having a streak snapped. It was the longest streak by an Oriole since Brian Roberts had a 20-game streak in 2005.
• Roberts was activated from the 60-day disabled list last Tuesday after missing nearly 13 months with the effects of concussions. He retook his second-base job, pushing Robert Andino -- who had started 56 games at the position -- to a utility role. Once the DH resumes for Baltimore, Andino will probably start five days a week, with significant time at third base, where he is the best fielder on the roster, as well as through spelling shortstop J.J. Hardy and Roberts.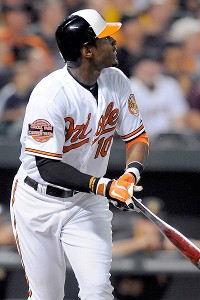 Gene Sweeney Jr./Baltimore Sun/Getty Images
Adam Jones signed a six-year, $85.5 million extension in May.
• The Orioles employ several ex-Mets. Backup catcher Ronny Paulino was promoted from Triple-A Norfolk on May 25, swapping spots with Luis Exposito. Paulino started for only the second time since the call-up Sunday. Matt Wieters started 19 of the previous 20 games. Sidearm reliever Darren O'Day (4-0, 1.72 ERA) was a Nov. 2 waiver claim from Texas. Endy Chavez, hitting only .162, landed on the DL after suffering a strained right hamstring last Tuesday against Pittsburgh. Reliever Matt Lindstrom also is on the DL with a torn ligament in his right middle finger. Another ex-Met, Luis Ayala, has been an effective bullpen arm.
• Baltimore acquired outfielder/first baseman Steve Pearce from the Yankees on June 2 for cash. Pearce has started six of the past seven games in left field, in a spot in which Nolan Reimold and Chavez saw heavy duty before injuries. Reimold has been sidelined since April 30 with a herniated disc in his neck, but now is beginning baseball activities.
• Right fielder Nick Markakis underwent June 1 surgery to address a hamate bone fracture in his right hand.
• Wieters was a first-time All-Star last season. He also became the first Orioles catcher to win a Gold Glove.
• Jake Arrieta, the Opening Day starter, was bumped to the bullpen after allowing nine runs in four innings against the Phillies on June 8. But Arrieta got a reprieve when Brian Matusz's scheduled start had to be pushed back two days because he bloodied and bruised his nose in a bunting drill while preparing for NL play. Given a second chance, Arrieta limited Pittsburgh to one run in seven innings while matching a season high with nine strikeouts to snap a personal six-game losing streak and earn another start. Arrieta has been erratic. Against the Phillies, he allowed six runs in the second inning, then struck out the side the following frame.
• Matusz had allowed nine runs (eight earned) in 7 2/3 innings over his past two starts, at Boston and Atlanta. His career interleague numbers: 0-6 with a 7.32 ERA.
• DH Chris Davis, who served as first baseman early in the season, spent the weekend starting in right field at Atlanta. Davis had not appeared at that position since playing two games at the beginning of his professional career in that spot in 2006, with Class A Spokane. He had played 52 career minor league games in left field.
• Tommy Hunter was acquired from Texas with Davis last July 30 for right-hander Koji Uehara.
• First baseman Mark Reynolds is hitting .341 with three homers and 10 RBIs in his past 13 games, lifting his average 40 points, to .238. Reynolds is one of seven major leaguers to have reached the 30-homer plateau each of the past three seasons. The others: Miguel Cabrera, Prince Fielder, Ryan Howard, Albert Pujols, Mark Teixeira and Dan Uggla. Reynolds has led his league in strikeouts the past four seasons with Arizona and Baltimore, with 204, 223, 211 and 196.
• Closer Jim Johnson ranks second in the majors with 20 saves (in 21 chances), trailing only Chris Perez's 21 saves with Cleveland. Johnson was named MLB Delivery Man of the Month after going 9-for-9 in save conversions in May. His streak of 25 straight save conversions from Aug. 14, 2011 through June 2 was second-longest in franchise history, trailing only a 34-save streak by Randy Myers in 1997.
• Dan Duquette was hired as executive vice president in November. He had not been a major league executive since being fired by the Boston Red Sox in March 2002. Duquette acquired Jason Hammel (7-2) from Colorado with Lindstrom for Jeremy Guthrie and signed Taiwanese left-hander Wei-Yin Chen (7-2) to bolster the rotation.
• The Orioles have assembled a veteran cast in the minors: Miguel Tejada, Jamie Moyer, Nate McLouth, Bill Hall, Dontrelle Willis and Joel Piñeiro.
Last series results
Mets won, 3-0, at Camden Yards, June 11-13, 2010 (AP game recaps)
Mets 5, Orioles 1: R.A. Dickey baffled the Orioles for seven innings and Chris Carter hit his first major league homer. Dickey (4-0) gave up one run and seven hits to win his fourth straight start. He had a career-high eight strikeouts, including Corey Patterson three times and Adam Jones twice. Carter hit a three-run shot in the fourth to stake the Mets to a 4-0 lead against Jeremy Guthrie (3-7). David Wright had three hits and two RBIs. More
Mets 3, Orioles 1: Jeff Francoeur homered to back a strong pitching performance by Hisanori Takahashi and the Mets, after going nearly 11 months without winning two straight on the road, finally broke through. Jose Reyes also homered for the Mets, who are now assured of winning the three-game series after going 0-7-2 away from home -- their longest series drought to start a season since 1983. Takahashi (5-2) gave up one run, six hits and a walk in seven innings. More
Mets 11, Orioles 4: David Wright hit two homers, Chris Carter and Jason Bay also connected, and the Mets amassed a season-high 18 hits. New York came to Camden Yards with a 9-18 record away from home, but now has earned its first three-game road sweep since September 2008, in Milwaukee. Bay entered in an 0-for-16 skid before going 4-for-4 and scoring four of New York's season-high 11 runs. Wright and Alex Cora each had three hits, and Carter hit his second homer in three games. Mike Pelfrey (9-1) gave up three runs, nine hits and three walks in six rocky innings but received enough offensive support to win his fifth straight decision. More