WHAT IT MEANS: R.A. Dickey notched his 16th victory and the Mets snapped a six-game losing streak with a 3-1 win against the lowly Houston Astros on Saturday afternoon at Citi Field.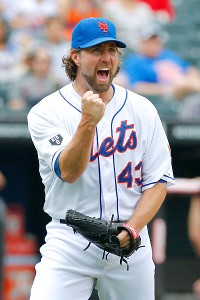 Paul J. Bereswill/Associated Press
R.A. Dickey reacts to coaxing a double play from pinch hitter Steve Pearce in the fifth after facing a bases-loaded, one-out jam.
Dickey became the Mets' first 16-game winner since Johan Santana in 2008. The knuckleballer pulled even with Washington's Gio Gonzalez and Cincinnati's Johnny Cueto for the National League lead. Dickey has seven starts remaining if he pitches every fifth game -- and potentially another if Terry Collins chooses to fiddle with things down the stretch.
Jon Rauch, Josh Edgin and Frank Francisco preserved the one-run lead for the final six outs.
Dickey retired 10 straight batters to open game, until Fernando Martinez singled to right field.
The knuckleballer was staked to a 1-0 lead in the fourth when Astros left-hander Fernando Abad and catcher Jason Castro clumsily collided on Dickey's swinging bunt and Ronny Cedeño scored.
Dickey overcame the biggest threat against him a half-inning later. With the bases loaded and one out in the fifth, Dickey coaxed pinch hitter Steve Pearce into a 6-4-3 double play, with Cedeño withstanding a hard slide by Brian Bogusevic at second base while turning the twin-killing.
Justin Turner -- starting for a second straight day, this time at first base -- staked the Mets to a 2-0 lead with a solo homer in the sixth against reliever Mickey Storey. It was Turner's first long ball since Aug. 6, 2011, during a two-homer game against Atlanta's Tommy Hanson. Turner had gone 263 at-bats between homers. (Side note: Turner's iPod, attached to speakers, blared cover versions of "Wonderwall" continuously for an hour in the clubhouse pregame.)
16-WIN PLATEAU
A look at the most-recent Mets pitchers to post 16 or more wins in a season.
Dickey uncorked a run-scoring wild pitch in the top of the seventh and departed in the bottom half of the inning for pinch hitter Jordany Valdespin with his pitch count at 86 and the Mets leading 2-1.
The Mets posted their third run in the eighth when Jason Bay snapped an 0-for-14 drought with an RBI single. The Mets had failed to exceed two runs in seven straight games, their longest such drought since 1982.
ACCOUNTABILITY: Ruben Tejada received a visit from trainer Ray Ramirez at shortstop after fielding a grounder on a sharp hop in the fourth inning. When he batted an inning later and popped out, Tejada did not run to first base with much intensity. That seemingly warranted a lecture in the corner of the dugout from bench coach Bob Geren. Tejada then disappeared down the tunnel that leads to the clubhouse. When he returned in view, David Wright spoke with the shortstop.
HEAVY LOAD: Edgin potentially risks overuse, like predecessors Pedro Feliciano and Tim Byrdak. Collins inserted the rookie southpaw with two outs in the eighth to face the lefty-hitting ex-Met Martinez with the bases empty, rather than have Rauch finish the inning. It was Edgin's sixth appearance in seven days.
WHAT'S NEXT: Jeremy Hefner, whose wife, Sarah, gave birth to the couple's second child Wednesday in Oklahoma, has returned from paternity leave and gets the start Sunday at 1:10 p.m. Hefner (2-5, 5.11 ERA) opposes Astros right-hander Lucas Harrell (10-9, 4.04).