MIAMI
FIRST PITCH: Now what?
The Mets lost a Matt Harvey start for the first time this season. They now send Jeremy Hefner to the mound at 7:10 tonight against right-hander Kevin Slowey, trying to snap the team's five-game losing skid.
After a two-run homer Monday, John Buck enters the final game of the month tied with Carlos Delgado (2006) and Dave Kingman (1976) for the franchise record for homers in April with nine. Buck (25) trails Jeff Kent by one for the Mets record for RBIs in the month.
Tuesday's news reports:
• The Mets twice squandered one-run leads while three outs from victory and lost to the Miami Marlins, 4-3, Monday night in a 15-inning game that lasted five hours, 31 minutes. The Mets (10-14) dropped a season-low four games under .500. Read game recaps in the Post, Daily News, Newsday, Journal, Times, Record, Star-Ledger and MLB.com.
• Shaun Marcum volunteered for relief duty Monday. He suffered the loss, but predicted the outing would not impede his ability to start Friday in Atlanta on turn. Backup catcher Anthony Recker was next in line to pitch.
• Harvey struggled with command of his fastball and had a high pitch count, but he nonetheless gutted through 5 1/3 innings while limiting Miami to one run. The ninth-inning meltdown long after Harvey's departure -- which was as much the responsibility of Collin Cowgill in center field as closer Bobby Parnell -- deprived Harvey of joining Pedro Martinez and Dwight Gooden as the only players in franchise history to go 5-0 in April.
• David Wright was held out of the series opener with neck stiffness, but ultimately decided to pinch hit in the 13th inning. Wright struck out looking. He was unsure if he would be capable of starting tonight, but resolved to have a short absence. Read more in the Daily News, Newsday, Record, Star-Ledger and MLB.com.
• Marlins slugger Giancarlo Stanton landed on the DL postgame with a right hamstring strain.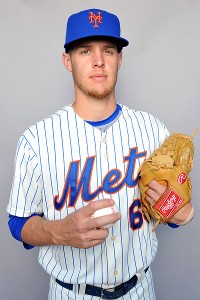 Steve Mitchell/USA TODAY Sports
Zack Wheeler says conditions in the Pacific Coast League are more difficult for him than he expected.
• Zack Wheeler is 0-1 with a 5.79 ERA through five starts with Triple-A Las Vegas. The organization's top prospect told columnist John Harper in the Daily News the Pacific Coast League conditions have been a challenge. Wheeler is due to pitch today at 2:35 p.m. ET in Reno opposite former major leaguer Garrett Mock.
"I didn't think it was going to be a big deal, but it's always in the back of your mind," Wheeler told Harper about the West Coast games. "You're going to get hit from time to time, but sometimes you make a pitch and you say, 'Man, that was a good pitch, but it was still off the wall.' It makes you second-guess yourself when it really shouldn't. It's human nature, but you've gotta keep your head on straight and go out and battle. …
"It's hard being from the East Coast, and being used to the humidity, the moisture. Every time after I throw a pitch, I've gotta lick my fingers. Sometimes, before I even throw the next pitch, I've gotta step off and lick them again because my fingers are already dry again. And the balls are slick as crap. It takes some adjusting."
• Wright told reporters about NBA player Jason Collins, who announced he is gay. "It's very admirable. Obviously, it's a different sport. But if you can play the game I don't care the color of your skin, sexual orientation, religion. If you can play the game, come on in. You're welcome. … Hopefully that allows individuals to express themselves."
Said LaTroy Hawkins to Anthony DiComo at MLB.com: "Everybody knows somebody who's gay. If you can't deal with it in 2013, you need to go somewhere and hide in a cave."
Read more in the Star-Ledger.
• Hefner has a 2.21 ERA in four career appearances (three starts) against the Marlins, notes Mike Puma in the Post.
• Ex-Yankees right-hander D.J. Mitchell took a scoreless effort into the sixth in his Vegas debut and the 51s beat Reno, 9-5, to snap a five-game losing streak. Josh Edgin recorded two scoreless innings in his first game with Double-A Binghamton, although he needed outfielder Cory Vaughn to throw out a runner at the plate to keep Erie off the scoreboard against him. Rylan Sandoval hit a grand slam and Pedro Feliciano made his first appearance since a food-poisoning scare as St. Lucie beat the Tampa Yankees, 7-1. Read the full minor league recap here.
• Frank Francisco threw 15 pitches in an intrasquad game in Port St. Lucie. The Mets did not say how that abbreviated appearance went.
• From the bloggers … Faith and Fear in Flushing looks at an unhappy day on a fan's baseball calendar. … The Eddie Kranepool Society notes April 2013 will mark five straight months the Mets have posted a losing record. … Shannon from Mets Police prefers AM to FM when listening to Mets games.
BIRTHDAYS: Left-hander Bob Hendley, who made 13 starts for the Mets in 1967 at the end of his major league career, was born on this date in 1939.
TWEET OF THE DAY:
KKKKKKK #MATTHARVEYKCOUNT

— Dwight Gooden (@DocGooden16) April 30, 2013
YOU'RE UP: Will the Mets see .500 again this season?