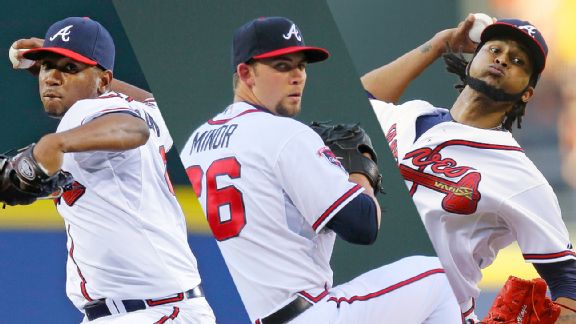 Associated Press/Getty Images
The Mets are due to face Julio Teheran, Mike Minor and Ervin Santana this weekend at Turner Field.METS (73-80, fourth place/NL East) vs. ATLANTA BRAVES (76-76, second place/NL East)
Friday: RHP Zack Wheeler (10-10, 3.61) vs. RHP Julio Teheran (13-12, 2.89), 7:35 p.m. ET
Saturday: LHP Jonathon Niese (8-11, 3.55) vs. LHP Mike Minor (6-11, 4.74), 7:10 p.m. ET
Sunday: RHP Jacob deGrom (8-6, 2.68) vs. RHP Ervin Santana (14-9, 3.74), 1:35 p.m. ET
Braves short hops
Catcher Evan Gattis has been sidelined for nine games with strep throat and a kidney stone, but may be close to returning. Christian Bethancourt has started the past eight games behind the plate.
Right fielder Jason Heyward departed Wednesday's game in the eighth, two innings after getting hit by a pitch in the left thumb. X-rays were negative. Shortstop Andrelton Simmons earlier left the game with a sore left ankle.
The Washington Nationals clinched the NL East title at Turner Field on Tuesday. The Nats and Braves were even in the standings as recently as July 20. That defeat was Atlanta's 11th in 14 games. It temporarily knocked the Braves under .500 for the first time since losing on Opening Day.
The Braves broke ground on a new ballpark in Cobb County this week that will open in 2017. It will be called SunTrust Park. The Braves have played at Turner Field since the 1997 season -- the year after it hosted the Olympics.
Closer Craig Kimbrel is the first pitcher to begin his career with four consecutive 40-save seasons. Overall, he is only the third pitcher to have four straight seasons reaching that save plateau. Trevor Hoffman achieved it from 1998 through 2001 and from 2004 through '07. Francisco Rodriguez did so from 2005 through '08.
Justin Upton's 27 homers are tied with Lucas Duda's total for third in the National League. Idle Marlin Giancarlo Stanton has 37. The Cubs' Anthony Rizzo has 31. Upton also ranks third in RBIs with 97.