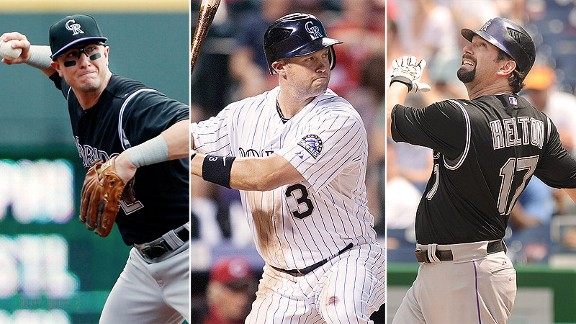 US Presswire/Getty Images
Rockies players (l to r) Troy Tulowitzki, Michael Cuddyer and Todd Helton are all on the disabled list, leaving Colorado a skeleton crew.
METS (57-64, third place/NL East) vs. COLORADO ROCKIES (46-73, fifth place/NL West)
Monday: RHP R.A. Dickey (15-4, 2.89) vs. RHP Alex White (2-6, 5.74), 7:10 p.m. ET
Tuesday: RHP Chris Young (3-6, 4.50) vs. RHP Jhoulys Chacin (0-3, 7.30), 7:10 p.m. ET
Wednesday: RHP Matt Harvey (2-3, 3.00) vs. LHP Jeff Francis (4-4, 6.07), 7:10 p.m. ET
Thursday: LHP Johan Santana (6-9, 4.85) vs. RHP Tyler Chatwood (3-3, 5.46), 1:10 p.m. ET
Rockies short hops
• Right fielder Michael Cuddyer landed back on the disabled list with a right oblique strain and could be lost for the season. He had missed two weeks, then returned for three games. Cuddyer (.260, 16 HR, 58 RBIs) signed a three-year, $31.5 million deal in December.
Also sidelined:
Shortstop Troy Tulowitzki underwent surgery to repair a strained left groin on June 21. Tulowitzki originally suffered the injury running out of the batter's box on May 30. He is due to be with the Rockies in New York, but inactive. He ran the bases Saturday, but is not due to begin a rehab assignment until next week.
First baseman Todd Helton underwent season-ending surgery on Aug. 10 to repair a torn labrum in his right hip.
Jason Giambi has been out since July 20 with a viral infection. He has started taking batting practice and fielding grounders, but is not expected back until the end of the month.
Tyler Colvin and Jordan Pacheco have shared first base with Helton out, while Pacheco otherwise teams with Chris Nelson to man third base.
Josh Rutledge, who made his major league debut July 13, is the shortstop minus Tulowitzki. But Rutledge suffered his own injury Sunday, leaving the game in the fourth inning after tweaking a previously strained left quadriceps. Presuming he's healthy, Rutledge should move to second base once Tulowitzki returns.
Eric Young, who is hitting .426 in 13 games since Aug. 6 and showing uncharacteristic power in addition to his customary speed, and Colvin have subbed for Cuddyer in right field. But Young, too, was forced from Sunday's game after straining a rib-cage muscle. Young predicted his absence would be limited to a "game or two."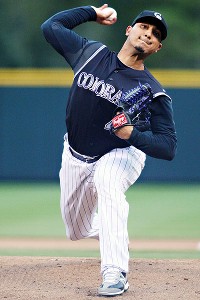 Chris Humphreys/US Presswire
Jhoulys Chacin returns from a pec muscle injury that sidelined him since May.
Nelson returned Aug. 6 from a DL trip for an irregular heartbeat. Pacheco ranks among the leaders in NL rookie offensive categories, including average at .312, although his 339 plate appearances are narrowly shy of qualifying.
• Right-hander Jhoulys Chacin will make his first major league appearance since straining a pectoral muscle. He landed on the DL after a May 1 start. He will be on roughly a 75-pitch limit. He tossed 91 pitches over seven innings Thursday with Triple-A Colorado Springs.
The Rockies have employed a four-man rotation with pitch counts in the 70s under manager Jim Tracy, so Chacin could alternate starts with Drew Pomeranz going forward to keep the rookie Pomeranz's innings in check. The four-man rotation began out of necessity in Philly in mid-June due to a lack of quality arms after Jeremy Guthrie's struggles got him bounced from the rotation to the bullpen. Three bullpen arms piggyback the starters to handle middle innings.
• Left fielder Carlos Gonzalez was placed on bereavement leave and traveled to Venezuela on Saturday to mourn the death of his grandfather. He likely will return Tuesday, but is eligible to miss as much as a full week.
• Tyler Chatwood, acquired from the Angels on Nov. 30 for Chris Iannetta, has a 3.93 ERA in four starts since returning from a one-month stint in the minors. Standing a modest 5-foot-11, the 22-year-old Chatwood doesn't throw downhill. So his 95 mph fastball needs location; otherwise it can be flat and hittable.
• The Rockies traded Marco Scutaro to San Francisco for infielder Charlie Culberson on July 27. D.J. LeMahieu, acquired from the Cubs last offseason with Colvin for Ian Stewart, has taken over at second base.
• The Mets seriously discussed acquiring catcher Ramon Hernandez from the Rockies before the July 31 trade deadline, but ultimately obtained Kelly Shoppach this month. Rookie catcher Wilin Rosario now handles the bulk of the duty for Colorado. Rosario is six homers shy of matching the Rockies' rookie record, established by Helton with 25 in 1998. His defensive skills do not match his plate prowess.
• Alex White will make his fifth start since being recalled from the minors on Aug. 2. His return coincided with Jonathan Sanchez suffering from left biceps tendinitis.
• Left-hander Jeff Francis' Aug. 13 win gave him 59 victories as a Rockie, passing Jason Jennings for second on the franchise's all-time list. The leader: Aaron Cook, with 72 wins.
• Reliever Adam Ottavino is a local product. He graduated from Berkeley Carroll High School in Park Slope, Brooklyn, and has trained during the winter at the same Garden City, L.I., facility as several local Mets players the past few years, including now-departed Jose Reyes and Pedro Beato.
Last series results
Mets won, 2-1, at Coors Field, April 27-29 (AP game recaps)
Rockies 18, Mets 9: Carlos Gonzalez was at the center of an 11-run fifth inning, hitting a homer and a single for five of his six RBIs, and the Rockies overcame Scott Hairston's cycle. Ramon Hernandez hit his sixth career grand slam -- the first for the Rockies this season -- and Troy Tulowitzki and Dexter Fowler also homered for Colorado, which set a season high for runs. Hairston became the 10th player in team history and first in the majors this season to hit for the cycle. He drove in four runs, but it wasn't enough on a night when pitching was an afterthought. More
Mets 7, Rockies 5: Dillon Gee shook off the rough patch in an otherwise strong outing and Lucas Duda backed him with a homer and single to drive in four runs. Gee allowed four runs in seven innings. He struck out seven and walked two, and seemed to be at his best late in his outing, retiring nine of the last 10 batters he faced. More
Mets 6, Rockies 5 (11 innings): Ike Davis singled in the go-ahead run off reliever Matt Belisle in the 11th inning and the Mets overcame two tying homers allowed by their bullpen. Johan Santana, looking for his first win since September 2010, left with a 4-0 lead after six innings but Tim Byrdak gave up pinch-hitter Todd Helton's grand slam in the eighth. Kirk Nieuwenhuis put the Mets ahead again with an RBI double in the 10th before Frank Francisco served up Carlos Gonzalez's solo homer in the bottom half. David Wright started the 11th with a single off Belisle (1-2) and went to third on Lucas Duda's single. After Scott Hairston hit into a fielder's choice, Davis' sharp grounder finally rescued the Mets. More