Brooklyn Cyclones left fielder Jared King has been switch-hitting since he can remember.
His father Jeff, who played college ball at Ohio State and one season professionally with the Yankees in the New York-Penn League, set up a batting cage in the family's basement in a suburb of Columbus, Ohio, for Jared and brother Jason to learn from a young age.
"He knew you've got a better shot if you can swing it from both sides," Jared said. "He made it a job to try to get us to both be able to do it. And we stuck with it and it's helped out tremendously."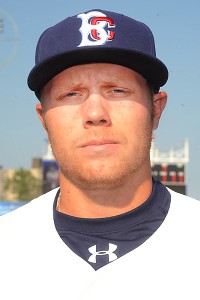 Courtesy of Brooklyn Cyclones
Jared King
Both brothers ended up playing for Kansas State, then getting drafted professionally in early rounds.
Jason, a third baseman, was selected in the fourth round in 2011 by the Tigers and currently is playing in the Midwest League for Western Michigan.
Jared, a fifth-round pick of the Mets two months ago, is hitting .264 with 16 RBIs and a .364 on-base percentage in 42 games with Brooklyn while serving as the regular left fielder. (He suffered a left oblique injury Tuesday and is day-to-day.)
The brothers, three years apart grade-wise and 2½ years in age, overlapped for one season at Kansas State because Jared needed to be redshirted his junior year while recovering from Tommy John surgery.
"We're always talking," Jared said. "Usually every other day, or every day, we just either text or call each other to see how things are going. He's always been there to be a support system for me as well as the rest of my family, so it's been a huge help."
The family has quite a legacy in Columbus. Jared and Jason's grandfather Frank Ellwood was a quarterback at Ohio State in 1954 when the program won a national championship. Ellwood went on to be the head football coach at Marshall and an assistant coach with the Buckeyes as well as at Air Force and Ohio University.
Initially it did not seem like the brothers would be able to play together in college.
"We were kind of looking at it that when he's a true junior, he's going to be getting drafted. So I'm really not going to be able to play with him again," said Jared, who played one season of high school varsity with Jeff, when they were a freshman and senior, respectively. "And then he got hurt and was going to be there another year. So it opened another opportunity to be with him. He helped me through that process as well, adjusting from high school to college. It was just a great move for me and the right thing to do."
The brothers' experience growing up also was shaped by a tragic event. The day before Jason signed to play at Kansas State, their mother Susan passed away after a battle with colon cancer.
"It was very emotional," Jared said. "It's just more motivation for Jason and I to get to where we want to be and follow our dreams.
"When something like that happens, it kind of makes you grow up quicker than you're supposed to. I really had a clear vision of what I wanted to do with my life, and this is what I want to be doing. The same with him.
"And here we are, still chasing the same dream as when we were five years old."
Organization leaders
Average: Victor Cruzado, Kingsport, .336; Jayce Boyd, St. Lucie, .336; Jeff McNeil, Kingsport, .333 Cesar Puello, Binghamton, .328; Wilmer Flores, Vegas, .321; Kevin Plawecki, St. Lucie, .317; LJ Mazzilli, Brooklyn, .302; Joe Tuschak, Kingsport, .297; Allan Dykstra, Binghamton, .290; Jhoan Urena, GCL Mets, .290.
Homers: Dustin Lawley, St. Lucie, 23; Allan Dykstra, Binghamton, 18; Travis Taijeron, Binghamton, 18; Cesar Puello, Binghamton, 16; Wilmer Flores, Vegas, 15.
RBI: Wilmer Flores, Vegas, 86; Dustin Lawley, St. Lucie, 83; Cesar Puello, 73; Jayce Boyd, St. Lucie, 72; Allan Dykstra, Binghamton, 70.
Steals: Darrell Ceciliani, Binghamton, 25; Cesar Puello, Binghamton, 24; Alonzo Harris, Binghamton, 22; Eudy Pina, Savannah, 17.
ERA: Rob Whalen, Kingsport, 1.54; Octavio Acosta, GCL Mets, 2.17; Miller Diaz, Brooklyn, 2.34; Chris Flexen, Kingsport, 2.36; Rainy Lara, St. Lucie, 2.37; John Gant, Brooklyn, 2.47; Noah Syndergaard, Binghamton, 2.67; Matt Bowman, St. Lucie, 2.68; Robert Gsellman, Brooklyn, 2.74; Carlos Valdez, Brooklyn, 2.75.
Wins: Gabriel Ynoa, Savannah, 13; Matt Bowman, St. Lucie, 10; Rafael Montero, Vegas, 10; Logan Verrett, Binghamton, 10; Erik Goeddel, Binghamton, 9.
Saves: Jeff Walters, Binghamton, 32; T.J. Chism, St. Lucie, 15; Beck Wheeler, Savannah, 14; Bret Mitchell, St. Lucie, 10; Hamilton Bennett, St. Lucie, 9.
Strikeouts: Rafael Montero, Vegas, 117; Noah Syndergaaard, Binghamton, 113; Logan Verrett, Binghamton, 111; Luis Cessa, Savannah, 109; Matt Bowman, St. Lucie, 107.
Short hops
• Although Ruben Tejada officially has been a minor leaguer since completing a rehab assignment and getting optioned to Las Vegas on July 7, he should comfortably qualify for arbitration eligibility during the upcoming offseason.
Even if he were not to return to the majors this year, Tejada already has accumulated 98 major league service days this season, giving him two years, 151 days for his career and making him a clear-cut Super 2.
Depending when Tejada returns to the majors, he could even cross the threshold and have three years of service time, meaning he would be eligible for free agency a year sooner. A full MLB season is granted for 172 days of service time, so Tejada only needs 21 more major league days this year to bypass Super 2 entirely.
• Just like at the major league level with Matt Harvey and Zack Wheeler, every inning is being counted for Noah Syndergaard at Double-A Binghamton. That is why Syndergaard departed his start Sunday after five innings despite working on a two-hit shutout and with his pitch count only at 66. Syndergaard was pulled from his previous start, when he allowed only one hit and one run in six innings, with his pitch count at 59.
The aim is to keep Syndergaard pitching through the end of the season, which should include the postseason in the B-Mets' case. Binghamton is 72-43 and has opened a 13-game lead over Trenton for first place in the Eastern League's Eastern Division.
Syndergaard, who has a 1.98 ERA in eight starts since joining the B-Mets, has logged a combined 104 2/3 innings this season between St. Lucie and Binghamton. He had 103 2/3 innings in 2012 while a Blue Jays farmhand. Although there are other factors, a general rule of thumb is capping innings jumps at 30 over the previous season.
Syndergaard, incidentally, was just named as being the best pitching prospect and having the best fastball in the Eastern and Florida State leagues by Baseball America.
• Baseball America's newly released tools lists by league included several other Mets farmhands:
For the Pacific Coast League, the still-eligible Wheeler was named best pitching prospect and as possessing the best fastball. Now-suspended Cesar Puello was named most exciting player and Pedro Lopez was named best manager prospect in the Eastern League. Savannah's Gabriel Ynoa was cited as having the best control and Jayce Boyd was named as the best defensive first baseman in the South Atlantic League.
• With 32 saves, Binghamton closer Jeff Walters already has established a new single-season saves record for the Eastern League club. Next up: Walters is closing in on Binghamton's all-time saves record. Tim Lavigne accumulated 36 saves over parts of five seasons with the B-Mets, from 2002 through '08. Binghamton has 27 regular-season games remaining.
• 2012 third-round pick Matt Koch was released from the hospital Monday, three days after getting struck with a line drive in the head while pitching for Savannah against Mario Martinez. Koch's brother picked him up at the hospital in Greenville, S.C., and drove him back to Savannah. Koch has several upcoming doctor appointments and may not pitch again this season, according to a Mets official. Selected out of Louisville last year, Koch is 6-4 with a 4.70 ERA in 18 appearances (15 starts) for the Gnats this season.
• Brooklyn had five players selected to next Tuesday's New York-Penn League All-Star Game at Norwich, Conn. Right-hander Miller Diaz will start for the National League squad. He will be joined by right-handers John Gant and Robert Gsellman, left-hander John Mincone and second baseman LJ Mazzilli. Mincone, a product of Half Hollow Hills East High on Long Island, is now a two-time All-Star selection in the league.
• Outfielder Cory Vaughn could not have scripted his return to Double-A much better. Vaughn produced six RBIs in Tuesday's Binghamton doubleheader sweep, after logging nine games in the Gulf Coast League and 12 games with St. Lucie. Vaughn had last played for the B-Mets on June 2, after which he landed on the DL with an elbow strain in his right, throwing arm. Vaughn, the son of ex-big leaguer Greg Vaughn, is hitting .301 with seven homers and 37 RBIs in 176 Eastern League at-bats this season.
• With Wilmer Flores in the majors and Jordany Valdespin suspended for 50 games, Las Vegas used an infield Tuesday night of Eric Campbell at first base, Brandon Hicks at second base, Tejada at shortstop and Zach Lutz at third base.