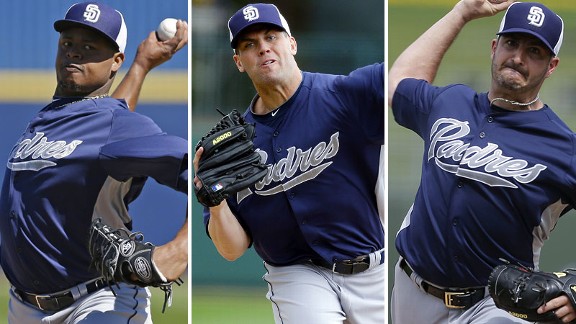 Associated Press
The Mets are expected to face (l to r) Edinson Volquez, Clayton Richard and Jason Marquis during the season-opening series.
LAKE BUENA VISTA, Fla. -- The San Diego Padres have set up their rotation for their season-opening series against the New York Mets.
Right-hander Edinson Volquez starts on Opening Day, followed by left-hander Clayton Richard in Game 2 and right-hander Jason Marquis in the series finale.
The Mets have not announced their rotation beyond the opener, but the matchups are projected to be:
April 1: Jonathon Niese vs. Volquez
April 3: Shaun Marcum vs. Richard
April 4: Matt Harvey vs. Marquis
With the Mets facing a right-hander in the opener, it's possible a lineup that has David Wright and not Daniel Murphy could look like this:
Justin Turner, 2b
David Wright, 3b
Ike Davis, 1b
Marlon Byrd, rf
Lucas Duda, lf
John Buck, c
Ruben Tejada, ss
Jonathon Niese, lhp