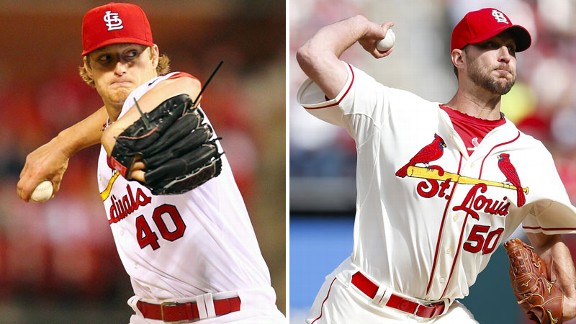 Getty Images
The Mets face Shelby Miller and Adam Wainwright consecutively to close this week's series.
METS (14-20, fourth place/NL East) vs. ST. LOUIS CARDINALS (23-13, first place/NL Central)
Monday: RHP Jeremy Hefner (0-4, 4.63) vs. RHP Lance Lynn (5-1, 2.72), 7:05 p.m. ET
Tuesday: RHP Dillon Gee (2-4, 5.55) vs. LHP John Gast (0-0, -.--), 8:15 p.m. ET
Wednesday: RHP Shaun Marcum (0-3, 8.59) vs. RHP Shelby Miller (5-2, 1.58), 8:15 p.m. ET
Thursday: LHP Jonathon Niese (2-4, 5.93) vs. RHP Adam Wainwright (5-2, 2.30), 1:45 p.m. ET
Cardinals short hops
• Shelby Miller and Adam Wainwright combined to retire 40 straight Colorado Rockies from the second batter of Friday's game through the 13th batter Saturday. That matched the major league record for most consecutive batters retired in a series, initially set by the Texas Rangers against the Detroit Tigers on May 3-4, 1996.
The 22-year-old Miller, the 19th overall pick in the 2009 draft, allowed a game-opening single to Eric Young Jr., then retired 27 straight. The following day, Wainwright had a no-hit bid end after 7 1/3 innings on a Nolan Arenado single.
Despite missing an entire season, Wainwright is tied for the second-most shutouts in the majors since 2010 (six), trailing only Cliff Lee (seven). Miller, 22, made his major league debut last Sept. 5 against the Mets with two scoreless innings.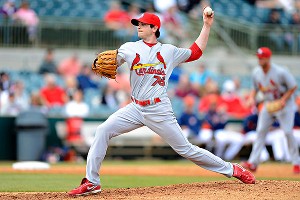 Mike Janes/Four Seam Images/AP Images
John Gast makes his major league debut Tuesday in place of Jake Westbrook.
St. Louis starting pitchers had a 21-7 record and MLB-leading 2.11 ERA until Jaime Garcia modestly tarnished that by allowing five runs in six innings in a loss Sunday.
• Jake Westbrook (2-1, 1.62 ERA), who had been scheduled to face the Mets, instead landed on the disabled list with right-elbow inflammation. Left-hander John Gast has been promoted from Triple-A Memphis and will start Tuesday in his major league debut in Westbrook's place. Although not a top prospect like Michael Wacha (who is 4-0 with a 1.99 ERA in seven starts with Memphis), Gast is 3-1 with a 1.16 ERA in six starts for that Pacific Coast League club this season.
• Lance Lynn had a personal 10-game winning streak dating to last Sept. 9 snapped with a 2-1 loss to the Chicago Cubs on Tuesday. It had been the longest active winning streak in the majors. Lynn (24-9 in his career) has never lost consecutive games.
• Yadier Molina, who ranks fourth in the NL in batting at .343, lost an 11-game hitting streak Sunday. He has started all but one game this season. However, backup Tony Cruz is expected to get one start against the Mets. Cruz's only start so far came April 19 at Philadelphia.
• Pete Kozma showed enough during spring training to beat out ex-Met Ronny Cedeno for the shortstop job in place of the injured Rafael Furcal. Kozma, a 2012 postseason hero, provides steady defense (one error so far), albeit with unexceptional range or flair.
Furcal strained an elbow ligament near the end of the 2012 regular season and missed the postseason. After visiting James Andrews during spring training, Furcal concluded he would need Tommy John surgery and miss the entire season.
Kozma had the tiebreaking two-run single in the ninth inning of Game 5 of the Cards' division series, which knocked the Washington Nationals out last October.
• Second baseman Matt Carpenter never played that position in the minors. He is a natural third baseman who also played first base and the outfield with St. Louis in 2012. Fellow lefty hitter Daniel Descalso, who competed for the job in spring training, also sees some action at the position when Carpenter slides over to third base in place of David Freese.
• Left fielder Matt Holliday left Saturday's game with an ankle injury after tripping at first base, but returned to action Sunday.
• Carlos Beltran went 0-for-4 Sunday as his average dipped to .298. Despite reduced mobility in right field at this stage of his career, Beltran entered the series finale against Colorado hitting .345 since April 15.
• Jason Motte, who had an NL-leading 42 saves last season, underwent Tommy John surgery on Tuesday after initially hoping to rehab and avoid the procedure. Edward Mujica is 9-for-9 in save chances.
The Cards' bullpen still has the worst ERA in the NL, but it has dramatically improved with a shakeup that involved demoting left-hander Marc Rzepczynski on April 27 and right-hander Mitchell Boggs on May 3. Entering Sunday, when rookie Carlos Martinez surrendered three runs in relief, the Cards' bullpen had a 0.73 ERA in 12 1/3 innings since May 3.
Martinez's fastball has averaged 96.4 mph since a promotion from Double-A Springfield 10 days ago. He is the No. 3-rated prospect in the St. Louis organization, according to Baseball America. He nearly exclusively started in the minors but is getting introduced to the majors as a reliever, which is tradition with the Cards. Pitching prospect Seth Maness, like Martinez, was promoted for bullpen use after primarily starting in the minors.
• Chris Carpenter, whose career appeared in jeopardy because of nerve damage in his arm, may return this season. He threw a 75-pitch bullpen session Friday.