WASHINGTON
FIRST PITCH: Talk about a quick turnaround.
After finishing Sunday's game at 11:16 p.m. at Nationals Park, the Mets headed off to the airport for a game less than 14 hours later at Turner Field today.
Terry Collins estimated the Mets would not be in their hotel beds in Atlanta until 5 a.m. He has scheduled the bus to the ballpark for 11 a.m. to try to get the players time for limited shuteye.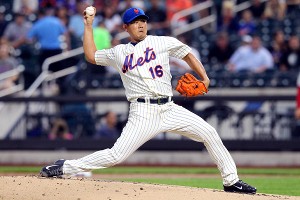 Brad Penner/USA TODAY Sports
Daisuke Matsuzaka makes his third Mets start today.
Series-opening starter Daisuke Matsuzaka, who faces left-hander Paul Maholm at 1:10 p.m., departed ahead of his teammates on Sunday to arrive at a normal hour.
In Matsuzaka's last outing, he already had thrown 82 pitches after three innings. He averaged 28.4 seconds between pitches during the start.
Collins subsequently implored Dice-K to work quicker today against the Braves, mindful of how groggy the players will be behind him.
Matsuzaka's 28.4 seconds between pitches last Wednesday against Philadelphia was six seconds more than his average in his Mets debut, against Detroit. It also is significantly longer than Jeremy Hellickson's average of 25.8 seconds between pitches this season, which is tops among qualified major league pitchers.
Matsuzaka is a notoriously slow worker. His average time between pitches since 2007 is second in the majors among qualified starters, slightly trailing his former Boston Red Sox teammate, Josh Beckett.
"We addressed that the other day," Collins said. "He's got to work a little faster. And he knows that. He's been told that a lot of times. The other day he didn't have very good command, and I think he was trying to make sure that each and every pitch meant something, so there was a thought process going on in between pitches."
Collins joked that he is "thinking about having a dizzy spell in about the fifth" to get himself out of the full game today. That was a veiled reference to Davey Johnson checking out of Friday's series opener in D.C. in the fourth inning after becoming lightheaded.
The series does mark the first time in Atlanta since the Mets handed injuries to Tim Hudson (broken ankle) and Jason Heyward (broken jaw), so there may be some crowd hostility.
The Mets will have enough stamina to conduct their annual postgame fantasy football draft tonight. Even injured Ike Davis flew with the team to Atlanta to take part. He then will head to the Hospital for Special Surgery in New York to get an MRI of his strained right oblique after the conclusion of the Labor Day weekend.
ESPN needed to select Mets-Nats for its Sunday night telecast in part because other teams had exceeded their allotment of appearances for the season.
"There's nothing we can do about it," Collins said about the quick turnaround. "We're going to have to suck it up."
Monday's news reports:
• There are "strong" indications Collins will be invited to return as manager next season, although there is not expected to be any formal announcement until after the season, a source told ESPNNewYork.com.
• Vic Black, the hard-throwing reliever acquired from the Pittsburgh Pirates, joined the Mets on Sunday. Black noted he was drafted by the Mets out of high school. He did not sign because it was a late round and because he had just converted his senior year from catching to pitching. Read more in Newsday.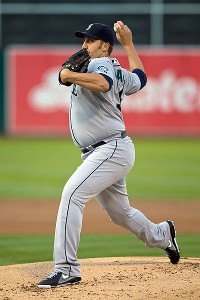 Jason O. Watson/Getty Images
The Mets added veteran right-hander Aaron Harang late Sunday.
• The Mets signed veteran right-hander Aaron Harang to a minor league deal and assigned him to Triple-A Las Vegas.
• Tim Byrdak is back in the majors less than a year after undergoing surgery to repair a torn anterior capsule in his pitching shoulder. Read more in the Star-Ledger and Newsday.
• Scott Rice and Gonzalez Germen combined to surrender three eighth-inning runs and the Mets lost to the Nats, 6-5, to fall shy of a series sweep. Matt den Dekker slugged his first major league homer and Lucas Duda had a pair of RBI singles in his first game at first base since Davis' injury.
"The first couple of games I had a lot of adrenaline rushing," den Dekker said. "These games I've kind of calmed down, relaxed."
Collins noted Duda's career production has been better as a first baseman than an outfielder.
Jonathon Niese departed the game in the sixth inning with an escort from trainer Ray Ramirez, but insisted it was just a left calf cramp and a nonissue.
Read game recaps in the Post, Daily News, Newsday, Times, Star-Ledger, Record and MLB.com.
• Wilmer Flores is due to return to the starting lineup today, after being held out for two days with cranky ankles.
• Jeurys Familia tossed a scoreless inning in Class A St. Lucie's season finale Sunday, in his first action since getting his elbow surgically cleaned out on June 5.
• David Wright is not ready for rehab games, but he will have to hit the road when he is, Collins noted. Both the Florida State and Gulf Coast clubs based in Port St. Lucie, Fla., have completed their seasons.
• Kevin Plawecki and Matt Reynolds were promoted from St. Lucie to Binghamton.
• B-Mets first baseman Allan Dykstra slugged the decisive two-run homer and was named Eastern League MVP on Sunday. Kingsport won its playoff opener behind five scoreless innings from Chris Flexen. Brooklyn lost to Aberdeen to fall 1½ games out of a playoff spot. Read the full minor league recap here.
BIRTHDAYS: Marvelous Marv Throneberry was born on this date in 1933.
TWEET OF THE DAY:
Props to our dog Bella for scaring away a cockroach on the streets of NYC for me. Twitter debut. #oneearflippedback pic.twitter.com/5rvtqBk4of

— LaDawn Rice (@LaDawn_Rice) September 2, 2013
YOU'RE UP: Do you believe playing first base will improve Lucas Duda's production at the plate?