PORT ST. LUCIE, Fla.
FIRST PITCH: So what do the Mets do Saturday to top Friday's session involving Matt Harvey facing batters?
Well, at least Saturday the hitters actually will be swinging at the batting-practice pitches. The first two days of full-squad workouts, they just stood in the box and tracked the pitches.
The Mets also are having a press conference Saturday featuring "celebrity" hitting coach Kevin Long, who apparently has been off-limits until now.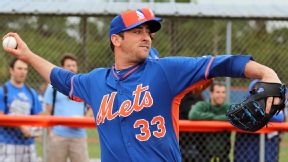 Adam Rubin/ESPN.com
Matt Harvey faced batters on Friday.
Saturday's news reports:
• Harvey threw 43 pitches Friday in what, at least technically, was his first time facing batters since undergoing Tommy John surgery Oct. 22, 2013. Terry Collins indicated the true milestone would be next Friday when Harvey is due to face the Detroit Tigers in the Mets' first home Grapefruit League game. Harvey was pleased with Friday's session and indicated he was "in compete mode." Read more in the Journal, Times, Post, Daily News, Record, Newsday and at CBSSports.com, NJ.com and MLB.com.
• Bartolo Colon is strongly being considered for the Opening Day start April 6 in D.C., sources told ESPNNewYork.com. He presumably would face Washington Nationals newcomer Max Scherzer if it materialized. One other, undisclosed pitcher is being considered, too.
• Jose Reyes criticized Ruben Tejada, essentially saying his successor at shortstop for the Mets did not work hard enough to cement a long-term hold on the position. It is worth noting that Reyes never speaks with malice -- well, except perhaps for that time he was talking about Marlins ownership encouraging him to buy a house in Miami. Tejada and Reyes also have the same agents. Read the original story from Anthony Rieber in Newsday.
• Nelson Figueroa said he "considered it an honor" that Jerry Seinfeld greeted the announcement of him replacing Bobby Ojeda on SNY with such hostility. "Jerry Seinfeld had my name in his tweets. I don't think there's many people that can say that's how their career started," Figueroa told Matt Ehalt in the Record.
Seinfeld tweeted on Feb. 16 to his 2.74 million followers: Nelson Figueroa is taking over for Bobby Ojeda as analyst on pregame and postgame show. #mets "Booooooooooooooo!!!!!!!!!!!"
Seinfeld is a big Mets fan and apparently really enjoyed Ojeda's postgame critiques of the team. Ojeda and SNY did not come to terms on a new contract.
Read more in the Daily News.
• There is not much drama in this ESPNNewYork.com projection of the Opening Day roster. Read more on why Kirk Nieuwenhuis should beat out Matt den Dekker for a roster spot in the Post and at MLB.com.
• From the bloggers … Mets Report wonders about Lucas Duda's injury.
BIRTHDAYS: Brian Bannister turns 34. ... Farmhand Shane Bay was born Feb. 29, 1992.
TWEET OF THE DAY:
You know some days you just need to take a nap.

— Chasen Bradford (@cbBaseball29) February 27, 2015
YOU'RE UP: Do you think Jose Reyes will ever wear a Mets uniform again?