Scouting director Chad MacDonald called Day 2 of the draft, which included the second through 30th rounds, "a good day for the New York Mets."
Said MacDonald: "Some things fell our way."
Among the tidbits: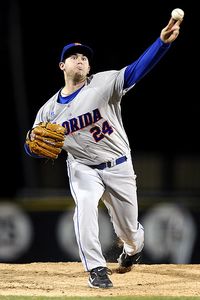 Richard C. Lewis/Icon SMI
University of Florida left-hander Alex Panteliodis (24) pitches against the University of Miami at Alex Rodriguez Park at Mark Light Field in March 2010.
• 22nd-round pick Casey Turgeon, a high school shortstop from Dunedin, Fla., is the brother of current Mets minor leaguer Erik Turgeon, a 25th-round pick in 2008 out of the University of Connecticut, who is 2-1 with a 4.85 ERA at Double-A Binghamton.
• Justin Turner, who knows Tyler Pill's brother and is a fellow Cal State Fullerton product, said the fourth-round pick can hit. And MacDonald and Paul DePodesta agree, noting Pill batted third for Fullerton. But the Mets see Pill solely as a pitcher. "The pitching only improves when you concentrate on it," MacDonald said. Turner knows Pill's older brother Brett, who also played for the Titans.
• Sixth-round pick Joe Tuschak, a high school center fielder from western Pennsylvania, worked out for the Mets at Citi Field the weekend before the draft. MacDonald says about the lefty-hitting Tuschak: "This guy can hit, and he's going to have power." The Mets say he also will be able to cover ground in center field.
• The jury is still out about whether left-hander Jack Leathersich, a fifth-round pick from UMass Lowell, will be a starter or reliever, according to the Mets. But MacDonald says he has a plus fastball and at times a plus curveball.
• MacDonald describes Fresno State shortstop Danny Muno, the eighth-round pick, as a "baseball player" who "can play anywhere on the diamond." He has even caught bullpens.
• The Mets drafted high school shortstop Phillip Evans in the 15th round as an athlete. He could even play catcher some day, but will stay at his natural position for now.
• Second-round pick Cory Mazzoni, a right-hander from N.C. State, has a plus fastball as well as slider, changeup and split, while third-round pick Logan Verrett of Baylor has a plus slider, sits at 90-92 mph with his fastball and "does it easy." MacDonald said all of the early college pitchers taken are strike-throwers.
• The Mets had a find with Virgin Islands native Akeel Morris in the 10th round last year, and went back to the island in the 28th round this year for right-hander Jharel Cotton. Actually, DePodesta said Morris wasn't an influence on selecting Cotton. He was pitching at Miami Dade Community College South, a couple of hours from Port St. Lucie. "I was lobbying for the trip to the Virgin Islands," DePodesta quipped.
• MacDonald said he did not expect several of the picks to fall to the Mets. He had Mazzoni tabbed as a first-round pick by someone and indicated he did not think Verrett would get to the third round. He also felt fortunate about Tuschak in the sixth. MacDonald added that ninth-round selection Alex Panteliodis, a left-handed pitcher from the University of Florida, was expected to go in the first three rounds in his mind. Panteliodis throws a "firm" 90-94 mph and was the Gators' Friday night starter as a freshman and a sophomore.