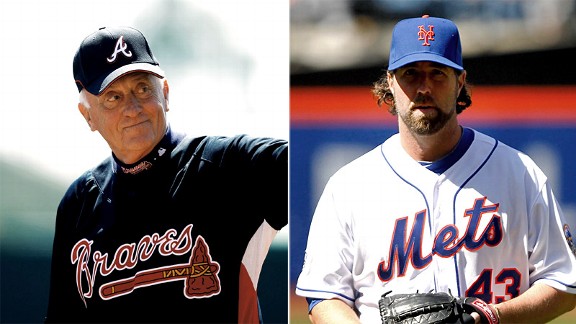 Getty Images/US Presswire
Phil Niekro and R.A. Dickey will be featured in the soon-to-be-screened documentary "Knuckleball."
On April 21, the documentary "Knuckleball," which features R.A. Dickey and past knuckleballers, will be available to view at a free screening at Battery Park City.
Tim Wakefield, Jim Bouton and Dickey will be on hand for a pitching clinic beginning at 6 p.m. At 8:15 p.m., the Tribeca Film Festival-included movie will be screened.
Dickey -- who faces Cliff Lee in Friday's series opener in Philadelphia -- in November gathered with fellow knuckleballers Phil Niekro, Charlie Hough and Wakefield for camaraderie and to film part of the documentary at Lake Lanier resort outside of Atlanta.
"It was great. We got to know each other a little bit better, played a little golf. He can hit a golf ball a long way. I know that," Niekro said about Dickey. "I'm really looking forward to the documentary coming out, because we all got interviewed for about a half-hour or 45 minutes. And no one really knows what everybody else said. It will be interesting to see how we all have different ideas about the knuckleball, how we threw it and stuff like that."
The 73-year-old Niekro recalled Dickey driving from Nashville to visit him for an offseason knuckleball tutorial a few offseasons ago. They worked indoors at a local batting cage. The ex-Yankee Niekro, who still stops by Atlanta Braves spring training, said he particularly enjoys engaging those who already have a feel for the pitch, as opposed to novices.
"Especially those that have a pretty good idea what they're doing and they may just need a little polish on it, or something like that," he said. "The tough ones are the guys that just say, 'Teach me how to throw a knuckleball.' 'You've got a couple of years?' I really get interested in the guys that want to do it when they make a commitment."
Niekro came to watch Dickey pitch at Turner Field last season. Dickey lost 1-0 to Tim Hudson in that Sept. 17 game against the Braves.
Dickey throws the knuckleball harder than Niekro did during his major league career, which spanned 1964 to 1987.
"He may be a little bigger, a little stronger, more muscle. He feels comfortable throwing it that way," Niekro said. "Hopefully, I think he's going to realize, that every once in a while you change a little speed on it. We talked about that. He does have a great, great knuckleball. But when you walk up to the plate, every batter is looking for a knuckleball every pitch. And if you throw the same speed, the same delivery, and you make a hanger, they're going to be on it."
With Wakefield's retirement leaving Dickey the lone knuckleballer currently in the majors, Niekro was asked whether he believed the pitch could disappear from MLB after Dickey's eventual retirement.
"I think time will tell on that," Niekro said. "I hope not. That's one pitch that someone is going to figure it out and realize it's the ticket to the big leagues. The problem is there are not too many guys in baseball -- minor league pitching coaches, organizations -- that have anybody around to teach a guy who has got a pretty good knuckleball. And knuckleball pitchers are going to learn a lot more from other knuckleball pitchers than they would from your normal pitchers. Even when I was playing, I very, very seldom talked to the pitchers about pitching. I talked to hitters. I talked to hitters a lot.
"There are a few guys throwing a little bit," Niekro continued. "I think a lot of guys are realizing -- especially guys that played maybe a little independent league or a little minor league ball, that didn't have what it took with the fastball, curveball, slider who said, 'Hey, maybe the knuckleball. Maybe that will get me there.'"
Still, Niekro noted, it's not a part-time commitment.
"You have to really, really make the commitment," Niekro said. "If you're a curveball pitcher, once you throw a knuckleball, you can flush the curveball down the toilet. You don't even think curveball anymore. You don't even think throwing hard. You just think 24 hours a day -- 'knuckleball, knuckleball, knuckleball.' I don't give a damn if they know it's coming, because I've got that much confidence."