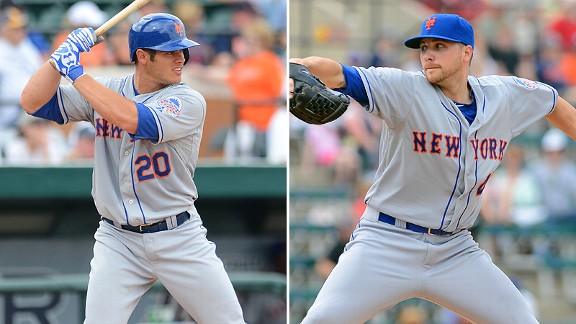 Mark Cunningham/MLB/Getty Images
Anthony Recker and Aaron Laffey are expected to make their Mets debuts as Sunday's battery.
FIRST PITCH: Left-hander Aaron Laffey makes his Mets debut in Sunday's 1:10 p.m. rubber game as the Mets attempt to plug the rotation spot intended for Shaun Marcum.
Laffey, who turns 28 in eight days, went 4-6 with a 4.56 ERA in 22 appearances (16 starts) for the Toronto Blue Jays last season.
Terry Collins indicated Anthony Recker will serve as Laffey's batterymate, after John Buck caught the season's first five games and produced nine RBIs.
Marcum received injections in his neck for nerve inflammation on Thursday in New York. He has not pitched in a game since March 16, when he logged four Grapefruit League innings. So Laffey, or someone, will need to plug several turns in the rotation at least.
The Mets will be aiming to win consecutive series to open the season for only the second time in 11 years.
After the series finale, the Mets head to Philadelphia to open a three-city, 10-game trip that also takes them to Target Field in Minnesota for the first time, then to Coors Field in Denver.
Matt Harvey faces Roy Halladay in Monday's series opener at Citizens Bank Park, followed by Dillon Gee and Cliff Lee on Tuesday, and Jeremy Hefner and Kyle Kendrick on Wednesday.
Sunday's news reports:
DRIVEN
National League RBI leaders through Saturday.
• Buck contributed four RBIs and Daniel Murphy produced a tiebreaking triple in the seventh that plated Mike Baxter as the Mets beat the Marlins, 7-3, Saturday. Jonathon Niese limited Miami to two runs (one earned) in six innings. The performance extended the southpaw's streak of consecutive starts logging six-plus innings to 22, the longest active mark in the majors.
David Wright finished 3-for-4 with an RBI and upped his career average against Marlins starter Ricky Nolasco to .409 in the victory. Ruben Tejada committed his fourth error in five games.
Even though he is viewed as a placeholder -- heck, Travis d'Arnaud, not Buck was featured in the Mets' Citi Field calendar giveaway -- Buck nonetheless has an NL-leading nine RBIs. That's one ahead of Cincinnati's Todd Frazier, although not quite Chris Davis' gaudy total of 17 with the Baltimore Orioles. Mets catchers combined for 48 RBIs all of last season.
Read game recaps in the Post, Times, Newsday, Record, Daily News, Star-Ledger, Miami Herald and Sun-Sentinel.
• Jeurys Familia was demoted to Triple-A Las Vegas after Saturday's game to clear a roster spot for Laffey. Familia is expected to serve as a reliever. The Mets shifted Johan Santana to the 60-day DL to open a 40-man spot. Read more in Newsday and MLB.com.
• Cuban defector Jose Fernandez -- at 20 years old the youngest pitcher ever to debut for the Marlins -- makes his major league debut opposite Laffey. Clark Spencer in the Miami Herald reports only three pitchers since 1970 have made the jump from Class A to the majors and logged 100 innings as rookies: Dwight Gooden, Jeremy Bonderman and Rick Porcello. Fernandez should be unflappable notes Juan Rodriguez in the Sun-Sentinel. Writes Rodriguez: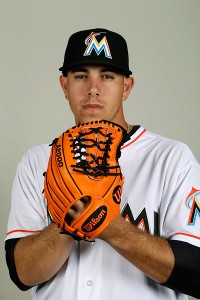 Julio Cortez/Associated Press
Cuban defector Jose Fernandez makes his major league debut today at Citi Field.
Fernandez knows what it's like to be scared. Getting caught trying to escape Cuba with his mother and sister as a 14-year-old was scary. Jumping into open water to rescue his mother when she felt out of the boat shuttling them to freedom was scary.
Making his major league debut for Fernandez is the fulfillment of a dream, considerably earlier than most expected.
"When she sees me throw the first pitch she's going to start crying like crazy," said Fernandez, whose parents and personal pitching coach were among those flying up from Tampa Saturday for the Sunday matinee. "[My mom] has been more emotional than me about this. She can't believe it. Every day it's the same text. 'I can't believe this is happening. You're ready. You're so young and you already have your dream. You had it in your mind. I'm proud of you.'"
As for making Fernandez eligible for free agency a year early by having him start the season with the team, which the Mets are unwilling to do with Zack Wheeler, Marlins owner Jeffrey Loria told Spencer: "So what? We'll deal with it. He's unique."
• Baseball America has a Q&A with Mets scouting director Tommy Tanous. Read here.
• Umpire Jim Joyce briefly halted Saturday's game in the eighth inning and conferred with security after fans were shouting the location Marlins catcher Miguel Olivo was setting up for pitches, Buck told Marc Carig in Newsday.
• Terry Collins said the outfield won't be as consistent as predicted only a week earlier. Baxter, who reached base three times and scored twice while batting in the leadoff spot, should start again Monday against Halladay in Philly, according to the manager.
Columnist Ken Davidoff in the Post wants more Baxter in the leadoff spot against right-handed pitching. Writes Davidoff:
We know the Mets' outfield is a collection of modestly compensated has-beens and could-bes. However, what stands out about Baxter is just how good he has been in his limited major-league chances. He now has a career on-base percentage of .363 in 270 plate appearances. It constitutes barely half a season, but doesn't that match favorably against Cowgill, Marlon Byrd, Jordany Valdespin and Kirk Nieuwenhuis, three of whom own virtually no big-league success and the fourth of whom (Byrd) hasn't been good for many years?
"He takes a base on balls," Collins said. "If he was a genuine base-stealer, he'd be dangerous. You look up, and he's got a .375 on-base. It seems like he's on first base all of the time."
Read more on the outfield in Newsday and the Star-Ledger.
• Ike Davis is hitting .158, but is unalarmed. "At least I know that I'll be all right," Davis said, according to Newsday. "Last year, I didn't."
• Niese is looking like an ace, writes columnist Tim Smith in the Daily News.
• Read more on Buck in the Post.
• Tejada's four errors are tied with Washington's Ian Desmond for the most in the majors among shortstops. Read more on Tejada's fielding woes in the Daily News and Post.
• Left-hander Steven Matz, who finished last season idle with a shoulder issue, took a scoreless effort into the fifth inning in Savannah's 6-3 loss to Rome on Saturday. Blake Forsythe had three hits and three RBIs in his Double-A debut with Binghamton. Collin McHugh pitched Las Vegas to a 3-0 record. The Mets' four full-season affiliates are a combined 10-2 -- with both losses suffered by low-A Savannah. Read the full minor league recap here.
• From the bloggers … Shannon from MetsPolice.com went to Saturday's game and wasn't happy with a Citi Field supervisor, nor the scoreboard operator. … Faith and Fear in Flushing basks in the glow of Buck's golden hour.
BIRTHDAYS: Vinny Rottino, whom the Mets lost off waivers last June while clearing a roster spot for left-handed reliever Justin Hampson, turns 33. After finishing last season with the Cleveland Indians, Rottino signed with the Orix Buffaloes in Japan in December. ... Mets bullpen coach Ricky Bones turns 44.
TWEET OF THE DAY:
Fantasy baseball: where you are mad that your team scored a run in the 8th because it means no save opportunity for Parnell. #Mets

— Whit Blanton (@Whitbone) April 6, 2013
YOU'RE UP: Do the Mets have enough of a safety net in starting pitching minus Johan Santana and Shaun Marcum as they await Zack Wheeler?