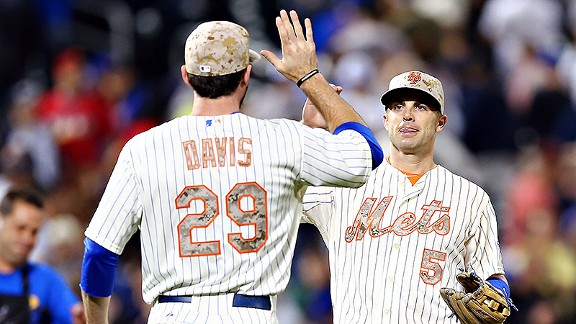 Elsa/Getty Images
David Wright celebrates the Mets' 2-1 win Monday with Ike Davis.
FIRST PITCH: Growing up in Connecticut, where fans divide their allegiances between New England and New York sports, Matt Harvey picked the Patriots, Rangers and Yankees as his teams.
Boyhood idol Paul O'Neill is long retired, but Harvey -- who used to attend Subway Series game at Shea Stadium -- will get to face the Bombers for the first time tonight. Harvey (5-0, 1.93 ERA) opposes Hiroki Kuroda (6-3, 2.67) as the Mets attempt to win three straight games for the first time since posting a season-high three-game winning streak April 6-8.
Joe Girardi said he has admired Harvey since viewing his major league debut last July 26. Girardi said he called a friend who is a Mets fan after watching Harvey strike out 11 in 5 1/3 scoreless innings against the Arizona Diamondbacks to relay how special a pitcher the Mets had promoted.
Harvey is bidding to improve to 6-0.
The best start in franchise history is 10-0 by Terry Leach in 1987. The only better starts this millennium: Dillon Gee opened 2011 with a 7-0 record and R.A. Dickey was 6-0 in 2010.
If Harvey is spared a loss, he will tie Armando Reynoso's team record for most consecutive starts without a loss to begin a season (11 in 1997), according to ESPN Stats & Information. Harvey enters tonight's outing tied with six others at 10 starts, including Dwight Gooden (1988) and Kenny Rogers (1999).
Tuesday's news reports: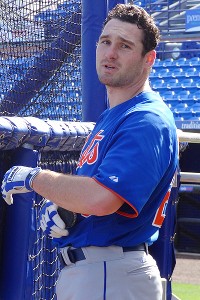 Adam Rubin
Daniel Murphy delivered Monday's decisive hit.
• Daniel Murphy delivered a two-out, tiebreaking single in the eighth against David Robertson to lift the Mets to a 2-1 Memorial Day win in the Subway Series opener at Citi Field. Murphy had been robbed of a two-run homer in the sixth when center fielder Brett Gardner reached over the wall to take away his shot.
The Yankees had been 22-0 when leading after six innings.
David Wright evened the score at 1 with a homer against Phil Hughes in the seventh. Wright produced his first long ball at Citi Field since the final home game of 2012, snapping a 27-game drought. He now has nine career homers against the Yankees, passing Mike Piazza and Cliff Floyd for the most in franchise history by a Met.
Read more on Wright in Newsday.
Jordany Valdespin, who walked as a pinch hitter, scored the tiebreaking run on Murphy's single. Terry Collins noted Valdespin showed discipline in that plate appearance -- not chasing pitches out of the strike zone, which he had been doing only a week earlier.
Jonathon Niese became the latest Mets starter to get a hard-luck no-decision. Niese limited the Yankees to a sixth-inning run, when Gardner had a leadoff triple and scored on Laynce Nix's single. The southpaw's line: 7 IP, 8 H, 1 R, 1 ER, 1 BB, 4 K.
Niese's performance comes on the heels of Shaun Marcum's no-decision Sunday night despite limiting the Atlanta Braves to two runs in seven innings. Jeremy Hefner had the identical fate Friday despite allowing two runs in six innings.
Read more on Niese in Newsday.
One down note: Ike Davis went 0-for-3 with three strikeouts -- a sobering encore to Sunday's tiebreaking two-run single. A demotion remains distinctly possible in the coming days.
Read game recaps in the Times, Post, Daily News, Star-Ledger, Newsday and Record.
• The paid attendance of 32,911 was by far the lowest in the history of the Subway Series, which began in 1997. The previous low had been 36,372 at Shea Stadium on June 28, 2003, when the afternoon game was played in the Bronx and a rainout makeup was played in Flushing in the evening. The only other sub-40,000 attendance also was a rainout makeup: 37,305 for Game 1 of a split doubleheader at Yankee Stadium on June 27, 2004.
The historically low demand also is reflected in ticket prices. Writes Jared Diamond in the Journal:
Even with phenom Matt Harvey pitching for the Mets on Tuesday, the average ticket on the secondary market for Tuesday's game costs $112.49. Last season, the average ticket on the secondary market for the three Subway Series games at Citi Field all cost more than $120. (In fairness, last year's games were all on the weekend.)
The situation in the Bronx looks even worse, with the two games at Yankee Stadium commanding the cheapest average ticket price for any Subway Series game in the past four years. The average seat for Wednesday's game costs $76.40 -- less than tickets for the teams' two spring-training games in April 2012 ($77.99 at the Yankees' home in Tampa, $77.79 at the Mets' complex in Port St. Lucie).
Read more in Newsday.
• Murphy flipped his bat after delivering the game-deciding RBI single, but Collins and Murphy dismissed it as exuberance over a desperately needed hit for a struggling team. Collins did not think it was akin to Valdespin's homer admiration in a lopsided game against the Pittsburgh Pirates that resulted in retaliation the following day. Girardi dismissed Murphy's expression as an issue.
• Bobby Parnell, despite an Ichiro Suzuki four-pitch walk, rolled through the ninth for his eighth save. Both of Parnell's blown saves this season involved defensive misadventures behind him -- Ruben Tejada's eighth-inning throwing error in Colorado on April 16, then Collin Cowgill breaking the wrong way on a fly ball in an eventual 15-inning loss in Miami on April 29.
Writes Bob Klapisch in the Record:
Parnell's 0.90 WHIP is lower than the Braves' Craig Kimbrel and better than eight of the NL's top 10 saves leaders. But you won't get Parnell to brag about his success. To the contrary, he's been humbled by the ugly seasons in the past and in close contact with his darker angels.
Read more in Newsday.
• The Mets will recognize retiring Mariano Rivera pregame today. Rivera met with Mets employees and select fans in the Jackie Robinson Rotunda on Monday afternoon. Read more in the Times, Star-Ledger, Daily News and Newsday.
• After seven straight games with Murphy in the leadoff spot, Tejada assumed that role Monday. Mets leadoff batters entered the series with a league-worst .266 on-base percentage. Read more in the Star-Ledger.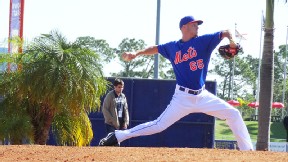 Adam Rubin
Zack Wheeler surrendered a pair of homers Monday.
• Zack Wheeler was charged with five runs (three earned) on four hits and three walks in an 80-pitch performance spanning four innings. He surrendered a pair of homers. The Mets are expected to wait until mid-June, once the Super 2 deadline has passed, to promote Wheeler.
"In my opinion, he's ready," Las Vegas manager Wally Backman told Brian Costa in the Journal. "It is nice to have him so you can season him a little bit more. We want him to go there and be successful. But, in my opinion, he's done everything he has to do to get to where he needs to go."
Contrasting Harvey and Wheeler to Costa, Backman added: "Harvey is a little more outspoken right now. Zack is a little more quiet, but he definitely has the competitiveness in him. It is two different personalities, but I believe they're going to compete against each other. I think Zack has the same thought process about being the best."
Said Wheeler: "I think I'm ready, but it is really not my decision."
Read more in Newsday.
• Catcher Francisco Pena had two homers and four RBIs in Las Vegas' 9-7 comeback win. Pena is hitting .385 since making his Triple-A debut 10 days ago. With Andrew Brown and Zach Lutz both out with oblique injuries, Brandon Hicks played first base for a second straight day, while Josh Satin served as DH. Neither Hicks (.130) nor Satin (.294) is on the 40-man roster.
Josh Rodriguez scored on a wild pitch in the ninth as Binghamton beat Portland, 6-5. Gabriel Ynoa allowed one run in eight innings to improve to 6-2 as Savannah beat Greenville, 4-1.
Read the full minor league recap here.
• Michael Salfino in the Journal notes the winning percentage differential at the time of the Subway Series is the biggest ever between the Mets and Yankees.
• The best ERA among former UNC teammates in the Subway Series belongs to the Yankees' Adam Warren (1.14 ERA), not Harvey, notes Daniel Barbarisi in the Journal. "Well, he's thrown a few more innings than I have," Warren told Barbarisi.
• Read more on Harvey facing the Yankees in Newsday.
• Analyst Keith Hernandez was cited by Richard Sandomir in the Times for referring to a broken bat as a "dead soldier" on the Memorial Day telecast. An SNY spokesman told Sandomir: "We'll address the matter with Keith. It was an honest mistake and a poor choice of words." Read more in the Daily News.
• From the bloggers … John Delcos at Mets Report discusses which Mets could be peddled before the trading deadline.
BIRTHDAYS: Ex-Met/Yankee Ryota "Rocket Boy" Igarashi turns 34. He is pitching for Softbank in Japan. … Retired catcher Mike DeFelice, who also managed two years at Kingsport in the Mets system, is 44.
TWEET OF THE DAY:
Thank you, #Mets, for helping us get back to having first place to ourselves! #RedSox

— J-Law (@jclawrence78) May 28, 2013
YOU'RE UP: After taking Game 1, and with Matt Harvey on the mound Tuesday, how confident are you the Mets will have bragging rights when this season's reduced, four-game Subway Series is completed?