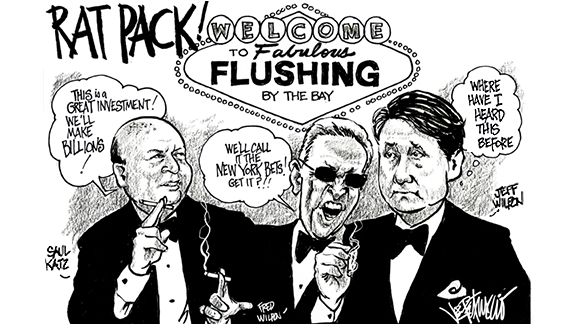 Joe Petruccio
Click on the photo to view a larger version.
The Post reports on Tuesday that Mets owners wanted to build a casino next to Citi Field. Reporter Rich Calder writes:
While team owners Fred Wilpon and Saul Katz are still having trouble opening their tight pockets for high-priced free agents, that didn't stop their development arm, Sterling Equities, from betting on a proposal that called for bringing a massive casino with gaming tables and slots, a 500-room, full-service hotel, 1.8 million square feet of retail and other amenities to the Willets Point development site in Queens.
The Southampton-based Shinnecock Indian Nation signed on to operate the casino, and the Wilpons and partners even offered the city $100 million for the 62-acre site, according to the development team's proposal, which was first obtained by project opponents Willets Point United and NYC Park Advocates. ...
With live-dealer casino gambling currently illegal in New York, except on tribal lands, the Wilpons and partner Related Companies were awarded a consolation prize.
In June, the Bloomberg administration handed them 23 of the 62 acres of city-owned land they sought in the September 2011 casino proposal -- most of which is now used for parking -- to build a $3 billion retail and entertainment complex without a casino.
The revelation that the Mets owners' want a casino comes as the state Legislature is considering a constitutional amendment to allow Las Vegas-style table gaming.
Read the full story here.