Linda LaCugna first felt the lump in her breast last September. She was diagnosed cancer in October, had a mastectomy in December and recently completed chemotherapy treatment.
"For six months, I couldn't even come out of the house," the longtime Mets fan says, which made the scene at Citi Field on Sunday all the more poignant.
LaCunga standing on the right-field grass shortly before noon on Mother's Day, was surrounded by loved ones, with tears of joy streaming down her cheeks.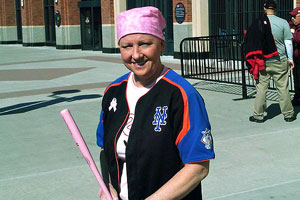 Ian Begley
Linda LaCugna was diagnosed with breast cancer in October. On Mother's Day, she served as the Mets' honorary bat girl at Citi Field.
"I can't believe it," she said. "It's just a dream come true."
LaCunga has been watching the Mets since '69. And she's stuck around through it all -- Vince Coleman's firecrackers, the failures of Generation K, the 2007 collapse and the Fred Wilpon's current Ponzi scheme troubles.
"I feel like a geek, but I love the Mets," she says.
The mother of three found herself on the field with the team she loves thanks to her son Joey, who won an MLB.com essay contest by writing about his mom's battle with breast cancer.
"It's surreal to be here, to see her out here so exited after she was hiding out in the house," Joey says. "Now, she's out and able to tell her story. I'm just happy to be able to give this to her."
LaCugna wore a pink bandana with a Mets emblem and carried around a pink bat on Sunday, hanging out in the dugout and on the field prior to the game. There was pink all over Citi Field on Sunday as some Mets players used pink bats and wore pink cleats in an effort to raise money for the Susan G. Komen Foundation, which is dedicated to finding a cure for breast cancer.
"It's amazing that baseball players would actually take an interest in a women's health issue," LaCugna says.
One ballplayer with a keen interest in the cause is Joey. He starred on the diamond at Manalapan High School and, after a year at junior college, went to play baseball at the University of Maryland. But he since transferred closer to home, opting to play at the New York Institute of Technology, in part to be closer to his mother as she prepares for five weeks of five-day-a-week radiation treatment, starting in June.
"This is great for her," Joey says as he watches his mom on the field, wearing a smile as wide as the Pepsi Porch.
Linda agrees.
"I'm starting to feel good, actually and this is helping. It was difficult early on," she says. "I had mixed emotions. I was angry. I was sad. Just a lot of emotions. Now that the chemo is done, I'm starting to get a little bit of hair back. Radiation starts in June and I'll have five weeks of that. But this is good in the middle to get me through the next part."
Listen to ESPN New York 1050 morning host Jared Max's conversation with Linda LaCugna and her son, Joey.