MILWAUKEE -- All hail Josh Satin! And Jeremy Hefner, too!
Satin, after a two-day absence from the lineup, went 3-for-4 with two doubles, a run scored and RBI and Hefner took a scoreless effort into the seventh as the Mets beat the Milwaukee Brewers, 2-1, in Sunday's rubber game at Miller Park.
Satin extended his hitting streak to a career-high 11 games and lifted his season average to .382 and on-base percentage to .485. With the Mets facing left-hander Tom Gorzelanny, Satin was starting for the first time since Ike Davis returned from Triple-A Las Vegas.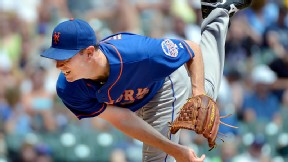 Benny Sieu/USA TODAY Sports
Jeremy Hefner took a scoreless effort into the seventh inning Sunday.
Hefner was bidding for a shutout until surrendering a leadoff homer in the seventh to Jonathan Lucroy. It was only the Brewers' second hit of the game and cut the Mets' lead to 2-1. Hefner's eight strikeouts matched a career high.
His final line: 7 IP, 2 H, 1 R, 1 ER, 1 BB, 8 K, 1 HR. He threw 105 pitches (71 strikes).
Hefner (4-6) now has a 1.64 ERA over his past seven starts. He has not allowed more than two earned runs in any of those outings.
With the game scoreless, Satin produced a two-out double in the fourth -- narrowly.
Replays showed he actually was tagged out at second base trying to stretch the hit into a double, but umpire John Hirschbeck ruled in the Mets' favor over protests from the Brewers.
Satin then scored an unearned run as Milwaukee's weekend sloppiness continued. On Andrew Brown's ensuing grounder to third base, which was ruled an infield single, Juan Francisco errantly threw to first base, allowing Satin to scamper home.
Satin plated Marlon Byrd in the sixth for a 2-0 Mets lead after Byrd reached on what also was ruled an infield single and E-5.
Extra help: Bobby Parnell converted a four-out save after inheriting a runner on first base from Josh Edgin in the eighth. It was Parnell's second save of more than an inning this season. He also had a four-out save June 18 against the Atlanta Braves.
What's next: The Mets visit San Francisco, which should be a noteworthy series for Matt Harvey and Zack Wheeler.
Harvey (7-2, 2.27 ERA) opens the series Monday, facing Tim Lincecum (4-9, 4.66) at 10:15 p.m. ET. NL All-Star manager Bruce Bochy, who will be selecting the starting pitcher for the July 16 game at Citi Field, will be watching from the home dugout at AT&T Park.
Wheeler in Wednesday's series finale faces the organization that traded him to the Mets two years ago.