Collin McHugh surrendered three homers and the Mets officially were eliminated from division-title contention with a 5-1 loss to the Washington Nationals on Monday. The Mets are now 4-19 at Citi Field since the All-Star break. They matched a franchise record by failing to exceed three runs for the 11th straight home game. In fact, the Mets have not had a multi-run inning at home in 106 innings -- the second-longest streak in major league history. The Washington Senators hold the record with 119 consecutive home innings without a multi-run frame, in 1909.
Gio Gonzalez picked up his MLB-leading 19th win. R.A. Dickey will look to match that total when he opposes right-hander Jordan Zimmermann (10-8, 2.99 ERA) at 7:10 p.m. today.
The family of the late firefighter Ronnie Gies will throw out the ceremonial first pitch during pregame ceremonies in remembrance of 9/11. Gies, of Squad 228 in Maspeth, Queens, died during the terrorist attacks. The Mets will wear hats of first-responder agencies pregame.
Tuesday's news reports:
• Jenrry Mejia will enter the rotation Saturday at Milwaukee, with Jeremy Hefner moving to the bullpen. Read more in the Daily News.
• Nats manager Davey Johnson delighted in officially eliminating the Mets from division-title contention. "That made me a little happy," Johnson told Washington reporters postgame. The Mets' tragic number for wild-card elimination is 12. Kelly Shoppach dropped a foul pop-up to prolong the at-bat before Kurt Suzuki launched the first of the three homers against McHugh. Read game recaps in the Post, Star-Ledger, Newsday, Times, Daily News and The Washington Post.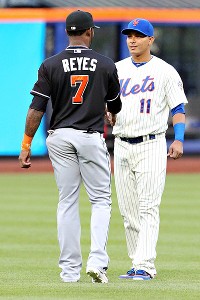 Anthony Gruppuso/US Presswire
Ruben Tejada will train with Jose Reyes on Long Island during the offseason.
• The Brooklyn Cyclones mustered only one hit and were eliminated from the New York-Penn League playoffs Sunday. Both Mets affiliates to qualify for the postseason -- St. Lucie and Brooklyn -- were eliminated in a winner-take-all Game 3 in the opening round. Read the final minor league recap here.
• Ruben Tejada, who previously had confirmed he would train during the offseason in New York and Port St. Lucie, told Kevin Burkhardt (Twitter link) that he will work out with Jose Reyes at the Garden City, L.I., facility where Reyes has trained for several years. Among the other athletes who train together there: Pedro Beato, the Rockies' Adam Ottavino and Mets minor leaguers Cam Maron (Hicksville High product), John Mincone (Half Hollow Hills East) and Steven Matz (Ward Melville).
• David Wright and Jeff Wilpon visited the Squad 18 firehouse in lower Manhattan on Monday morning. Read more in the Record.
Brian Costa in the Journal asked Wilpon about the importance of Wright as an ambassador in factoring in whether to re-sign him. Writes Costa:
As with [Derek] Jeter and the Yankees, what Wright means to the identity of the franchise is a central factor. "Of course it is," Mets chief operating officer Jeff Wilpon said, standing off to the side as Wright spoke to reporters at the firehouse. "As a homegrown star, you always have that. I think that's good. I think he's teaching some of the younger guys how to deal with New York and how to act in New York. It all goes into the mix." Wright is hardly the only Mets player to lend time to charitable and community causes. And his jersey isn't the only that sells. But be honest: How many Mets players would you even recognize if they walked into your office today?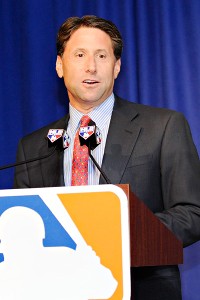 Marc S. Levine/Associated Press
Jeff Wilpon said about David Wright's contract: "Let's not get into the contract."
The Mets of the past several years have been alternately unlikable and forgettable. But Wright retains a cachet that the organization as a whole has lost. As such, he is more than their clubhouse leader. He's also their chief spokesman. None of this is lost on Wilpon, who would much prefer someone else speak for the team. "It's great, because he gets to do it and I don't have to," Wilpon said. "I just go to support him. It's wonderful. When you have someone who's homegrown like that who can represent the organization, it's terrific."
Wright told Marc Carig in Newsday there have been no developments with a contract extension. "I don't think it's the right time, but I guess I'll answer your question," Wright said. "There's nothing new. I guess status quo." Said Wilpon: "I think we've said all along that we plan on keeping David and we want David to be part of the organization long term. Let's not get into the contract. He didn't want to negotiate during the season. We're not going to negotiate during the season. We'll find the right time to sit down and talk."
• John Olerud is in a flap over whether a neighbor should be required to take down a tree obstructing the ex-Met's view of the Seattle skyline. Writes Keith Ervin in the Seattle Times:
Olerud doesn't think much of the Chinese pine, shorter and fuller than the towering Douglas firs nearby. [Rev. Bruce] Baker has agreed to remove a Colorado spruce behind the pine. "You guys saw the trees," Olerud said at the board hearing. "They're not attractive trees. I would say they're the kind of tree that only an arborist would love. ... I'm just making the point that if you're willing to cut down your own trees to maintain your view and yet you aren't willing to offer that to your neighbor, how is that being a good neighbor? The Bible says, 'Love the Lord your God with all your heart, soul and strength, and your neighbor as yourself.' That's Jesus' commandment."
To which Baker replied, "I truly believe you're trying to be a good neighbor. That's what's so puzzling about this, that you think it's being a good neighbor to cut down a tree that's important to me that's over 50 years old, and just leave a hole there." Olerud said he would be willing to buy a replacement tree that wouldn't block his view.
• Wally Backman threw early batting practice on his first full day with the Mets. Backman, who managed Triple-A Buffalo, will serve as an extra coach for the remainder of the season.
• Terry Collins' promised pregame tinkering with the Mets' routine proved pretty minor -- and ineffective. Mets starting players merely hit closer to game time. Read more in the Times.
• Don't look now, but the Philadelphia Phillies, at 70-71, are as close to wild-card contention as they are to the Mets. The Phillies trail the St. Louis Cardinals by five games for the NL's second wild-card slot and lead the Mets (65-76) by five games as well for third place in the division.
• Dickey's current winning percentage (.818, 18-4) is on pace to be better than any pitcher in major league history on a team with a losing record. Sandy Koufax is the record holder, posting a .792 winning percentage (19-5) in 1964 with the Dodgers, who went 80-82. Writes Michael Salfino in the Journal:
Since 2000, only 10 other pitchers on winning teams have a winning percentage better than Dickey's. To be fair, Dickey has gotten help from his teammates. They score 5.18 runs per game for him, nearly a run more than their 4.19 overall. And even the Mets' combustible bullpen has generally performed after Dickey has left a game with a lead, blowing just one win for him.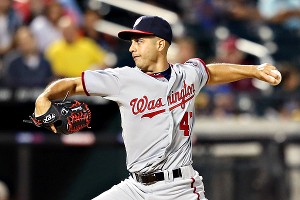 Anthony Gruppuso/US Presswire
Cy Young contender Gio Gonzalez notched his 19th win Monday, moving one victory ahead of R.A. Dickey.
Dickey told Mike Puma in the Post that the now-19-game-winner Gonzalez would be his choice for Cy Young if he were forced to exclude himself from consideration, followed by Johnny Cueto.
"I think his hits-to-innings-pitched and strikeouts really reflect a consistently dominant year," Dickey told Puma about Gonzalez. "I would say switching leagues was an advantage for him, because the National League hasn't seen him. So he's a surprise to a lot of teams in the National League, because he's been in the American League. Not that he wouldn't do this in his second or third year, but it certainly helps to be able to kind of surprise guys at least one time through. I saw him in Oakland and he was great over there, so it's no surprise to me."
Including Cueto, Dickey said: "Both these guys are playing for first-place teams, so that helps to be able to get wins, and they both have the wins, too."
• Matt Harvey can empathize with Stephen Strasburg getting shut down for the season because of an innings limit. Harvey, himself, has only two more scheduled starts -- tomorrow, then next Tuesday against the Phillies. Writes Andy McCullough in the Star-Ledger:
Harvey has met Strasburg a few times. Both are represented by Scott Boras. They were at Boras' California training facility together at times this winter. Strasburg exercised apart from the others, as he was still rebuilding arm strength. Years before, Harvey took a tour of the Boras Corporation's offices. One of Boras' assistants made a presentation about the perils of pitcher abuse. Harvey recalled hearing about "the amount of surgeries that happened because of overuse." He learned about pitchers like Steve Avery, a former Atlanta star and a Boras client. Avery experienced a sudden decline in the mid-90s after shouldering a sizable workload in his early 20s. His left arm broke down from the strain. The exact science of pitcher usage remains debatable. But the presentation made a strong case for conservation. "That kind of opened my eyes up to it," Harvey said.
TRIVIA: Which two colleges played in the first game at Citi Field?
Monday's answer: Jody Gerut of the San Diego Padres homered against Mike Pelfrey to lead off the first regular-season game at Citi Field, on April 13, 2009. The Padres again open the season at Citi Field in 2013, according to a major league source.