WHAT IT MEANS: The Mets were swept in a snow-shortened series at Colorado with an 11-3 loss Thursday afternoon.
The first-pitch temperature officially was 28 degrees -- matching the lowest recorded in the 20-year history of baseball in Denver.
The Mets (7-7) fell to .500.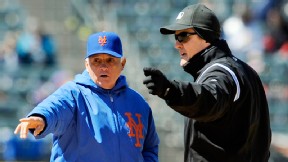 Jack Dempsey/Associated Press
Terry Collins argues a non-call during Thursday's game.After dropping two of three in Philadelphia, then winning both games in an abbreviated series at Minnesota, the Mets lost three straight against the Rockies to complete the three-city trip.
The Mets have now lost a franchise-record seven straight games to Colorado.
Wednesday's postponed game will be made up June 27 at 6:10 p.m. ET at Coors Field.
POISON PEN: Colorado posted six runs in the seventh -- all with two outs -- against Josh Edgin, Scott Atchison and Jeurys Familia to turn a 3-2 score into a rout.
The big blows came on a two-run single by Wilin Rosario and a two-run double by Todd Helton, both against Atchison. Two runs were charged to Edgin. Three runs were charged to Atchison. One was charged to Familia, who was making his first appearance since returning from Triple-A Las Vegas.
Jeremy Hefner -- working in relief in preparation for Saturday's start, since he had not pitched since April 10 -- surrendered solo homers to Dexter Fowler and Troy Tulowitzki in the eighth.
In the three-game series, Mets relievers allowed 18 runs (16 earned) and 22 hits in 11 innings.
ALMOST FAMOUS: David Wright twice drove in Daniel Murphy, the second instance in the sixth to even the score at 2.
Tulowitzki answered a half-inning later, though. Tulo's RBI single in the bottom of the sixth scored Carlos Gonzalez, who had doubled and advanced to third base on an error by left fielder Jordany Valdespin.
Gonzalez went 8-for-13 with four extra-base hits in the series.
Wright went 2-for-3 with a walk and two RBIs on Thursday. He is now hitting .392 with 38 RBIs in 32 career games at Coors Field.
Trailing 3-2, the Mets got a one-out double from Marlon Byrd in the seventh against Jon Garland, but stranded Byrd in scoring position when Mike Baxter and Ruben Tejada grounded out.
L: Jonathon Niese suffered his first 2013 loss. He allowed three runs on nine hits and one walk while striking out three in a 96-pitch effort spanning six innings. Niese (2-1) surrendered a fourth-inning solo homer to Josh Rutledge.
WHAT'S NEXT: Matt Harvey and Stephen Strasburg face off Friday night at Citi Field as the Mets open a nine-game homestand. The Washington Nationals, Los Angeles Dodgers and Philadelphia Phillies visit Queens.