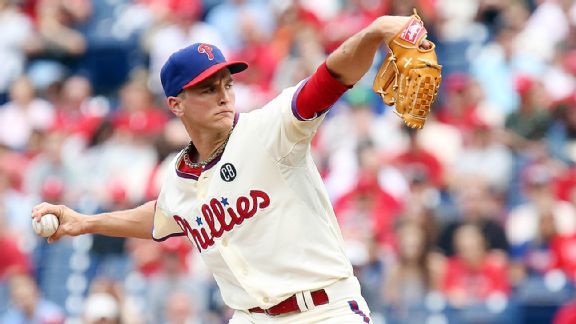 Bill Streicher/USA TODAY Sports
David Buchanan makes his second major league start Friday against the Mets.METS (24-28, fourth place/NL East) vs. PHILADELPHIA PHILLIES (23-27, fourth place/NL East)
Thursday: RHP Zack Wheeler (1-5, 4.63) vs. RHP David Buchanan (1-0, 3.60), 7:05 p.m. ET
Friday: RHP Rafael Montero (0-2, 4.96) vs. RHP A.J. Burnett (3-4, 3.51), 7:05 p.m. ET
Saturday: RHP Jacob deGrom (0-2, 1.83) vs. RHP Kyle Kendrick (1-5, 4.04), 3:05 p.m. ET
Sunday: LHP Jonathon Niese (3-3, 2.74) vs. LHP Cole Hamels (1-3, 4.43), 1:35 p.m. ET
Monday: RHP Bartolo Colon (4-5, 4.73) vs. RHP Roberto Hernandez (2-2, 3.76), 7:05 p.m. ET
Phillies short hops
• Cliff Lee landed on the disabled list on May 20 with a flexor-tendon strain in his left elbow. David Buchanan replaced Lee in the rotation. Buchanan, 25, allowed two runs in five innings and earned the win against the Los Angeles Dodgers in his major-league debut on Saturday, despite getting pulled at 66 pitches. Buchanan, a former seventh-round pick out of Georgia State, averaged 91.5 mph with his fastball in his debut. He was one of the limited options available. Jonathan Pettibone, who made two mid-April starts for the Phillies, is out with a labrum tear in his right shoulder. Pettibone has opted for a cortisone injection and rehab over surgery.
• Second baseman Chase Utley's .335 average ranks third in the National League, trailing Colorado's Troy Tulowitzki (.369) and L.A.'s Yasiel Puig (.344). Utley leads NL second basemen in the initial All-Star voting tally. He has 509,390 votes, already considerably ahead of runner-up Dee Gordon of the Dodgers (304,258).
Kathy Willens/Associated Press
Jimmy Rollins is 13 hits shy of matching the Phillies franchise record.
• Darin Ruf made his season debut May 21 after opening the year on the disabled list with a left oblique strain. The righty-hitting first baseman/outfielder started Tuesday over Ryan Howard against Colorado Rockies left-hander Jorge De La Rosa. Phillies manager Ryne Sandberg suggested Ruf could continue to cut into Howard's playing time at first base against southpaws, despite Howard earning $25 million a season through 2016.
Howard nonetheless had success against a southpaw on Wednesday. After a four-RBI performance that included a walk-off three-run homer against Rockies left-handed reliever Boone Logan, Howard is now three RBIs shy of 1,000 for his career. He should need the fewest games of any active major leaguer to reach that plateau. Albert Pujols is the current fastest among active players to 1,000 RBIs, at 1,257 games. Howard has played in 1,227 games.
• Catcher Carlos Ruiz's .387 on-base percentage ranks second in the majors among catchers, trailing only Milwaukee's Jonathan Lucroy (.397).
• Kyle Kendrick on Monday notched his first win since Aug. 6, snapping a streak of 16 straight winless starts. Kendrick tossed 6 2/3 scoreless innings in a 9-0 win against the Rockies.
• Third baseman Cody Asche landed on the DL on Sunday with a left hamstring strain. Cesar Hernandez (.132, 1 HR, 1 RBI, 38 at-bats) has started six straight games at third base.
• Center fielder Ben Revere produced his first major-league homer on Tuesday. It came in his 1,466th at-bat. That was the longest drought to begin a major-league career since Frank Taveras went homerless in his first 1,594 at-bats from 1972-77.
• Jimmy Rollins became the 12th active player to appear in 2,000 games on Wednesday. The leader is Derek Jeter at 2,646 games. Rollins ranks second in Phillies history, trailing only Hall of Famer Mike Schmidt (2,404). Rollins had been 0-for-15 before a seventh-inning single Wednesday. That single gave him 2,221 career hits. The franchise record is 2,234, by Schmidt. Rollins already owns the franchise record for doubles (464).
• The last time the Mets met the Phillies, Sandberg alleged he lost six pounds after receiving food poisoning from a Shake Shack burger at Citi Field. Like Lucas Duda, Sandberg since has made amends with the popular restaurant chain. He posed in a Shake Shack T-shirt tweeted by the company.