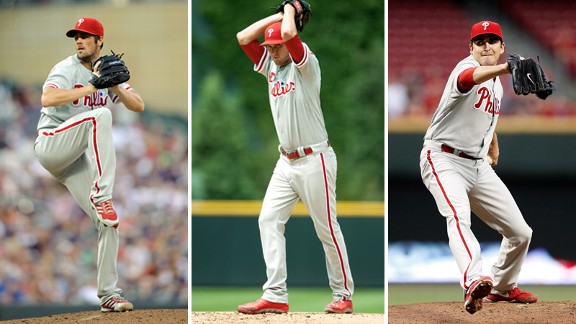 Getty Images
The Mets face (l to r) Cole Hamels, Jonathan Pettibone and John Lannan this weekend.METS (28-41, fourth place/NL East) vs. PHILADELPHIA PHILLIES (35-38, third place/NL East)
Friday: RHP Jeremy Hefner (1-6, 3.96) vs. LHP Cole Hamels (2-10, 4.40), 7:05 p.m. ET
Saturday: RHP Dillon Gee (5-7, 4.56) vs. RHP Jonathan Pettibone">Jonathan Pettibone (3-3, 4.40), 4:05 p.m. ET
Sunday: RHP Matt Harvey (6-1, 2.16) vs. LHP John Lannan (0-1, 5.49), 1:35 p.m. ET
Phillies short hops
• Cole Hamels' 10 losses are tied with the Angels' Joe Blanton for the major league lead. Hamels is the first Phillie with 10 losses before the All-Star break since Kyle Abbott in 1992.
• Left-hander John Lannan faced his former club, the Washington Nationals, on Monday in his first major league start in two months. Lannan allowed two runs in five innings. He had been on the DL since an April 17 appearance at Cincinnati with a strained tendon in his right knee. The Long Beach, L.I., native signed a one-year, $2.5 million contract with Philadelphia on Dec. 18.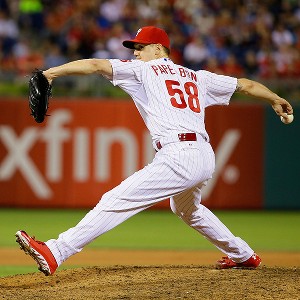 Matt Slocum/Associated Press
Jonathan Papelbon blew his first two saves this season against Washington this week.
• Chase Utley, who has missed a month with a right oblique strain, began a rehab assignment Wednesday with Double-A Reading. He is expected to return at some point this weekend. Kevin Frandsen has started the past four games at second base. He is hitting .350 with two RBIs and a .435 on-base percentage over his last eight games (five starts).
• Carlos Ruiz was activated from the DL on Tuesday after missing four weeks with a strained right hamstring.
• Jonathan Papelbon blew his first two saves of the season in a three-day span against the Nationals this week.
• Rookie Jonathan Pettibone's rotation spot may be in jeopardy. Carlos Zambrano tossed seven scoreless innings for Triple-A Lehigh Valley on Tuesday. He will make another minor league start Sunday, but can opt out if he is not promoted by July 1. Zambrano is 3-0 with a 0.95 ERA in five minor league starts over three different levels. He signed with Philadelphia on May 15. Pettibone is coming off an outing at Colorado in which he surrendered seven runs (six earned) on 10 hits and a walk in three innings.
• Left fielder Domonic Brown is hitting .135 with no extra-base hits in 37 at-bats over his past 10 starts.
• Third baseman Michael Young notched his 1,000th RBI on Wednesday, on a two-run homer against Washington's Gio Gonzalez. He is the 18th active player to reach that threshold.
• Ben Revere has a 10-game hitting streak during which he is hitting .391. Revere has spent the past seven games in the leadoff spot.
• Cliff Lee, who potentially could be traded, has a 1.97 ERA in his last nine starts and has won seven straight decisions. He is owed $25 million a season in 2014 and '15, and has a $27.5 million club option for 2016 with a $12.5 million buyout.