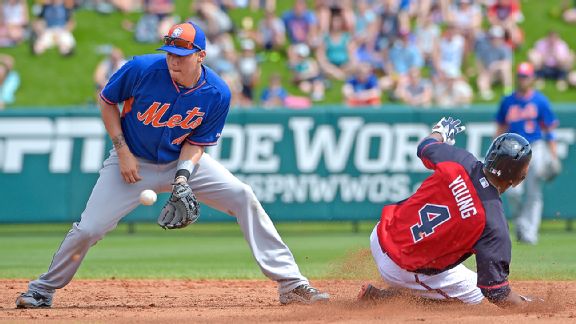 Phelan M. Ebenhack/Associated Press
Wilmer Flores receives the throw as ex-teammate Eric Young Jr. steals second base in the first inning.LAKE BUENA VISTA, Fla. -- Dillon Gee, currently the odd man out of the Mets' rotation, christened the Grapefruit League season on Wednesday in what became an 8-2 win against the Atlanta Braves at ESPN Wide World of Sports.
Gee faced a bases-loaded, none-out jam in the first inning -- walking ex-teammate Eric Young Jr. and Jace Peterson to begin his outing. He eventually surrendered two runs in the 28-pitch frame. He then posted a perfect, seven-pitch second inning before departing.
Kirk Nieuwenhuis, out of options and likely to make the team over Matt den Dekker, went 4-for-4 with an RBI and run scored.
Eric Campbell provided a go-ahead two-run double in the fifth against Matt Capps. Johnny Monell launched a three-run homer against ex-Yankee Jose Veras in a five-run sixth, when the Mets took an 8-2 lead.
"He's out of options, so it's nice to see him have a big day," Terry Collins said about Nieuwenhuis. "He's had to battle so many injuries in the last couple of years. The one thing we saw both he and Matt do, that's shorten their swings up a little bit to where they can put the ball in play more consistently. Because they know, as they look at the outfield situation, the job is to come off the bench. You can't have one of those long swings to do that job."
Jonny Gomes had a sacrifice fly and A.J. Pierzynski followed with an RBI single for the two runs charged to Gee.
"I didn't start the way I wanted to, walking two guys," said Gee, who noted: "That's the first time I've had a hitter in the box. I didn't get to throw my live BP because of the rain. It took a little getting used to. Your adrenaline starts pumping a little bit more with a guy in there than it does when you're throwing a bullpen. So I felt a little off."
For now, Gee will get starters innings, although his next appearance Sunday will come out of the bullpen, following Jonathon Niese. Barring a trade or an injury to a rotation member, the Mets should shift Gee to regular bullpen work in about two weeks.
Gee, who started on Opening Day last season, suggested he has successfully tuned out the uncertainty.
"Because in the end it doesn't matter," he said. "My job is to pitch -- wherever that is, whatever role, whatever team. I'm just trying to make sure that I'm in a good position by the end of spring training to help wherever that might be."
Said Collins: "He's a victim of the situation. We all say he's not going to start, but gosh, we don't know what's going to happen. You look up and he's got 14 wins and you're thankful that you didn't trade him."
Ouch: Wilmer Flores was hit by a pitch in the pinkie on his left, non-throwing hand in the fifth inning and departed. Afterward, Flores said he was fine. Replacement Matt Reynolds contributed an RBI single in the sixth to stake the Mets to a 4-2 lead and finished 2-for-3 with two runs scored.
"It wasn't bad," Flores said. "I was fine. It did hit me a little bit, but it's not a big deal. Nothing to worry about."
Flores was not scheduled for Thursday's trip anyway.
Leading man: Collins got his first spring-training look at Juan Lagares in the leadoff role, where the manager prefers to place the Gold Glove winner. Lagares opened the bottom of the first by walking against left-hander Wandy Rodriguez. Lagares finished 1-for-2 with a double, walk and run scored.
"I thought he had some good at-bats today," Collins said. "He's a good player. The more confidence he gets in the offensive side of his game, the better he's going to be."
Back in St. Lucie: Lucas Duda (intercostal muscle strain) swung a bat for the first time in three weeks.
Odds & ends: Travis d'Arnaud bounced a throw to second base and failed to retire his first would-be base stealer, EY Jr., in the first. D'Arnaud did nail Freddie Freeman trying to advance to second base on a wild pitch later in the inning. … Kevin Plawecki nearly homered in the second inning but was robbed at the wall by left fielder Cedric Hunter. Plawecki later contributed an RBI single. … Brandon Allen twice grounded out with the bases loaded. … Jack Leathersich, who will need to demonstrate control in order to force his way into the lefty-relief conversation, walked consecutive batters to open his appearance but rallied to toss a scoreless fifth. … Veras threw a pitch well behind Wilfredo Tovar in the Mets' five-run sixth.
What's next: The Mets play a 5:05 p.m. game Thursday against the Washington Nationals in Viera. In a potential Opening Day matchup, Bartolo Colon opposes Nats newcomer Max Scherzer. Gabriel Ynoa, Cory Mazzoni and Josh Edgin are also due to pitch for the Mets.