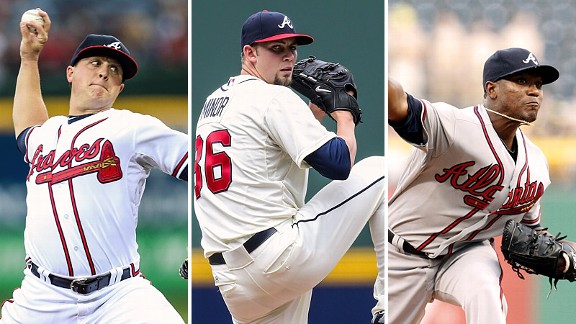 USA TODAY Sports
This weekend at Citi Field, the Mets face (left to right) Kris Medlen, Mike Minor and Julio Teheran.
METS (17-27, fourth place/NL East) vs. ATLANTA BRAVES (28-18, first place/NL East)
Friday: RHP Jeremy Hefner (0-5, 5.00) vs. RHP Kris Medlen (1-5, 3.02), 7:10 p.m. ET
Saturday: RHP Dillon Gee (2-5, 6.04) vs. LHP Mike Minor (5-2, 2.78), 7:15 p.m. ET
Sunday: RHP Shaun Marcum (0-5, 6.59) vs. RHP Julio Teheran (3-1, 3.99), 8:05 p.m. ET, ESPN
Braves short hops
• Left fielder Justin Upton, who was acquired from the Arizona Diamondbacks on Jan. 24, is tied with Baltimore's Chris Davis for the MLB lead in homers with 14. Upton became the first player in major league history to homer five times in his first five games with a team, according to the Elias Sports Bureau.
• Right fielder Jason Heyward is hitting .304 with two RBIs in six games since returning from the disabled list Friday. Heyward underwent an appendectomy on April 22. He missed 22 games. He was hitting .121 when he landed on the DL.
• Center fielder B.J. Upton (.155, 4 HRs, 7 RBIs) snapped an 0-for-16 skid Saturday. He then homered Wednesday for the first time since April 23. He has yet to record a hit in three straight games, and will be bidding to accomplish that Friday at Citi Field.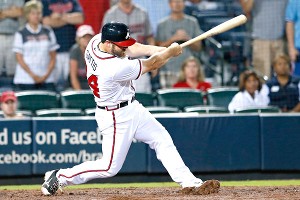 Kevin C. Cox/Getty Images
Evan Gattis has an MLB rookie-leading 10 homers.
• Catcher Brian McCann made his season debut May 6 after recovering from Oct. 16, 2012 shoulder surgery.
The Braves are now carrying six relievers and three catchers: McCann, rookie phenom Evan Gattis and Gerald Laird.
Gattis hit an opposite-field grand slam on a 3-0 pitch from Minnesota's Vance Worley on Wednesday, in the catcher's first start in eight days. He has 10 homers, which lead major league rookies, in only 122 at-bats. Manager Fredi Gonzalez has struggled to find playing time for Gattis in the three-catcher alignment. Gattis also can play first base or left field, but those are occupied.
• The Braves lost a pair of top-notch relievers to Tommy John surgery in a six-day span. Lefty Jonny Venters, who had not appeared this season, underwent the procedure last Thursday; this was his second Tommy John surgery. Fellow southpaw Eric O'Flaherty, who had held lefty batters to a .143 average this season, underwent the elbow procedure Tuesday.
Atlanta pitchers have undergone a spate of Tommy John surgeries -- seven among major leaguers in the past five years, according to the Atlanta Journal-Constitution. The recipients: Peter Moylan (May 2008), Tim Hudson (August 2008), Kris Medlen (August 2010), Arodys Vizcaino (March 2012), Brandon Beachy (June 2012), Venters and O'Flaherty.
• The Braves have a 2.79 bullpen ERA, narrowly behind the San Francisco Giants (2.77) and Pittsburgh Pirates (2.78) for the MLB lead. Craig Kimbrel notched his 100th career save on May 9, becoming the second-youngest to reach that plateau (24 years, 348 days). Only ex-Met Francisco Rodriguez (24 years, 246 days) was younger.
• Since O'Flaherty landed on the DL, Triple-A closer Cory Rasmus was promoted. He's the younger brother of Toronto Blue Jays center fielder Colby Rasmus. Cory made his major league debut Wednesday. The siblings' brother Casey is a 23-year-old catcher who is hitting .300 for the St. Louis Cardinals' Class A Peoria affiliate.
• Beachy is set to begin a rehab assignment, so Atlanta will have to create a rotation spot soon.
• Reliever Jordan Walden (shoulder) is not eligible to be activated from the DL until after the Mets series.
• With their bullpen injuries, Atlanta signed lefty reliever Joe Beimel, 36, to a minor league contract. He also is returning from Tommy John surgery.
• Andrelton Simmons is the only every-day shortstop without an error.
• Dan Uggla (.182, 8 HRs, 16 RBIs) is 3-for-35 with 13 strikeouts in his last 10 starts. Ramiro Pena has started two games at second base in the past week.
• Julio Teheran is coming off an outing in which he allowed one run in 8 1/3 innings against the Minnesota Twins.
• Medlen limited the Los Angeles Dodgers to one run (unearned) in seven innings in his last start. The Braves are 3-6 in Medlen's starts this season. Entering this year, Atlanta had won 23 straight games started by Medlen -- the most in one pitcher's starts in major league history.
• The Braves arrive in New York off a 6-0 homestand, during which they swept the Dodgers and Twins.