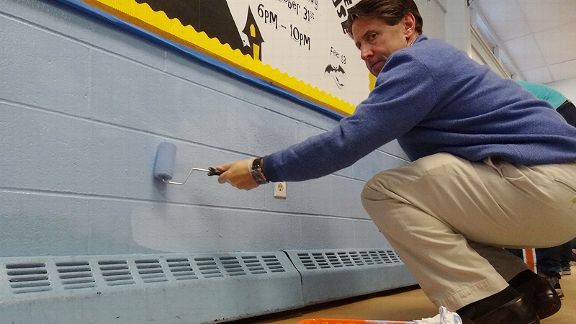 Adam Rubin
Jeff Wilpon spends part of Tuesday morning painting walls at the Boys & Girls Club of Garfield, N.J.GARFIELD, N.J. -- Jeff Wilpon, on the one-year anniversary of Hurricane Sandy, joined other Mets personnel at the Boys & Girls Club of Garfield, N.J., for Sandy Service Day. He also answered questions about the upcoming offseason.
• Wilpon indicated the Mets do not seek an external first baseman, which is why they did not pursue Cuban defector Jose Abreu. Abreu eventually signed a six-year, $68 million deal with the Chicago White Sox.
Wilpon acknowledged the Mets likely would be trading first basemen, with something having to give between Ike Davis and Lucas Duda. Whoever remains will have the position in 2014.
"There's probably a glut of first basemen. You can count five, if you wanted to," Wilpon said. "Something has got to happen there with the logjam. There's been some interest already. Where that interest goes and what that brings back, that you've to let play out a little bit. And it probably won't be until the GM Meetings [in mid-November] or maybe even the winter meetings [in December]."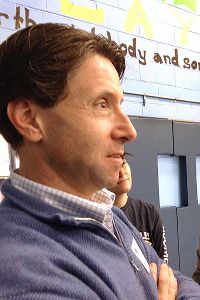 Adam Rubin
Jeff Wilpon addresses the media.
On not pursuing Abreu, Wilpon added: "We've got five first basemen that could play it, and that didn't really seem like the point of need. If he played left or right field, I think we probably would have offered the guy a contract."
• Wilpon indicated the Mets are only fully pleased with four of the 25 spots on the roster: third base and three spots in the starting rotation. "I think three of the starting pitchers we're very pleased with -- [Jonathon] Niese, [Dillon] Gee and [Zack] Wheeler," Wilpon said. "That, along with David [Wright], I think would be the three or four we're solidified on."
• On Matt Harvey expressing confidence in the success of his week-old surgery Monday and saying he was "ahead of schedule," Wilpon said: "We heard from him right after the surgery, and he was very happy. The doctor was happy. It's hard to say he's ahead of schedule 10 days in. So does that mean he's an hour ahead? Or two hours ahead? The brace came off 30 minutes in front of schedule? I don't really know what it means. It's a long road. That obviously he's feeling good is great news."
Wilpon added that Harvey did not compromise his availability for 2015 by delaying the procedure after the injury originally occurred in August. The Mets thought Harvey undergoing Tommy John surgery any time before Dec. 1 would allow the right-hander to comfortably be ready for the season after next, since the recovery time typically is between 12 and 15 months.
"I think we all thought that it was the right move to do it," Wilpon said about Harvey having the procedure. "We just had to let the individual come to that decision. You can't force surgery on somebody."
Wilpon said he did not believe Harvey would try to come back too quickly and compromise his return.
"He'll follow the program," Wilpon said. "I mean, the program is so good now that it's really pretty exact in what you can do and when you can do it. I don't think he's going to mess with it."
Often pitchers need a full season back in the majors after Tommy John surgery to reach their former level. On that subject, Wilpon said: "I think 80 percent of Matt Harvey is pretty good, so we'll take it. You hope he's back 100 percent, but I have full confidence he's going to be back and as good as he was. How quickly that happens, only someone with higher authority can tell you that."
• On where the franchise is after suffering its fifth straight losing season in 2013, Wilpon said: "I would say a little bit of transition, because we have definite deficiencies that we've got to fill this offseason, and the ability to do it. So I think that's good."
As for any pressure on Sandy Alderson to produce a winner, Wilpon added: "I think he feels the pressure, like we all do, to try to get this turned around and start winning. But I don't think there's any added pressure on him, Terry [Collins], the players, anybody."
Wilpon said it is too soon to know whether free agency or trades ends up the primary route to improve the club, but he insisted payroll flexibility exists.
"That's always been part of the plan, to use the money that is coming off the books and try to improve the team," Wilpon said. "I can't tell you exactly what's going to happen, though. As we get further into the offseason, we'll know a little bit better. ...
"The hardest part right now, and I explain this to a lot of people that ask not in the business: I can't control what the other team wants to give us for a player. Sandy can't control that. All he can do right now is have conversations saying, 'Hey, you're looking for these three spots. We're looking for these three or four spots. Where is there a match?' The thing everybody forgets is that as smart as Sandy is, trying to make a great deal for us, he's got 29 other guys out there looking to be just as smart and make a great deal for their team. So where that match comes, when it comes, it doesn't happen quickly. As much as we'd like to say, 'Boom, do a deal today,' that might sound great on the radio or something, but it doesn't always work that way."
• The Mets went 33-48 at Citi Field and 41-40 on the road last season. On that topic, Wilpon said: "We have a number of theories and no exact answer."
• Wilpon said there would be a radio announcement "any day." The Mets are expected to confirm their new partnership with WOR, replacing WFAN.