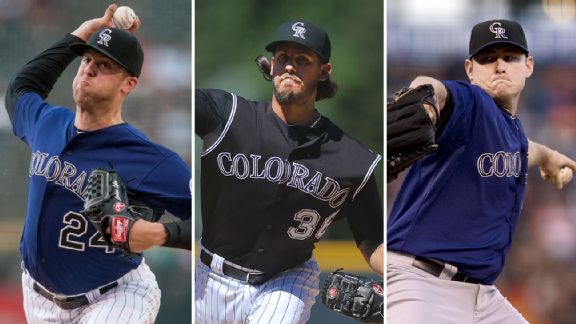 Getty Images
The Mets face Jordan Lyles, Christian Bergman and Tyler Matzek this week at Citi Field.METS (68-75, fourth place/NL East) vs. COLORADO ROCKIES (59-84, fourth place/NL West)
Monday: LHP Jonathon Niese (8-10, 3.68) vs. RHP Jordan Lyles (6-2, 4.35), 7:10 p.m. ET
Tuesday: RHP Jacob deGrom (7-6, 2.79) vs. RHP Christian Bergman (2-2, 5.23), 7:10 p.m. ET
Wednesday: RHP Rafael Montero (0-3, 5.23) vs. LHP Tyler Matzek (5-9, 4.32), 7:10 p.m. ET
Rockies short hops
• Shortstop Troy Tulowitzki (.340, 21 HR, 52 RBIs) underwent surgery on Aug. 15 to repair a torn labrum in his left hip. Outfielder Carlos Gonzalez (.238, 11 HR, 38 RBIs) underwent surgery three days later to repair the patella tendon in his left knee.
Tulowitzki is signed for $20 million annually through 2019, with $14 million owed in 2020. There is a $15 million option for 2021 with a $4 million buyout.
Gonzalez is owed $16 million in 2015, $17 million in 2016 and $20 million in 2017.
With Tulowitzki's absence, Josh Rutledge primarily has played shortstop, with Charlie Culberson also seeing action there. Corey Dickerson's playing time has increased in the outfield minus Gonzalez.
• With a 2-for-3 performance Sunday, first baseman Justin Morneau raised his average to .316 and took over the NL batting lead. Morneau leads Philadelphia's Ben Revere and Pittsburgh's Josh Harrison by one point.
• Rookie left-hander Tyler Matzek tossed a three-hit shutout against the San Diego Padres in his most recent outing. Matzek became the first Rockies pitcher to go the distance in a scoreless effort at Coors Field since Jhoulys Chacin on April 15, 2011 against the Chicago Cubs. Overall, Matzek has an active 21-inning scoreless streak.
• After sweeping the San Diego Padres, Colorado arrives at Citi Field on a four-game winning streak, its longest since posting five straight victories in June.
• Free-agent-to-be Michael Cuddyer is eligible to come off the disabled list on Monday. He appeared in three games in mid-August before becoming sidelined with a left hamstring strain. He has been on the DL three times and has played in only 34 games this season because of fractured left shoulder and an earlier hamstring injury.
• Catcher Wilin Rosario (wrist) was activated from the disabled list on Sunday.
• Left-hander Jorge De La Rosa signed a two-year, $25 million extension with the Rockies last week.
• Ex-Met LaTroy Hawkins has made 993 career appearances, which ranks 16th all time. Next up: Goose Gossage at 1,002.