NEW YORK -- Who's the team to beat now?
Phillies left fielder Grady Sizemore dropped the would-be final out of the bottom of the seventh inning with the bases loaded, leading to three unearned runs as the Mets beat Philadelphia, 4-1, in Friday's series opener at Citi Field.
The Mets held onto fourth place and kept their 90-win goal -- uhhh, "reminder" -- mathematically alive. Jacob deGrom (7-6) earned a win thanks to Sizemore's miscue.
Dilson Herrera went 0-for-3 and also committed a fielding error in the ninth inning in his major league debut.
Philadelphia (61-73) would have overtaken the Mets (63-72) for fourth place with a win.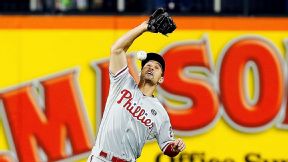 Jim McIsaac/Getty Images
Jacob deGrom was credited with the win once Philadelphia melted down in the seventh on Grady Sizemore's drop in left field.
Instead, after Justin De Fratus entered with the bases loaded and two outs in the bottom of the seventh and the score tied at 1, the Phillies imploded.
Juan Lagares hit a routine fly ball to left field that Sizemore simply dropped. Two runs scored on the play. With runners on the corners, the Mets then pulled off a double-steal. Eric Campbell was credited with the first steal of home by a Met since Jason Pridie at Houston on May 15, 2011.
The Mets scored three runs in the inning without producing a hit.
The Amazin's improved to 12-5 against the Phillies this season. That's their most wins in a season series versus Philadelphia since going 12-6 in 1989.
Debutant: Herrera became the youngest active player in the majors at 20 years, 179 days when he debuted Friday.
Facing Phillies right-hander David Buchanan, Herrera swung at the first major league pitch he saw and grounded into an inning-ending double play in the second. He then struck out to lead off the fifth. Batting against left-handed reliever Jake Diekman with one out and a runner on first in the seventh with the score tied at 1, Herrera lined out to second base.
deLightful: A day after receiving his NL Rookie of the Month Award for July in a pregame ceremony, deGrom limited the Phillies to an unearned run in the seventh inning. He earned the win thanks to Philadelphia's collapse in the bottom of the frame.
DeGrom retired the first seven Phillies batters, until walking Cody Asche in the third. DeGrom also walked Marlon Byrd to lead off the fifth. He then surrendered his first hit when Sizemore followed with a single that advanced Byrd to second. However, deGrom preserved a 1-0 lead by striking out Carlos Ruiz and Asche and coaxing a fielder's choice from Buchanan.
With that score still intact in the seventh, Byrd had a leadoff single. Sizemore then sent a grounder to first base. Lucas Duda opted to attempt the out at second. His throw to Wilmer Flores was high and Byrd slid in safely ahead of Flores landing on the bag after a leaping catch. With one out, Asche delivered a game-tying RBI single.
DeGrom departed after the half-inning with his pitch count at 103. His line: 7 IP, 4 H, 1 R, 0 ER, 2 BB, 5 K. He shaved his ERA to 2.94.
Travis d'Arnaud had staked the Mets to a 1-0 lead with a two-out RBI single in the fourth.
What's next: Bartolo Colon has returned from the Dominican Republic, where he attended his mother's funeral Thursday. Colon (12-10, 3.82 ERA) opposes right-hander Jerome Williams (2-5, 6.71) on Saturday at 7:10 p.m. The Mets have offered no indication Colon will be traded before Sunday's deadline that would make him eligible for another team's postseason roster.
Saturday is Curtis Granderson bobblehead day. Granderson went 0-for-4 with a strikeout in the series opener, dropping his average to .152 (16-for-105) with two extra-base hits in August.