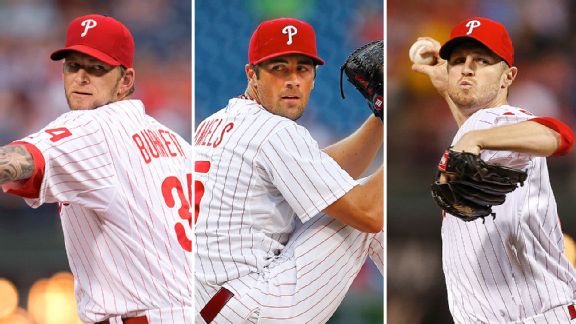 Getty Images
The Mets are due to face A.J. Burnett, Cole Hamels and Kyle Kendrick as they return home to play the Phillies.METS (50-55, fourth place/NL East) vs. PHILADELPHIA PHILLIES (46-59, fifth place/NL East)
Monday: RHP Bartolo Colon (9-8, 4.03) vs. RHP A.J. Burnett (6-9, 3.86), 7:10 p.m. ET
Tuesday: RHP Dillon Gee (4-3, 3.49) vs. LHP Cole Hamels (5-5, 2.72), 7:10 p.m. ET
Wednesday: RHP Zack Wheeler (5-8, 3.64) vs. RHP Kyle Kendrick (5-10, 4.87), 12:10 p.m. ET
Phillies short hops
• Ryan Howard was benched for three straight games last week, with Darin Ruf -- who was promoted from Triple-A on Tuesday -- instead starting at first base. In the 21 games before the Wednesday-Friday sit-down, Howard was hitting .141 with one homer in 78 at-bats.
Howard is owed a combined $60 million in 2015 and 2016, including the buyout of the following season. He could get dealt before Thursday's non-waiver trade deadline. The Phillies reportedly have contemplated releasing him during the offseason and eating the remaining contract if the 34-year-old Howard is not dealt by then, although GM Ruben Amaro has denied that is a consideration.
Gene J. Puskar/Associated Press
Ryan Howard has been at the center of recent drama in Philly.
Howard did produce a two-out, two-run first-inning homer against left-hander Vidal Nuno on Sunday as the Phillies beat the Arizona Diamondbacks, 4-2. Despite struggles, Howard's 62 RBIs rank fifth in the National League.
Howard is one of multiple Phillies who could be traded this week. Others include ex-Met Marlon Byrd, right-hander A.J. Burnett, left-hander Cliff Lee and closer Jonathan Papelbon.
However, two of Byrd's potential suitors, the Seattle Mariners and Kansas City Royals, reportedly are on his no-trade list.
Byrd jumped on a two-year, $16 million contract with the Phillies early in the offseason. The deal includes an $8 million club and vesting option for 2016. Byrd's 20 homers are tied for fourth in the NL, trailing only Anthony Rizzo (25), Giancarlo Stanton (23) and Troy Tulowitzki (21).
Papelbon has converted 25 saves in 28 chances, but did have a blown save and a loss in consecutive appearances against the San Francisco Giants last week.
Burnett tossed eight scoreless innings against San Francisco in his last outing.
• Jimmy Rollins essentially triggered an $11 million vesting option for 2015 when he logged his 1,100th plate appearance of the 2013 and '14 seasons over the weekend. Rollins still must avoid finishing the season on the disabled list for the option to formally kick in.
• Grady Sizemore started in center field on Opening Day for the Boston Red Sox. He hit .216 with two homers in 185 at-bats with the club before being designated for assignment on June 17. He was released the following day.
Sizemore, who turns 32 on Friday, is hitting .319 (15-for-47) since joining the Phillies on July 11 after 11 games at Triple-A Lehigh Valley. He has started six games in center field and five games in left field with Philadelphia. A three-time All-Star, Sizemore missed the 2012 and '13 seasons because of multiple surgeries on both knees.
Sizemore's role could further increase if Byrd is traded and if Domonic Brown (.231, 7 HR, 49 RBIs, 341 ABs) continues to not produce. Sizemore notched his 1,000th career hit on Friday.
• Catcher Carlos Ruiz was activated from the concussion DL on Wednesday. He originally was hit in the head with a pitch from Miami's A.J. Ramos on June 26.
• Rookie right-handed reliever Ken Giles tossed another scoreless inning Sunday. Giles, 23, has allowed two earned runs in 18 1/3 major league innings. He has struck out 26 during that span.