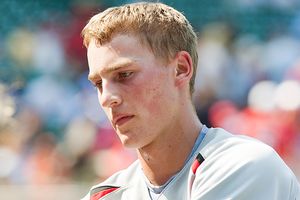 Damen Jackson/Icon SMI
Brandon Nimmo
Brandon Nimmo, the 13th overall pick in the draft, has signed with the Mets for $2.1 million, ESPN's Keith Law reports.
Meanwhile, third-round pick Logan Verrett, a right-hander from Baylor University, reportedly signed with the Mets for $425,000.
Round No. 12 pick Kenny Mathews (372 overall), a left-hander from Diamond Bar (Calif.) High School, is the earliest-round selection the Mets did not sign. The next pick to go unsigned was 20th-round selection Mason Robbins, a high school outfielder, who will attend Southern Miss.
A quick count appears to indicate the Mets signed 37 of 51 picks. The Mets appear to have committed at least $6.2 million to draft signings.
The largest draft signing bonuses in Mets history: Mike Pelfrey ($3.55 million, 2005), Philip Humber ($3 million, 2004), Matt Harvey ($2.525 million, 2010), Scott Kazmir ($2.15 million, 2002), Nimmo ($2.1 million), Lastings Milledge ($2.075 million, 2003) and Geoff Goetz ($1.7 million, 1997).
Here's the Mets' official release:
The New York Mets tonight announced that they have signed outfielder Brandon Nimmo of Cheyenne East High School (WY), the club's first-round selection and the 13th overall pick in 2011 First-Year Player Draft.
The Mets also agreed to terms with their third-round pick, righthanded pitcher Logan Verrett from Baylor University, their 11th-round selection, righthanded pitcher Christian Montgomery from Lawrence Central High School (IN), their 15th-round pick, infielder Phillip Evans from La Costa Canyon High School (CA) and their 16th-round pick, outfielder Bradley Marquez from Odessa High School (TX).
The Mets signed their first 12 selections and 19 of their top 21 picks.
Nimmo, 18, who bats lefthanded and throws righthanded, played American Legion ball for Post 6 since Wyoming has no high school baseball. In 63 games, Nimmo hit .551 (98-178) with 23 doubles, 16 triples, 14 home runs, 99 RBI and 33 stolen bases. Nimmo helped Post 6 capture their third straight state title this year.
The 6-3, 190-pound native of Cheyenne, WY won the MVP award at the Under Armour All-America Game at Wrigley Field last August, going 2-4 with a triple, two RBI and two runs scored for the American Team. Baseball America ranked Nimmo has the second-best high school athlete in the draft, and the second-best pure high school hitter. The publication also said Nimmo has the second-best strike-zone judgment of all high school draft prospects. Nimmo was the first ever first-round selection from Wyoming.