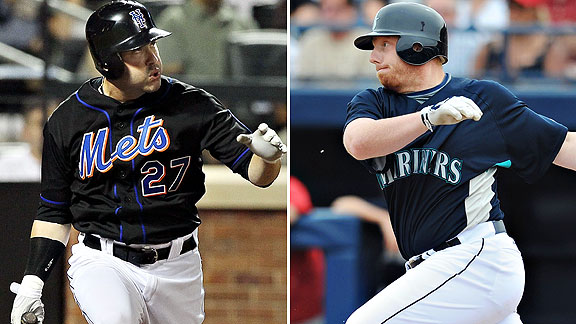 Getty Images
Jesus Feliciano and Chris Shelton signed and will head directly to minor league camp.
The Mets have re-signed outfielder Jesus Feliciano to a minor league deal and also have added first baseman Chris Shelton and right-hander Kent Tsujimoto. All three will report directly to minor league camp.
Feliciano, 31, made his major league debut last season and hit .231 in 54 games with the Mets. He hit .339 at Triple-A Buffalo, and would presumably join a crowded Bisons outfield that also includes Fernando Martinez, Jason Pridie, Kirk Nieuwenhuis and Lucas Duda. (Duda will also see action at first base.)
Shelton, 30, primarily played for Round Rock in the Houston organization last season, hitting .249 with 10 homers and 42 RBIs in 285 at-bats at the Triple-A level. He last appeared in the majors with Seattle in nine games in 2009. Shelton began the '06 season with Detroit with five straight multi-hit games (14-for-20, five homers).
Tsujimoto, 22, pitched with Maui in the independent Golden League last season and may not arrive until late in camp. Newsday's David Lennon reports Tsujimoto was the youngest Japanese player ever to sign, at age 15, but back woes derailed his career there.