PORT ST. LUCIE, Fla. -- John Lannan may be ticketed for the bullpen, but he made a pretty good case for the fifth-starter's role Wednesday.
The southpaw retired the final eight batters he faced and limited the St. Louis Cardinals to two unearned runs on three hits in four innings. The Mets ultimately lost, 6-4, at Tradition Field.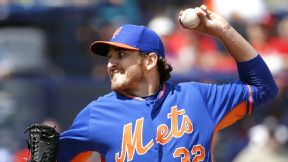 David Goldman/Associated Press
John Lannan limited the Cardinals to two unearned runs in four innings Wednesday.Of the 15 batters Lannan faced, he struck out five and coaxed nine ground balls.
Lannan surrendered a game-opening infield single to Matt Carpenter. A passed ball from Taylor Teagarden pushed Carpenter to second. He then scored on a bunt and groundout.
An inning later, Lannan surrendered a leadoff double to Stephen Piscotty. The Cards eventually loaded the bases with none out when David Wright was unable to hold Randal Grichuk's liner and was charged with an error. Still, Lannan minimized the damage. He got Tony Cruz to ground into a run-scoring double play and struck out Pete Kozma.
"The first inning didn't go as I planned, but sometimes it happens," Lannan said. "After that double play I settled down and started making some good pitches."
As for a potential relief role, Lannan added: "The possibility of it has been brought up to me, just in conversation. I started today, and I'm going to act as if I'm starting five days from now, until I'm told otherwise."
Ouch: Kyle Farnsworth, who is not projected to make the Opening Day bullpen unless he suddenly upgrades his performance, surrendered consecutive rockets in the seventh inning. Piscotty blasted a triple off the left-field wall. One batter later, Kolten Wong delivered a two-run homer to right field as St. Louis took a 4-0 lead.
There should be an early verdict with Farnsworth. He has a March 23 "out" in his contract.
Welcome back: In his first game since injuring his right shin Friday, Daniel Murphy started at second base and went 0-for-3 with a strikeout.
Seventh heaven: Juan Lagares delivered a two-run single against Kevin Butler with the bases loaded to pull the Mets within 4-2 in the seventh. Brandon Allen chased Butler with an ensuing RBI single that pulled the Mets within a run.
A half-inning later, however, Joel Carreño loaded the bases and then walked in a run. Jeff Walters entered and uncorked a wild pitch that made it 6-3.
Kirk Nieuwenhuis tripled and scored on Andrew Brown's sacrifice fly in the bottom of the eighth.
Cardinals starter Carlos Martinez had blanked the Mets through four innings.
Closer call: Bobby Parnell tossed a scoreless ninth inning with one walk in his second Grapefruit League appearance. His fastball sat at 88-89 mph during a 12-pitch frame.
What's next: Fifth-starter frontrunner Daisuke Matsuzaka gets the start at 1:05 p.m. Thursday against the Washington Nationals in Viera. Noah Syndergaard follows him on the mound. Rafael Montero and Jacob deGrom also are on the trip. Left-hander Ross Detwiler starts for the Nats.