PHOENIX -- Former Yankees farm director Pat Roessler is the only external candidate who will interview for the Mets' assistant hitting coach position, Sandy Alderson said Wednesday.
Alderson said the Mets also "probably" would interview internal candidates, which may be necessary since Roessler is drawing interest from other organizations as well.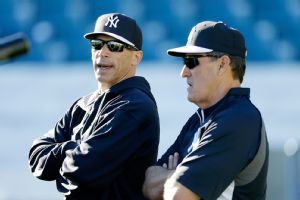 Charlie Neibergall/Associated Press
Joe Girardi speaks with Pat Roessler during Yankees spring training in February.
Roessler has ties to hitting coach Kevin Long because of their time together in the Yankees organization.
Alderson said he hoped to have the process completed by next week.
If Roessler is not hired, internal candidates that might merit consideration include minor-league infield coordinator Kevin Morgan, catching coordinator Bobby Natal and outfield/baserunning coordinator Jack Voigt.
Asked to define the assistant hitting coach role, which first was created last year, Alderson said: "I think that depends on the relationship between our assistant hitting coach and our hitting coach. One thing that was appealing about Pat is that they have a relationship (Roessler and Long). You can't overestimate the importance of that because they have to work, hopefully, synergistically. And if there's not an existing relationship, it might be difficult to do that.
"But we look at that position as a hitting coach-plus, if there are other things that coach can do. And it depends on his skill set. But it also may just depend on his familiarity with statistical information or what have you. There are a lot of different ways that position can go. We do envision it as more than just an assistant hitting coach position."