ATLANTA -- Shaun Marcum may make the decision regarding which pitcher to drop from the six-man rotation easy.
Marcum was knocked out in the fifth inning and remained winless this season as the Atlanta Braves beat the Mets, 5-3, Wednesday night at Turner Field.
A day after the intoxicating Matt Harvey-Zack Wheeler double-feature, Marcum fell to 0-9 -- the third-worst start to a season in franchise history. Only Anthony Young (0-13 in 1993) and Bob Miller (0-12 in 1962) started a season with more futility.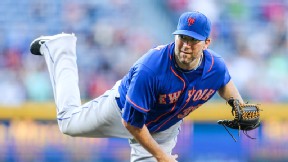 Daniel Shirey/USA TODAY Sports
Shaun Marcum was knocked out in the fifth inning.
Marcum's ERA swelled to 5.76 after getting charged with five runs on six hits and four walks in 4 2/3 innings. It could have been worse. He departed with two runners in scoring position. Carlos Torres entered and struck out Dan Uggla.
Terry Collins has not precisely revealed how many more turns the Mets will stick with a six-man rotation, but he vowed it will not persist beyond the All-Star break, and offered indications it may end sooner.
A half-inning after the Mets tied the score with a three-run fifth courtesy of Kris Medlen's sloppiness after fielding a comebacker, Marcum could not prevent the Braves from regaining the lead.
Marcum surrendered a leadoff double to Jordan Schafer. He ultimately scored the tiebreaking run on a two-out wild pitch to Brian McCann with the count 2-2.
McCann eventually walked. Justin Upton followed with an RBI double that staked division-leading Atlanta to a 5-3 lead.
The big blow against Marcum had come on Chris Johnson's three-run homer in the fourth.
Marcum entered this start off an outing against the Chicago Cubs in which he allowed six runs in 5 2/3 innings.
Debutant: Eric Young Jr., batting leadoff and playing center field, opened the game and his Mets career with a leadoff single. He finished 1-for-4, including grounding into an eighth-inning double play.
That's a relief: Torres tossed 2 1/3 no-hit innings after taking over for Marcum. The ex-Rockie has now contributed 4 1/3 scoreless innings over two appearances since a promotion from Triple-A Las Vegas.
How they scored: Trailing 3-0, the Mets had good fortune in the top of the fifth.
Medlen retired 11 straight after Young's game-opening single, until Marlon Byrd opened the fifth with a single. Lucas Duda was hit by a pitch. John Buck then sent a screaming comebacker to Medlen.
Medlen fielded the ball and attempted to get the lead-runner Byrd. He instead threw the ball past the third baseman Johnson, who had not yet arrived at the bag. Rather than Medlen initiating a crippling double play, two runs scored. Kirk Nieuwenhuis followed with a game-tying RBI single. Two of the three runs were unearned.
What's next: Jonathon Niese (3-6, 4.15 ERA) opposes left-hander Mike Minor (8-2, 2.68) in the rubber game of the five-game series.