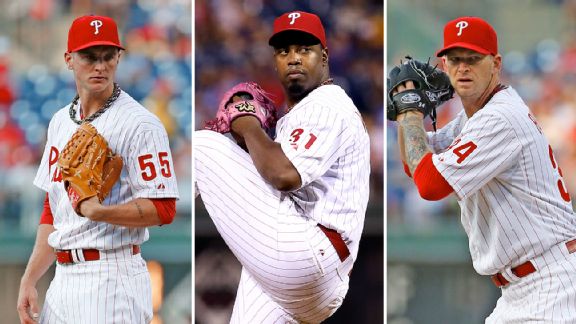 Associated Press
The Mets face David Buchanan, Jerome Williams and A.J. Burnett at Citi Field this weekend.METS (62-72, fourth place/NL East) vs. PHILADELPHIA PHILLIES (61-72, fifth place/NL East)
Friday: RHP Jacob deGrom (6-6, 3.13) vs. RHP David Buchanan (6-7, 4.21), 7:10 p.m. ET
Saturday: RHP Bartolo Colon (12-10, 3.82) vs. RHP Jerome Williams (2-5, 6.71), 7:10 p.m. ET
Sunday: RHP Dillon Gee (5-6, 3.77) vs. RHP A.J. Burnett (7-14, 4.30), 1:10 p.m. ET
Phillies short hops
• Manager Ryne Sandberg reportedly has been having difficulty with veteran players treating him disrespectfully. The latest incident occurred Monday, when Cole Hamels began walking off and did a "handoff" of the baseball to Sandberg before the manager reached the mound to remove the southpaw, according to CSNPhilly.com's Jim Salisbury. Kyle Kendrick reportedly pulled the same antics a couple of weeks earlier and subsequently apologized.
• The Phillies arrive at Citi Field coming off a three-game sweep of the Washington Nationals that capped a 7-2 homestand.
• Right-hander Jerome Williams was claimed off waivers by the Phillies from the Texas Rangers on Aug. 10. Williams, 32, is 2-0 with a 1.77 ERA in three starts since the change of scenery. He began the season with the Houston Astros and was released on July 8.
• A.J. Burnett was 0-6 with a 7.41 ERA in his first seven starts after the All-Star break. He then limited the Nats to one run on three hits while striking out 12 in seven innings Monday.
• Ben Revere's .310 batting average ranks second in the National League. With his next steal, Revere will become the 12th different player in Phillies history with a 40-steal season. The last was Jimmy Rollins in 2008.
• Ex-Met Marlon Byrd's 24 homers rank fifth in the league.
• Ryan Howard's 81 RBIs rank fourth.
• Closer Jonathan Papelbon has 33 saves in 36 chances. Papelbon notched his 100th save as a Phillie on Tuesday. He had 219 with the Boston Red Sox. According to the Elias Sports Bureau, he is the first closer in major league history to produce 200 saves with one team and 100 saves with a team in the other league.
• Phillies president David Montgomery, 68, has taken a leave of absence from the ballclub as he attempts to recover from jaw cancer surgery. Former GM Pat Gillick will fill in during Montgomery's absence.
• The Phillies and Dodgers completed the trade on Thursday that sent Roberto Hernandez to L.A. Philadelphia obtained right-hander Victor Arano, who was pitching for Class A Great Lakes.
• Infielder Freddy Galvis was recalled Saturday from Triple-A, where he had been optioned on May 9. He is hitting .085 (4-for-47) at the major league level this season … and that's with a two-hit game Tuesday.